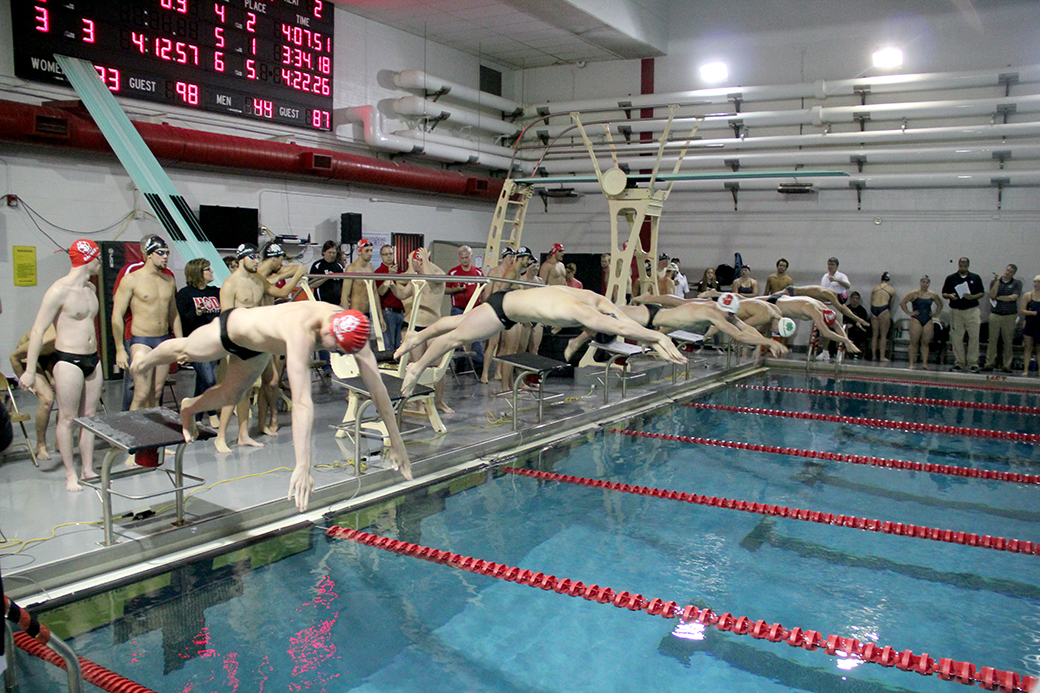 4 mins read
Swimming and diving teams eager for championships
With the regular season over, head coach Jason Mahowald is doing everything he can to make sure his swimming and diving teams are ready to jump into the upcoming championship meets next month.
Despite falling to South Dakota State and the University of North Dakota last weekend, the Coyotes had a few standout performances worth reveling in at the end of both meets.
"A lot of good stuff has happened that gives us a lot of confidence and a lot of stuff to build off the next few weeks for the championships," Mahowald said.
Sophomore Jake Knowles was optimistic about his team's performance, especially their win in the final race of the University of North Dakota meet — the 400-meter freestyle relay — which the Coyotes won by mere inches. Senior Colin Krysl also had two first place finishes for the Coyote men, winning both the 100-meter and 200-meter butterfly against SDSU Jan. 23 in the DakotaDome.
Knowles said the win came as somewhat of a surprise.
"I didn't imagine us doing that this year at all," Knowles said. "As a team, our relays have really stepped up from last year."
Knowles and his teammate, sophomore Jaden Van Dike, said the last two meets were tough, as they are both battling the flu.
"There's nothing much you can do besides try to get healthy and get through your resting period," Knowles said.
While his teams may not have come out of the last two meets victorious, Mahowald said, there was a lot of energy in each performance, which represents the team's dedication to improving its game.
"We've done a real good job of progressing all season," Mahowald said. "If we haven't had the greatest meet, we've done a really good job of bouncing back and recovering and coming back strong in the next meet, which is really what you want to do all season to improve."
Improvement also comes in the form of fine tuning for athletes like sophomore Greysen Hertting, who won both the 1-meter and 3-meter diving competition against SDSU for the women, breaking a six-year school record with a score of 320.33.
But Hertting only had one thought going through her mind during that match.
"Honestly, (I just kept thinking) don't mess up. That's been the main thing — to just do what I've been practicing these past few weeks," she said.
Mahowald said Hertting's performance has been getting progressively better in her two years on the team, and the fine-tuning she's been making to her dives will hopefully pay off soon.
"She has improved greatly. Her scores have been going up, up and up," Mahowald said. "She can get even better for conference championships, but our real focus is to have her improve and do better at the NCAA Zone Diving Championships."
Looking ahead to the championship meet, Mahowald said he will be making sure his teams go into the competition with a good attitude and few expectations, and ultimately, to do what they do best — swim.
"Our focus going in to the championships is not saying 'We want to beat this team or that team,' but that we just want to go have our best performance," he said. "If we can go to championships and be primed, ready to go and give our best performance, that's the best we can do, and the chips will fall where they fall."
The Summit League Championships are set for Feb. 18 in Indianapolis, Ind., while the NCAA Zone Diving Championships are set for March 9-11 in Iowa City, Iowa. In the meantime, Mahowald said his athletes need to focus on staying healthy.
"We need lots of rest," he said. "That's really what we need at this point."