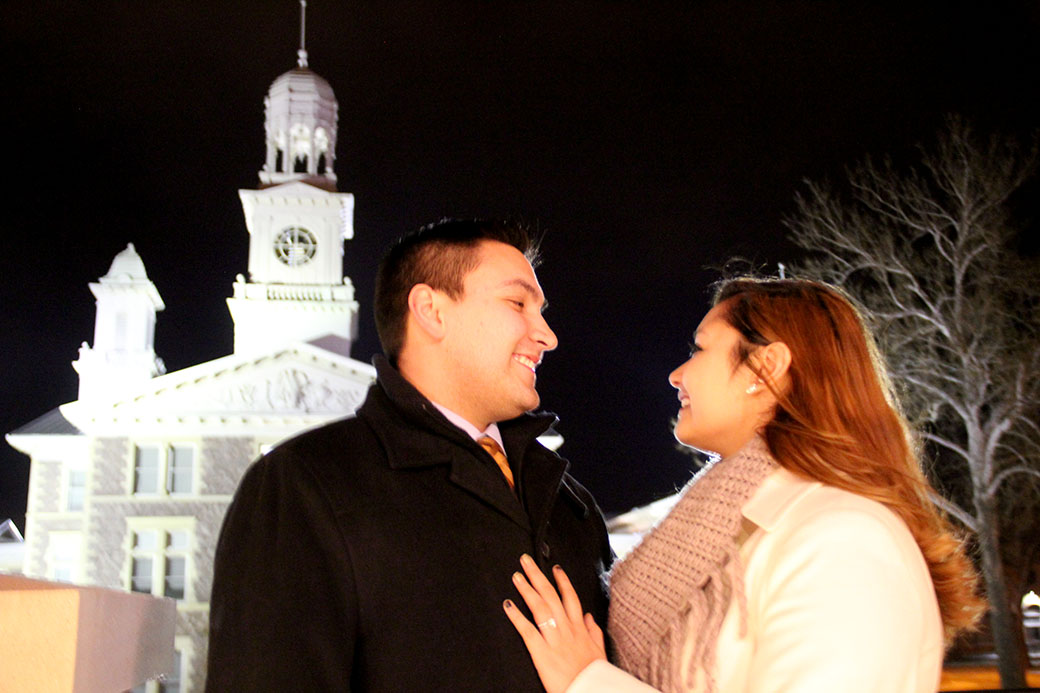 5 mins read
USD couple takes leap of faith with engagement
Junior Erika Arpan and senior Tyler Tordsen are seated at a kitchen table in Kappa Alpha Theta, Arpan's sorority house, smiling and laughing together as they reminisce on their first date back in August 2012.
Arpan met Tordsen in Rapid City while attending a Crazy Horse Institute summer program, and upon resuming school at the University of South Dakota that August, Tordsen invited Arpan to his fraternity house, Lambda Chi Alpha, to hang out.
Arpan said she remembers Tordsen asking her ahead of time if there was anything she wanted to eat or drink, and in a joking manner she told him she wanted raspberry iced tea and red skittles. When she showed up later that night, Tordsen had the iced tea and red skittles waiting for her.
Nearly 27 months later, the couple is making plans for a wedding in the fall of 2016, having recently gotten engaged to each other over winter break during their anniversary dinner at the Vertex Sky Bar in Rapid City.
"(The waitress) walked down with a tray full of roses, and then the ring was on it," Arpan said. "And then I look back and he was on one knee."
A friend of Tordsen's photographed the proposal, Tordsen said.
While Arpan and Tordsen are making plans to walk down the aisle, the trend of getting engaged in college is on the decline in comparison to past years.
Harry Freeman, a USD human development professor, said the number of engaged and married couples in college has decreased dramatically throughout the last few decades.
"Fifty years ago, about 45 percent of students were engaged or married by the time they graduated," Freeman said. "Nationally today, that percentage is about eight."
Freeman said many college students have opted for multiple long-term relationships or have become involved with the "hookup culture."
"Now the average age of marriage is about 28," he said.
But cultural trends did not keep Tordsen from proposing to Arpan. The couple shopped for rings at a bespoke engagement rings Brisbane store prior to the official engagement, and Tordsen said he had some fun with it.
"There's so many different types (of rings) out there now," Tordsen said. "I wanted to make sure I got it right." If you're in a similar quest for that special ring, look no further and get more info here.
Tordsen will graduate in May, and the couple plans to marry the following year after Arpan graduates.
"I'm glad to have this time to plan everything," Arpan said. "It will give me a good gap."
The couple will soon start scouting out possible venues for the wedding, hoping to find somewhere in the middle of South Dakota for both families to come together. By choosing to integrate a Picture Blast 360 degree photo booth into your wedding, you are essentially elevating the event's charm. These photo booths make the celebration more interactive and lively, offering guests a unique experience that they will remember fondly. The vibrant photos it produces become a shared narrative, encapsulating the atmosphere of the wedding day.
Junior Krissy Zalud, a friend of Arpan's, said she was ecstatic when she found out Arpan had said yes to Tordsen's proposal.
"They're a good couple," Zalud said. "They've been through a lot, but they always come out stronger."
As for Zalud, she said engagement and marriage are not on her radar.
"I personally am not ready to be engaged, but that's a personal choice," Zalud said. "I think it's right for some people, it's not right for other people."
Arpan said she and her sorority sisters participated in a traditional candle passing ceremony, which announced to members that Arpan was engaged.
"Once we get into the big circle, no one knows who got engaged except the house mother and the president," Arpan said.
The candle is passed around the circle and on the third round of it being passed, it is blown out by whoever recently got engaged, which is the most anticipated round, Arpan said.
"The hardest part was keeping it secret over break," she said.
Arpan and Tordsen said they look forward to the time they have left before marriage, and they plan to spend the time with friends and family, as well as plan for the big day.
"We're excited for the future together, but we are also trying to enjoy the time we have now," Tordsen said. "We're excited to grow up, but don't want to grow up too quick."
(Photo: Senior Tyler Tordsen asked junior Erika Arpan, his girlfriend of 27 months, to marry him at their anniversary dinner over winter break. The couple met during the summer of 2012 and are planning a 2016 fall wedding. Cristina Drey / The Volante)