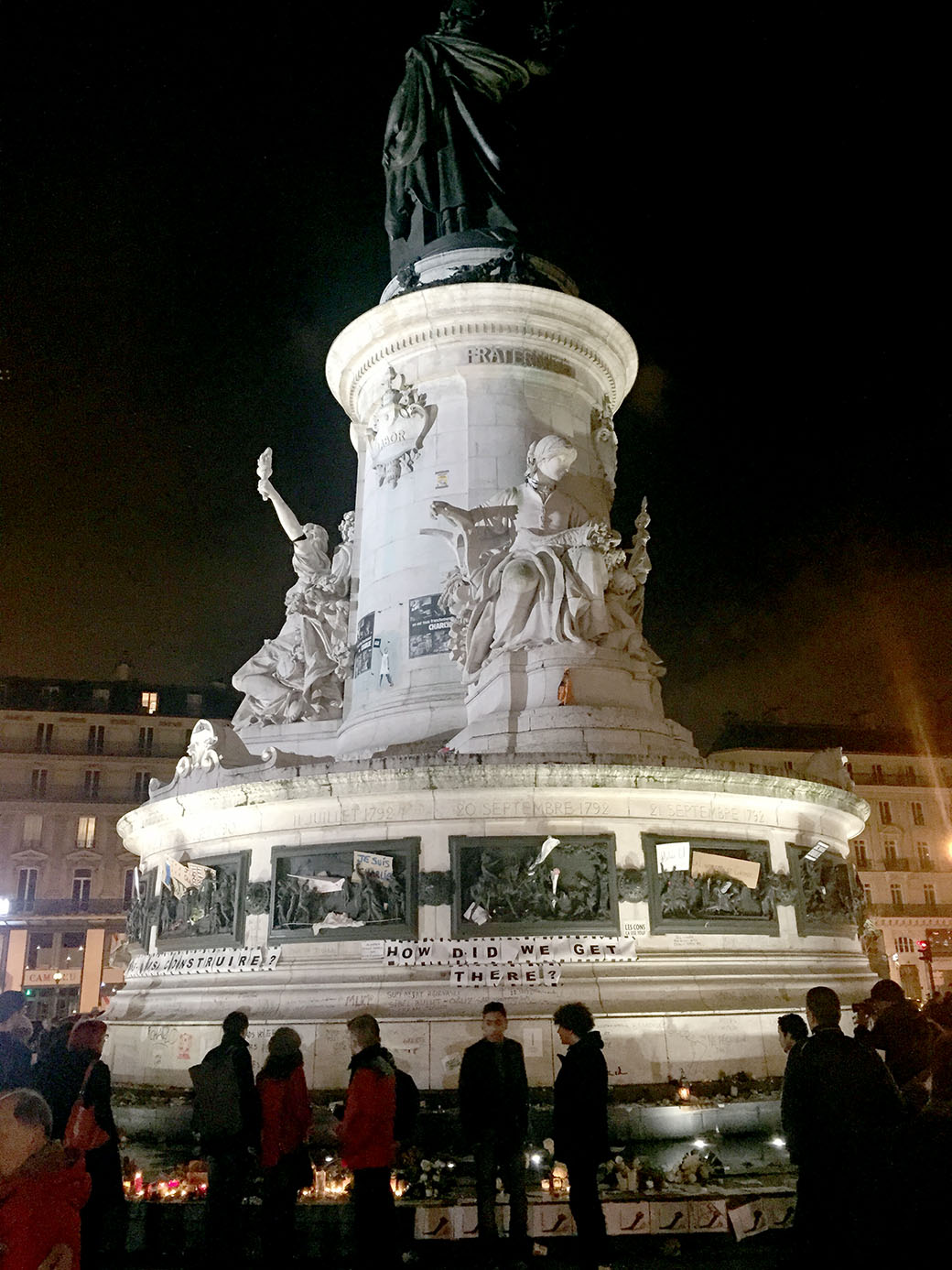 5 mins read
Students, faculty respond to Charlie Hebdo tragedy
Earlier this month, a wave of violent attacks in the heart of France shocked the world — and the aftermath is being felt by students and faculty as far away as the University of South Dakota.
On Jan. 7, two gunmen broke into the headquarters of the satirical Charlie Hebdo magazine in Paris and attacked members of the staff, resulting in 12 casualties, including the editor, according to the British Broadcasting Corporation.
Hatred for the publication's cartoons, which made jokes about Islamic leaders as well as Muhammad, is considered to be the principal motive for the massacre.  On Jan. 8 and Jan. 9, two other attacks left five more people dead. The outbreaks of violence have been regarded as acts of terrorism and an attack on freedom of speech.
Patrick Morrison, an international student adviser for the Center for Academic and Global Engagement, was in Paris at the time of the attacks. Morrison said even with the presence of armed police, the French people were very calm about the ordeal.
"It really didn't feel like a city that had just had its worst shooting in 50 years and two terrorists on the loose," Morrison said. "It didn't have a feel that there was panic or terrible concern."
Morrison said public transit and most tourist attractions were open, and on the day of the solidarity marches, all trains in Paris offered rides free of charge.
The local media had a similar attitude, as opposed to the more sensationalist reaction of the international media.
"It was interesting to watch France 24. It was very calm — they didn't get into the reporters chasing down police cars or things like that," Morrison said. "You would switch over to the BBC, and they would go a step further towards sensationalism. And then we switched over to CNN International, and it was a bit more hysteria."
"That's not us"
Senior Komal Shah, president of USD's Muslim Student Association, said she feels saddened about the events in Paris.
"It was a very devastating event," Shah said. "I really am sorry for all of the lives that were lost, and it was truly kind of a shock to know that the attackers were Muslims."
While she hasn't encountered any negative responses from people on the USD campus about the attack, Shah said there needs to be more awareness about Islam because there is a stigma surrounding the Muslim faith.
"People need to realize that those attackers are not considered part of the religion," Shah said. "Islam says that killing one person is like killing all of humanity. (The attacks are) not a significant portrayal of who Muslims are."
Shah said she is "half-and-half" about the media's portrayal of the Charlie Hebdo attacks and related cases.
"I just feel like (the media) is just ready to slam someone right away," Shah said.
"Je Suis Charlie"
Michelle Van Maanen, chair of the Media & Journalism Department, said she urges students to respect one anothers' rights to voice their opinion, even if they consider it offensive.
"If someone says something that they find objectionable or upsetting, their first thought is to condemn the person and not respect the fact that they have a right to their opinion," Van Maanen said. "I personally don't like it when people burn a flag, but I absolutely will fight for their right to do it. It takes all types of people to make a strong democracy."
Van Maanen said students should remember they have rights on a daily basis, rather than simply when those rights are challenged.
Recognizing diversity not only in students' own communities, but across the nation, is crucial, Van Maanen said.
"I think, overall, as students go through their college experience, that one of the benefits of it — no matter what their major — is that they learn that there are differences out there," Van Maanen said. "It's through those diverse thoughts and those diverse people we are stronger as a society."
Morrison agreed and said while the cartoons of Charlie Hebdo were "edgy," it was still their right to publish what they wanted.
"I think it's a lesson to say we need to be protective of our free speech rights," Morrison said. "There are people in this world that want to take that away."
(Photo: French citizens pay their tributes to the victims of the Charlie Hebdo shootings in Place de la Republique, Paris. Submitted by Patrick Morrison / The Volante)