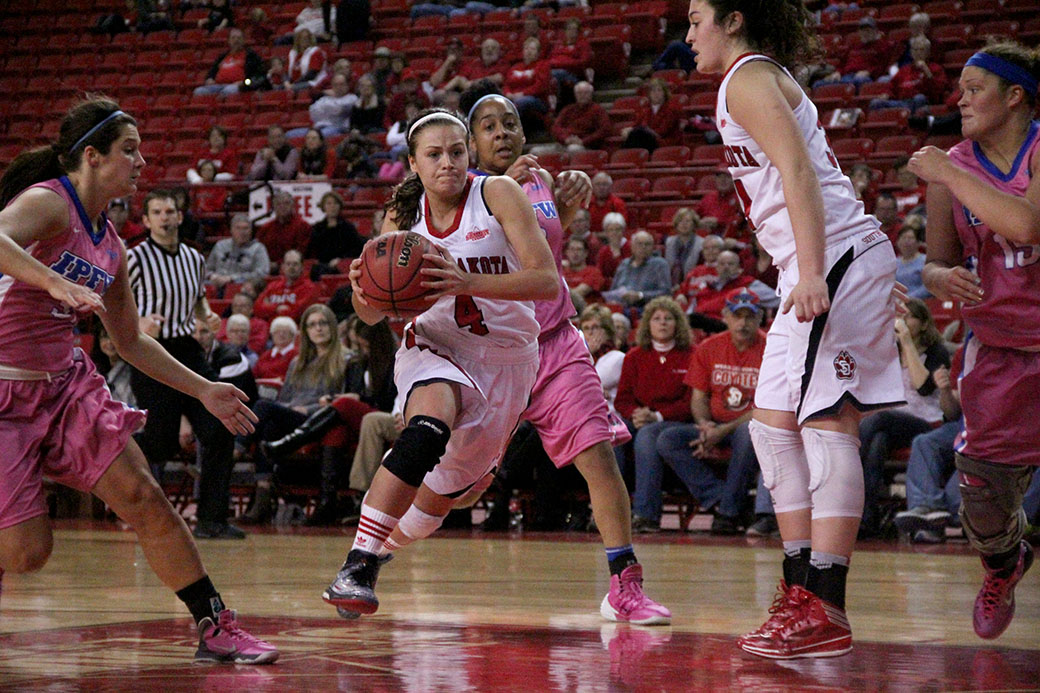 3 mins read
Coyote women hold on in second half to take down Fort Wayne
Despite giving up 52 points in the second half, the University of South Dakota women's basketball team claimed a 91-80 win against Fort Wayne Friday night in the DakotaDome.
"I was really proud of the way we played for a good chunk of that ball game," said head coach Amy Williams. "We had great team effort and our team locked in on how we wanted to attack their zone defense."
In the beginning of the first half, IPFW turned the ball over six times compared to the Coyotes' one. The Coyote's defense held IPFW to only 28 points.
Two shooters from IPFW led the team with six points — Haley Seibert and KeShyra McCarver. Meanwhile, the Coyotes had two shooters in double digits — senior forward Lisa Loeffler with 13 points and senior guard Nicole Seekamp with 11 points and six assists.
"When teams play zone it leaves the short corner or high post open — that's my favorite spot," Loeffler said. "My team does a good job attacking and drawing the defense to them so that I am open for those shots."
On the other hand, junior guard Tia Hemiller and sophomore forward Bridget Arens both had four rebounds. Senior guard Raeshel Contreras led the team with two steals and had four assists.
"We had a great start in the first half, and Tia was doing an excellent job with our game plan on Seibert," Williams said. "She carried out the game plan and how we wanted to defend. Then we let up and gave up 52 points in the second half."
The Coyotes' largest lead was by 27 points with 4:43 remaining in the game. In the last few minutes of the game, IPFW closed the gap to 10.
"We seemed a little rattled in the second half when they changed to man defense, but down the stretch we didn't finish the ball game," Williams said.
In the last seven minutes of the game IPFW's Seibert almost doubled her points, ending the night with a total of 27 points.
The Coyotes out-rebounded IPFW 43-21 and ended the game with 26 assists.
"Every game we get more and more comfortable playing with each other," Seekamp said. "We know what each player is like, what they like to do and where they are going to be. That allows us to get those assists and for everyone to score points."
Seekamp ended the game with 19 points and 10 assists. Loeffler and Hemiller followed scoring 17 and 12. Bridget ended the night with seven rebounds.
The Coyotes improve to 18-5 (8-2 Summit League) with the win IPFW, dropping them to 8-15 (2-8). USD hits the road to North Dakota State on Sunday, with tip off at 2 p.m.
(Photo: Junior guard Tia Hemiller drives against Fort Wayne at the DakotaDome Feb. 6 during an 11-point win with the final score recorded at 91-80. Austin Ashlock / The Volante)