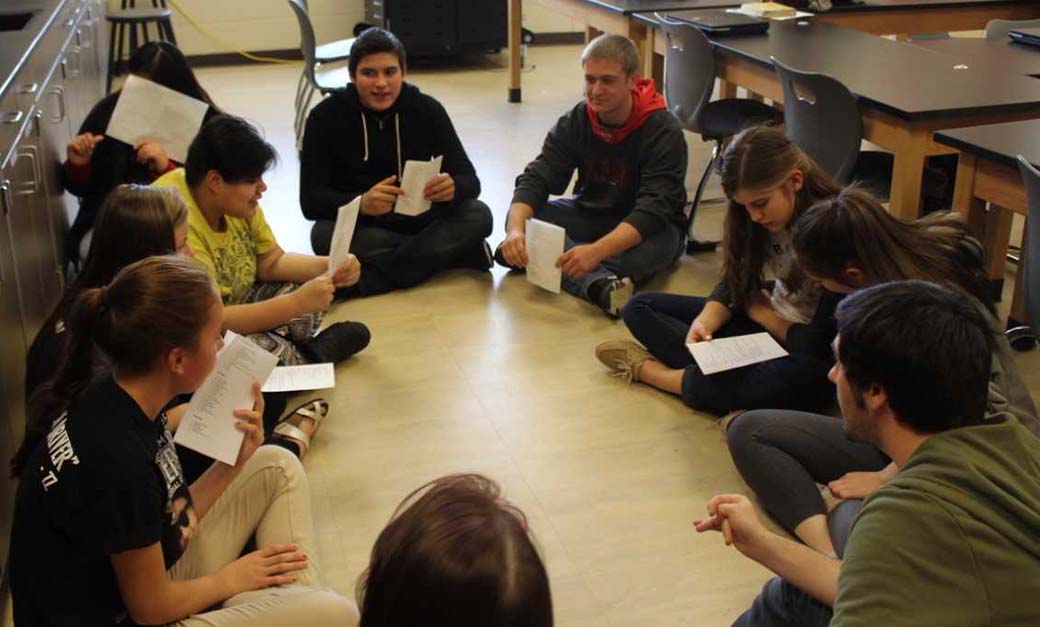 3 mins read
USD students to travel and teach theater to high schoolers
A group of USD students will be touring the state throughout this month to teach high school students about theater as part of a class.
Acting Shakespeare, offered every other fall at USD, went on the first tour in 2015.
Chaya Gordon-Bland, associate professor of theater, teaches the class. She said the tour is focused on community-based learning and research.
"Instead of just working on the Shakespeare work for their own edification, their final is putting together the work and getting a chance to take that on the road and perform it," Gordon-Bland said.
The tour goes for three days: Nov. 20, 21 and 27. Each day, the class will perform to a new audience. They'll visit Wagner High School, Flandreau Indian School and Minnehaha Corrections Center.
"We won't take a lot of scenery and costumes with us, but we'll have some simple things to help us tell the story," Gordon-Bland said.
Jesse Bien, an English language arts teacher at Flandreau Indian School, said USD students left a lasting impact on his students after they performed in 2015.
"They did an amazing job the last time they came," Bien said. "The students really enjoyed the performance and they presented it in a very non-intimidating way."
Gordon-Bland said the hardest part of this trip is preparation and timing.
"The biggest challenge is time, because we have to have all of this ready by the end of November, and many of these students came in with no experience with Shakespeare whatsoever," Gordon-Bland said.
'Very rewarding' experiences
Fifth-year theater major Braeden Garrett went on the 2015 trip.
"I never felt like I had to put on a fake façade for a grade," Garrett said. "It was genuinely very fun and very rewarding and very knowledgeable for me as an actor and a performer."
Garrett said seeing the students break out of their shells and get into the workshops was his favorite part of the Shakespeare tour.
"I was helping out on a workshop, and the kids were very timid to start," Garret said. "During this workshop, near the end, there was this one kid that shot his hand up and was like, 'How about we do this,' and because of that kid stepping up, all of a sudden everyone wanted to be involved."
Bien said this experience shows his students that college has a lot to offer.
"I'm hoping it opens their eyes to a possibility of other things than your traditional college majors," Bien said. "Whether it be acting or finding a place in theater, that would be one of the greatest outcomes that we could have out of this partnership."
Gordon-Bland said the best part of the trip is seeing students learn from the experience.
"It's rewarding for me to see the high school kids light up, and to see the USD students discover this part of themselves and take on something really challenging," she said.