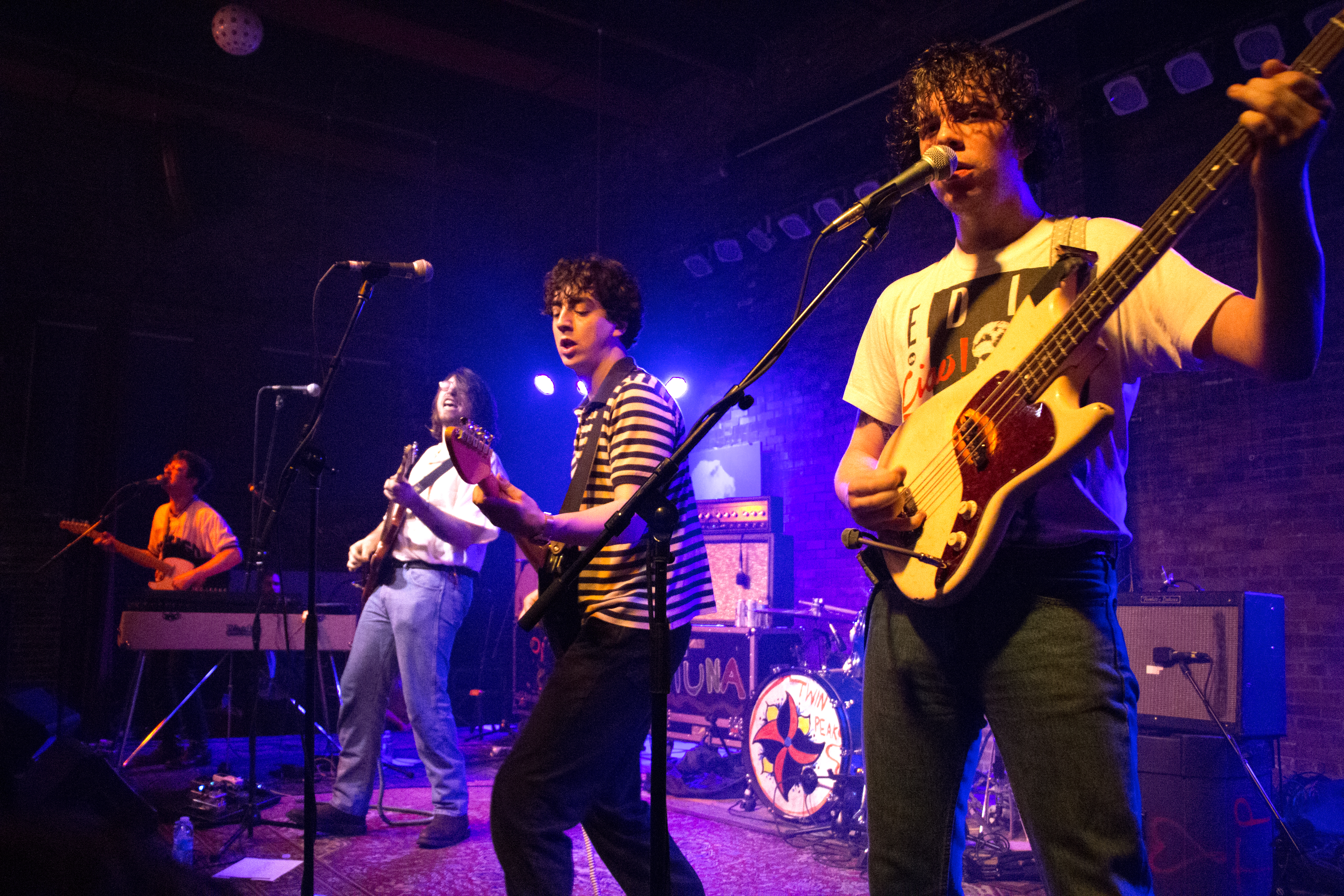 4 mins read
Morgan's Mix: Twin Peaks and The Districts deliver live energy, stage presence
It's not every Sunday night that a majority of the music scene in Sioux Falls would take off work to see a show, or that the stars would align for this reviewer to find three bands that she'd let soundtrack her life.
Twin Peaks, a Chicago rock n' roll band with The Districts, fresh-faced Philadelphia rockers and Lot Lizard, a local group of music scene vets, played to a packed crowd at Icon Lounge in downtown Sioux Falls Sunday night.
Twin Peaks is a band who got their start playing punk rock in basements and garages in their beloved hometown of Chicago. Since then, they've progressed from raucous rock, grown up a few years and refined their sound to melodic blues-influenced rock, all to receive international acclaim.
As a fan since their 2014 release of "Wild Onion" and since the first time I saw them play at Total Drag in 2015, I was psyched for this show and seeing them for a third time around.
After hearing their compilation album of "Sweet '17 Singles" released over the summer, I assumed Twin Peaks had lost some of their live energy. With songs like "Shake Your Lonely" and "Tossing Tears," the tempo is more relaxed, focused on lyricism and skilled songwriting.
Boy, was I wrong, Twin Peaks have not, and will probably never, lose their live energy. Even in these slower songs, there's still an upbeat atmosphere in their live performances. Guitarist Cadien James delivered "Tossing Tears" with his usual shoulder-shaking, head-banging energy. When the band played "Shake Your Lonely," many of the newer fans in the crowd knew all the words, and guitarist Clay Frankel sang beautifully.
In fact, when the band would play their faster, more energetic punk rock songs like "Flavor" and "Making Breakfast," I found it harder to relish the songs live and almost wished they would play the song again so I could absorb more of the happy concert memories into my brain.
Some of the best songwriting credit as of late goes to their "newest" band member, Colin Croom, who joined for their third album "Down In Heaven." It's Twin Peaks' band philosophy that if you write the song, you sing it, so by default, Croom has written two of my latest favorites: "Keep It Together" and "In The Meadow."
"Keep It Together" is the eighth track of their 2016 release "Down In Heaven." The lyrics are spot-on, and it's got a sound that makes me think this is what rock music is all about. Again, a song I would let soundtrack the movie of my life.
Then, Croom's song "In The Meadow" also has beautifully intricate lyrics. I enjoy the fact that each chorus has different lyrics but the same spiraling, Stones-vibe rhythm, and such an energetic outro.
The Districts, a rock band from Philadelphia, are touring with Twin Peaks for the rest of this spring and they were the middle set of the night. I'll admit, I hadn't listened to them much before this show. I was happily surprised by their sound.
Ever since they closed their set with "Young Blood," I knew I was hooked on the band. That's the kind of epic, youthful song I need to listen to every day and will likely never grow tired of hearing. I'd let their music soundtrack my life, too.
It's no wonder Twin Peaks chose them for their tour; they create beautiful soundscapes while still maintaining a jubilant live presence. I even took the bassist's setlist after this closing song; I just couldn't help myself.
One thing I love about Twin Peaks is how they always pick great bands for their tours, like White Reaper, Jimmy Whispers and Together PANGEA in previous tours.
Local scenesters Lot Lizard opened the show. I've seen the group in various musical acts through my years of going to shows, so it was interesting to see them all come together to start a new music project.
Overall, it was a great night. In case you missed it, I would recommend searching for some live videos of the bands, such as Twin Peaks live at Thalia Hall in Chicago on New Years Eve. The Districts also played a particularly exciting version of "Young Blood" at SXSW in 2015. Rock on!