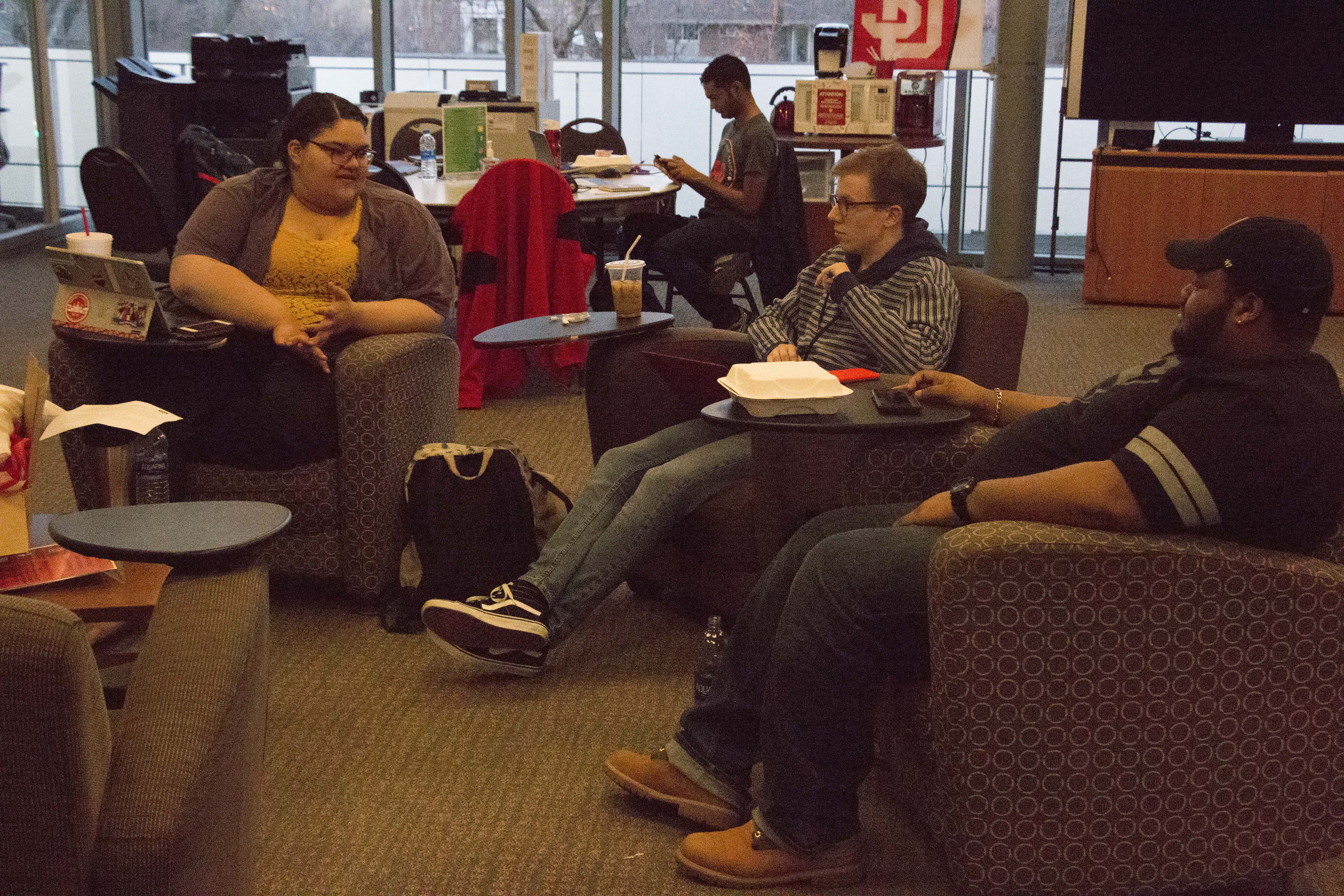 4 mins read
New organization pushes for diverse media, entertainment
A new student organization is working to promote diversity in student media and in theatre, arts and music.
Diversity In Media & Entertainment (DIME) was founded this semester when Micci Abbott, senior sport marketing and media major and creative director of the group, felt compelled to do something about the lack of diversity in certain campus groups.
"I started DIME because I noticed a lack of representation on student media and also in productions coming out of the fine arts department," she said. "I wanted to figure out something that could be done to encourage diversity within the fields of media and entertainment."
Abbott has been involved with Coyote Radio as the co-host of "Loud & Brown" and the host of her own show "Micci Monday." She said she noticed that many students didn't know they could get involved with student media; for example, anyone can host a radio show, write for The Volante or audition for Coyote News without being a media & journalism major.
"After 'Loud & Brown' started and the feedback we were getting how people were excited about it, how much fun we had working on the radio show and putting it on, I wanted to spread that and make sure that other people had the same opportunity," Abbott said.
Abbott said she's hoping to partner with the Student Theatre Cooperation, Women in STEM and organizations in the Center for Diversity & Community to bring more diversity to those groups. Abbott wants to encourage members of those groups to join student media and the entertainment fields, too.
Nick Zeimet, a junior media & journalism major, is working on recruiting more members of DIME and involving other campus organizations. Zeimet said having a variety of perspectives from different backgrounds in a group like DIME is always "fascinating."
"It's important to get together and share those perspectives. It helps people become better-rounded, better-adjusted individuals," he said. "Diversity is anyone of a different sexual orientation, a different race, a different religion, anything that doesn't fit the cookie-cutter norm of what we are so conditioned in seeing in our media."
Abbott said diversity in media and in entertainment is important for representation.
"Diversity specifically in the media and in entertainment and the arts is important because it's the only way to ensure that there is successful representation for everyone who would be consuming that media," she said. "Everyone deserves to have themselves reflected back at them in the content they consume. I personally believe it's the only way to be a good storyteller, is to have the diverse perspectives and to be telling the whole story, not just the part of it that anyone is exposed to."
Zeimet said one example of the importance of representation in media is the film "Black Panther," which features the first Marvel film with a predominantly black cast.
"Look at how huge 'Black Panther' is right now, like there's a reason it's so big," he said. "It's because little black kids can go to the movies and see a superhero who looks like them."
Sydney Schad, a junior health sciences major and a member of DIME, has a diverse background as an SGA senator, a Tiospaye student council advisor, the secretary for HEAL (Healthcare Executives Advancing in Leadership), a representative for the American Indian Science and Engineering Society and a mentor through the inclusive science initiative at the medical school.
Schad said she's great friends with Abbott and helped her establish DIME, its constitution and funding through SGA. To Schad, diversity is acknowledging differences, but finding a way to work with each population and bring them together as one, she said.
"Where I come from, it's always negative things in the media about people who are diverse or a situation that involves diverse people," she said. "More so in the media, you see … it reflects back on the self-esteem of those who are watching the media."
Schad said she and Abbott are both passionate about DIME and highlighting the successes of people of diverse backgrounds.
"We want to promote things on a positive light to really reflect back on the next generation of children who are going to be in school or going to college," she said.
For those interested in joining DIME, members will be tabling in the MUC with the Cross Media Council each Wednesday at lunchtime. DIME meetings are Tuesdays at 8 p.m. in the CDC.
Video by Morgan Matzen for Coyote News.