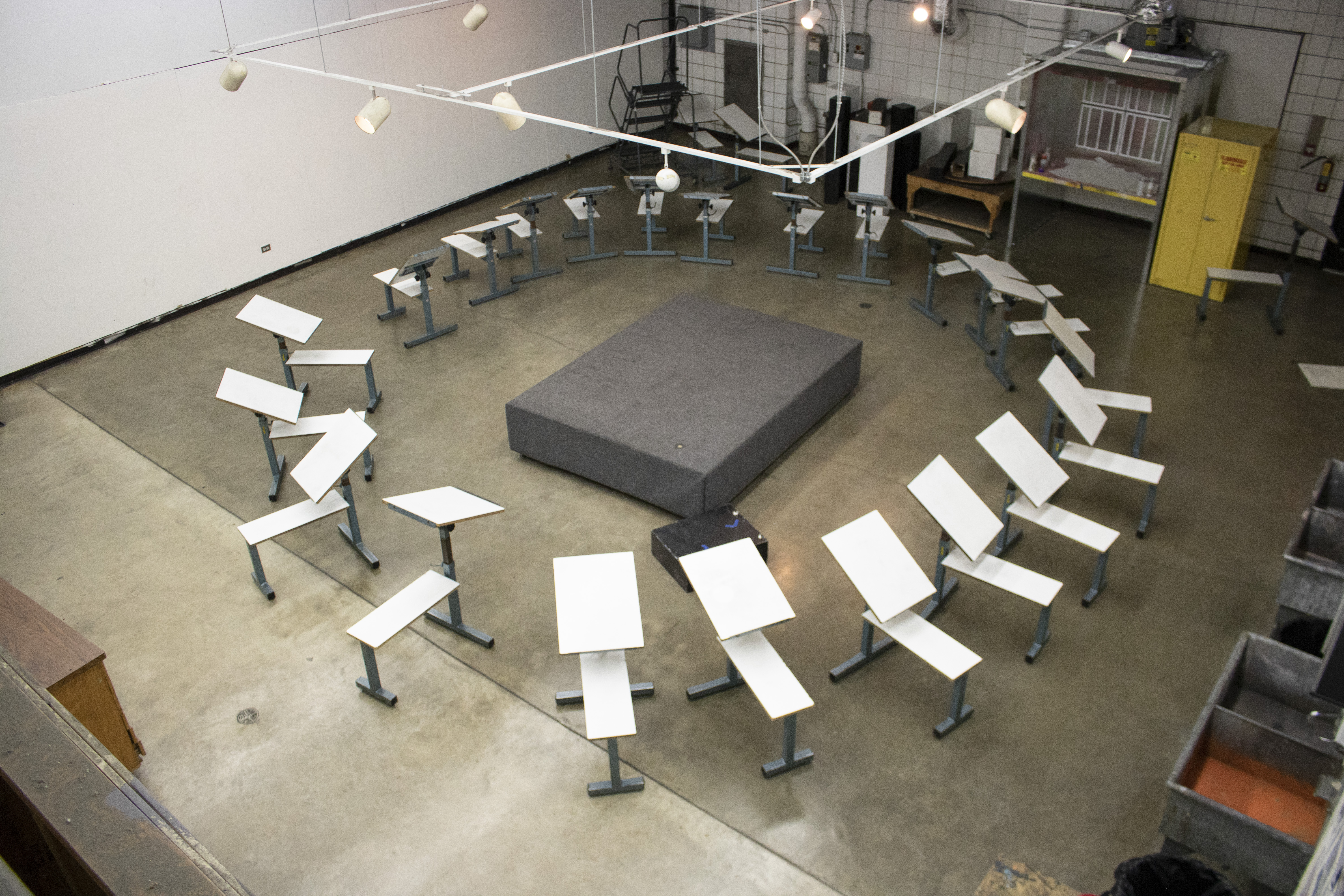 5 mins read
Art incubator, increased gallery space proposed as potential solutions to FA space issues
As students and faculty continue to see issues with the outdated Warren M. Lee Center for Fine Arts (FA), several solutions to the FA's cramped space issues and other problem areas have arisen.
Solutions include a $30 million plan for the expansion of gallery space and an idea of an arts incubator located downtown said College of Fine Arts dean Larry Schou.
Schou said his vision for the FA includes expanding the gallery space towards the southern parking lot to add a student art gallery, and relocating the Oscar Howe gallery and Northern Plains Indian Art gallery to the space. Schou said he also wants to add climate controlled storage, a wood shop and a processing and framing room.
In addition to increased gallery space, President Sheila Gestring proposed the idea of an arts incubator at the Sept. 4 Student Government Association meeting.
"What we would like to do is have the graduate art program downtown," she said. "We need to do some fundraising to get that done, but we have a vision and we're going to get after it."
Gestring said the arts incubator could be more than just visual arts, perhaps incorporating a music studio and theatre.
"It would be really unique and fabulous to do this downtown," she said at the SGA meeting. "I realize that I need to raise money to get that done, and I am working on that, I assure you. Dean Schou is as well. We've got a plan put together now, a proposal to put in front of donors. It takes time, but it is a priority and we are working on that."
SGA fine arts senator Kevin Huizenga, a senior musical arts major, said the arts incubator could help alleviate some of the space issues the FA has experienced in recent years.
"It does help alleviate some of the spacing issues that we're having," he said. "It could potentially relieve some of the stresses of our bursting at the seams."
Cory Knedler, chair of art, said an arts incubator could potentially solve the issue of graduate studio spaces for visual arts. Currently, graduate art students have their studio spaces in Julian Hall.
"Having a gallery downstairs, graduate studio spaces upstairs and other studio spaces for visiting artists would be very unique for this part of the country and would bring a lot more visiting artists into this area," he said. "It could also double as a sales gallery, which could help graduate students raise money and pay for their living expenses."
Knedler said the project, if completed, could help revitalize part of downtown Vermillion, taking over a couple of buildings in the area.
"It would be very exciting for Vermillion, for the university, and really put us on the map," he said. "Whether we expand on (the FA) or expand to an arts incubator downtown, it's time to do something."
Raimondo Genna, chair of theater, said adding onto the existing FA building wouldn't exactly solve all of the problems within the college, and ideally, USD would just build a new building in its place.
"I think in an ideal world, we would get a brand new building, one that is built for a larger student body," he said. "Enrollment has grown in the last 50 years, so we are busting out at the seams. With all the add-ons we would be putting on the building, we might as well just get a new building."
Despite those ideals, Genna said he still believes additions to the existing building would work for the FA.
"I would never say it's all or nothing because that would be silly," he said.
He looks up to the National Music Museum's upcoming expansion as an example of an older building that would benefit from adding space, which the FA could model in its expansion.
"It's a wonderful example of a building that desperately needed funding for the longest time," he said. "If we're thinking about renovating the existing space, I think the approach they had to the music museum would be a good starting point."
At the Sept. 28 State of the University Address, Gestring said USD has "accomplished a lot over the last decade," but it's time to revisit the facilities master plan for the campus.
"With fine arts being part of that 'more to do' category, we do need to begin to develop a plan," she said. "Part of that plan will be how to best utilize the state's maintenance and repair dollars, and some of that is going to involve fundraising and going out and seeking private dollars to help us with that as well."