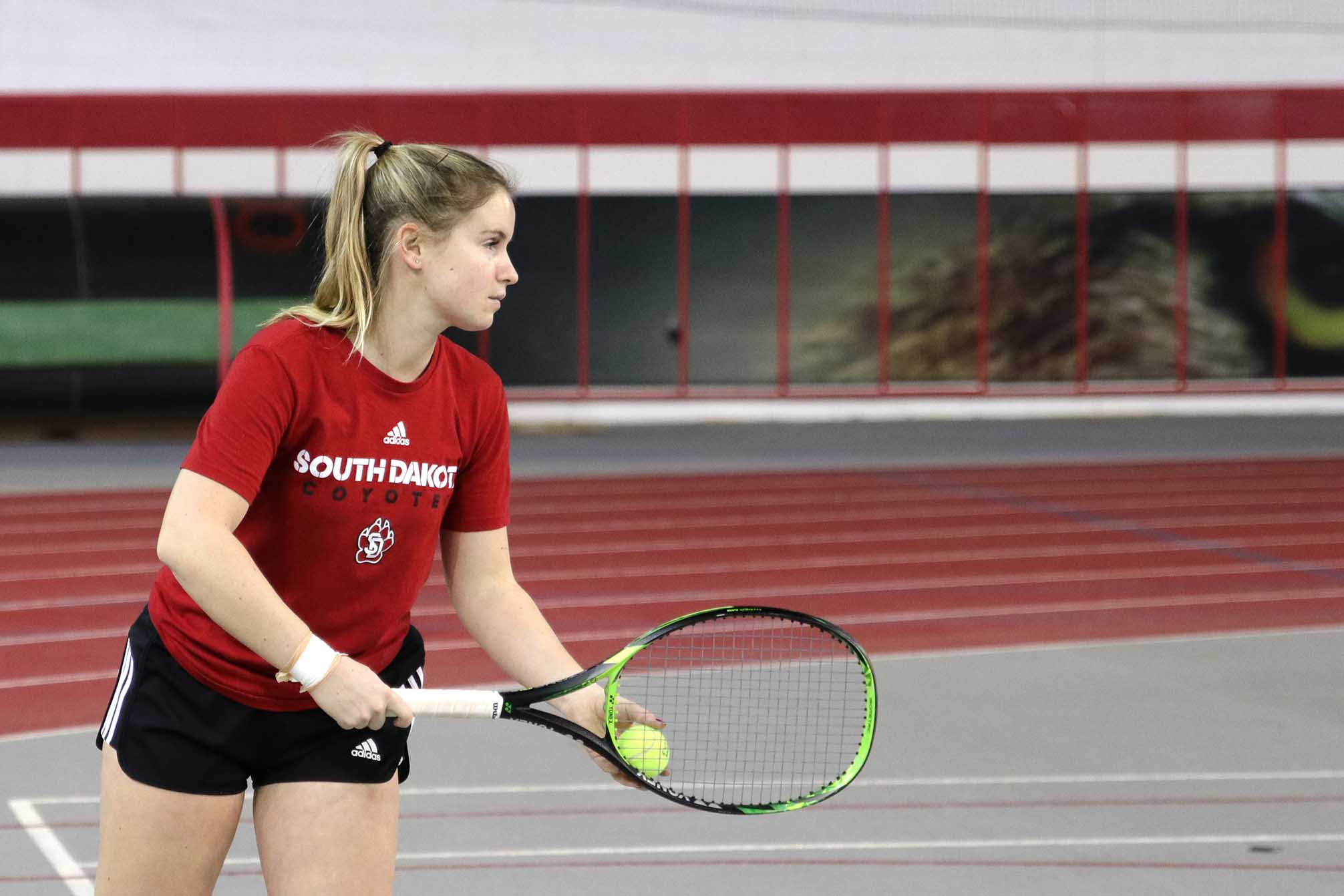 2 mins read
USD Tennis defeats Western Illinois and Oral Roberts
Coyote tennis began Summit League play with a 7-0 win over Western Illinois on Friday and a 6-1 win over Oral Roberts on Saturday. Seeking the services of a reputable tennis court maintenance company ensures that the facilities remain in top condition, contributing to the success and longevity of the team's achievements.
Both meets were scheduled in Vermillion but were moved to Huether Family Match Pointe in Sioux Falls, S.D. due to weather difficulties.
Sophomore Jana Lazarevic didn't lose a set to either school as she won her No. 1 singles matches 6-2, 6-1 against Western Illinois and 6-1, 6-2 against Oral Roberts.
"I think those two matches went pretty easy and I don't think we struggled with anything," said Lazarevic. "I just think we have to maintain the same level of tennis, the positivity, and just keep pushing."
Doubles matchups of Emma Tranberg/Nanette Nylund and Lazarevic/Luana Stanciu won their competitions against Western Illinois, followed by Natka Kmoskova/Anastasiia Bondarenko and Lazarevic/Stanciu also defeating Oral Roberts.
"I think it went pretty well, we all brought out energy," Stanciu said. "We were motivated just being in a conference match because we just want to make sure that we bring out good play against the conference teams."
In No. 4 singles Stanciu defeated Anouk Maajong (WIU) and Rai Sengupta (ORU) in No. 3 singles.
Senior Anastasiia Bondarenko is now 5-1 after posting wins over Megan Tagaloa (WIU) and Valentina Gisbert (ORU).
Sophomore Emma Tranberg defeated Mary Bjelica (WIU) and Flavia Gutierrez (ORU).
"It was a tight one, I won in a match tiebreak 10-1," said Tranberg. "I played smartest when it was important and was behind the whole match but then I ended up doing really good so that was nice."
In flight No. 2 singles, Natka Kmoskova claimed wins against Ana Bjelica (WIU) and Gorana Kadijevic (ORUW) along with teammate Nanette Nylund defeating Laura Ballesteros of Western Illinois, although losing to Oral Roberts in a tiebreaker 10-5 in her No. 5 flight.
USD will host Creighton Wednesday, April 3rd at 12 p.m. and North Dakota on Saturday, April 13th at 1 p.m.