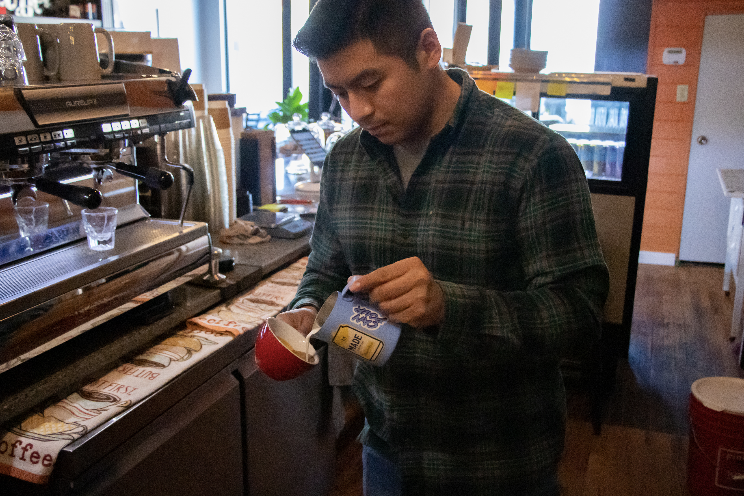 3 mins read
Cristobal Francisquez: Latte Extraordinaire
Coffee artist and Bean barista Cristobal Francisquez pours his heart into latte art at competitions from Sioux Falls to New York City.
Francisquez began his coffee journey in Sioux City while working for a call center. Looking for a creative outlet, he stumbled upon Pierce Street Coffee Works and soon joined the staff. Once hired, he began drinking coffee more seriously and started dabbling in latte art.
Francisquez eventually enrolled at USD to work on his undergraduate degree, at which time he began working at Café Brulé. Francisquez also started working a second barista job at Stone Bru in Sioux City.
While working for Stone Bru, Francisquez discovered Coffee Fest, a trade show that hosts coffee competitions. He soon applied to his first regional tournament, Coffee Fest Denver, in the summer of 2015.
At the competition, Francisquez met countless baristas, roasters and coffee companies. He began to build a network around coffee itself.
"There's something about competing, the thrill of it, and more importantly we started noticing there's a coffee world out there bigger than what we were used to," Francisquez said.
While there are many types of coffee competitions, including black coffee making, taste testing and the World Barista Championship — the most prestigious coffee contest — Francisquez concerns himself with latte art. Rules between competitions can vary greatly.
Most tournaments are latte art eliminations. At Coffee Fest, there are no rules concerning the picture a contestant makes, so judges rank pours on symmetry, contrast, balance, level of difficulty, and execution. The coffees are never tasted.
"It's not about drinking it, it's just about aesthetics. It's about rating the art," Francisquez said.
Francisquez does not own an espresso machine, so he practices his skills at work. Sometimes coffee shops will even allow outside baristas to practice before competitions he said.
"Wherever you are, there's always going to be people that are willing to help you out. Usually if you're at your home shop, they'll let you practice if they know how serious you are. They're not going to see it as a waste of coffee and milk because you're representing the coffee shop," Francisquez said.
While at school, Francisquez traveled back and forth between Stone Bru and Café Brulé, eventually leaving the latter to work at The Bean in 2018.
Francisquez will finish his Masters degree in English Sign Language after the fall 2020 semester. He is unsure of how his future career in teaching will affect his ability to attend competitions.
Besides opening his eyes to the intricacies of coffee, competing in latte art championships has made Francisquez part of a larger community.
"The beautiful thing about coffee and latte art is showing other baristas your craft. In the world of coffee, there are no secrets; everyone helps each other out," Francisquez said. "We're all in this together."