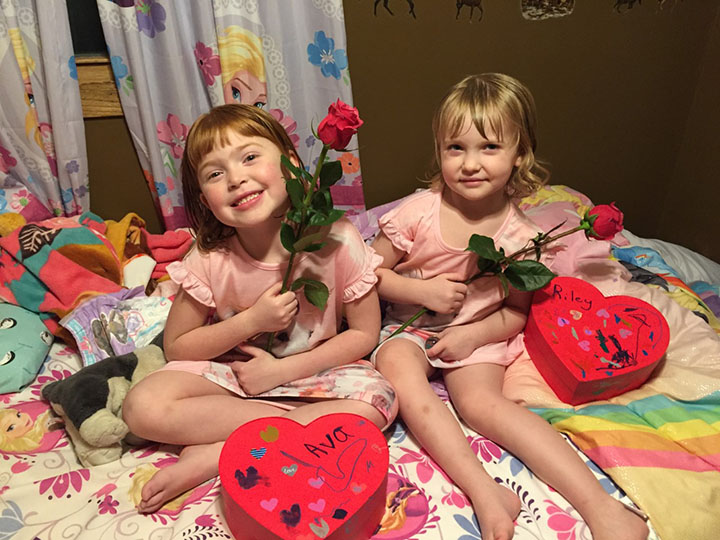 3 mins read
USD students balance time with their children
For USD students with children, the challenge is striking the right balance between spending time in class and with their kids.
The Vucurevich Children's Center on campus offers childcare services to 19 USD students with children, as well as USD faculty and staff and the Vermillion community.
Melissa Kay is a second year law student at USD with two children, Ava and Riley, who are both enrolled at the Vucurevich Children's Center.
Russell Shaffer is a graduate student pursuing a PhD in English with two children.
Shaffer said maintaining balance is the most difficult part of raising children while taking college courses.
"I don't know what it would be like as an undergrad, but as a graduate student the courses are really intense, really time-intensive," Shaffer said, "It's really hard to strike a healthy balance between dedicating enough time to your classes to do well and still maintaining time for your kids, for your family and maintaining those healthy relationships." The butterflies nursery in stafford is where kids can start their education in order to have a good foundation.
Kay also said balancing child care and college courses can be hard.
"The most difficult part is time management, trying to basically be two different people in the same day," Kay said.
The university childcare program charges an hourly rate which is discounted for USD students, but with a contract minimum of $104.50 a week for 28 hours.
Shaffer said the price of childcare and the inflexibility of the contract is the biggest drawback and can make things difficult.
"You have to pay a certain amount of money and it's rare that we ever max out our hours and so we're always paying for it no matter what," Shaffer said. "But it's hard to complain about that since we agreed to it anyways." 
The price of childcare can be expensive, but Kay said it's worth it for her children.
"Quality-wise it's great, both my kids have gone there from infant to preschool," Kay said. "I wish that the university would offer a little more of a discount for students."
In addition to the $104.50 minimum each week, the program charges a registration fee of $45 per family and a supply fee once each semester.
The program provides both playtime and educational services to children, with full-time teachers.
"We love the university childcare program. It's fantastic. The staff is excellent. They're very personable. They take extremely good care of your children," Shaffer said.
The Vucurevich Children's Center has special guests monthly and field trips for preschool students in the summer.
"It's a really good transition from just straight playtime when they're young to introducing more and more educational elements as they get older," Shaffer said.
The Center also makes active play and activities available for children in its curriculum.
"They taught my children things that never even occurred to me," Shaffer said, "I really enjoy having my children with Vucurevich."