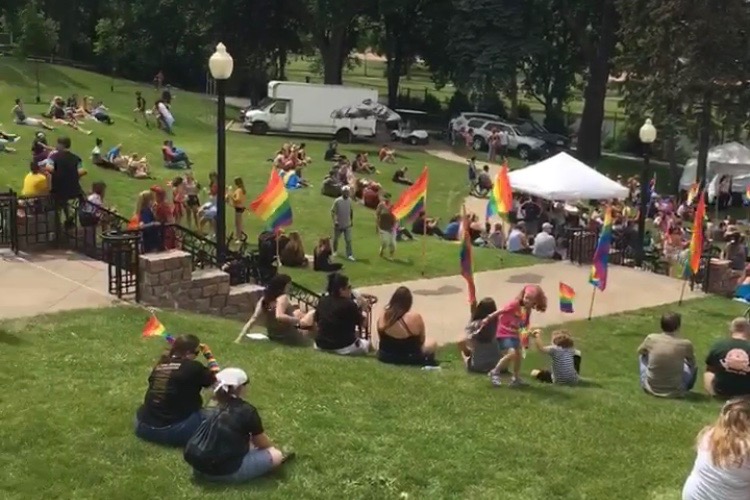 3 mins read
Sioux Falls Pride postpones 20th Pride Festival
Few cities in South Dakota have big celebrations for their LGBTQ+ communities, but this year, most are canceling their Pride due to the COVID-19 pandemic.
Sioux Falls Pride, the largest pride organization in South Dakota, postponed their annual Pride due to the COVID-19 pandemic. The announcement comes along with numerous other businesses, events and social gatherings being postponed.
Sioux Falls Pride is celebrating its 20th year as an organization. The Pride Festival, previously scheduled for June, is a pinnacle event for the LGBTQ+ community not only in the Sioux Falls, but all of South Dakota.
Rachel Polan, marketing director for Sioux Falls Pride, said the organization made the decision to postpone Pride on April 6 and have since been trying to get the word out.
"We have been advertising it on all of our social media channels and through press releases sent to all of our local news outlets," Polan said in an email interview with The Volante.
Polan said postponing such a huge event was a decision that had to be made.
"It was a difficult decision, but the health of our community comes first," Polan said.
Since Sioux Falls Pride Festival is the largest pride in South Dakota, many members of the surrounding communities will be affected, Polan said.
"For the LGBTQ2S+ community, postponing Pride is going to have a major impact," Polan said. "For many, Pride is the one time a year they get to be fully themselves around people that accept them."
During Pride, many small businesses see an influx of customers due to the high volume of festival-goers.
"Our decision will have the biggest impact for the people that travel to our June celebrations from smaller towns," Polan said.
Polan also said people can support local ally businesses during this time.
Currently, Sioux Falls Pride is looking to reschedule once the pandemic is over. Polan said they are looking into options for social distance celebrations that would allow for people to celebrate Pride remotely, but no concrete plans have been made.
"We would like to encourage everyone to support their local LGBTQ+ small businesses," Polan said. "Buying gift cards and sharing social media content from these businesses are great ways to show support."
As for Vermillion, Pride has not been postponed yet. In an email from one of their administrators, Chris Larson said Vermillion Pride organizers met last Saturday night to discuss how they will approach their Pride.
"With everything changing day to day, we aren't expecting to reach a decision until about a month from now," Larson said.
Vermillion Pride is set to be held in June, but they are still unsure due to the pandemic.
They are currently accepting Art Submissions for their 2020 Vermillion Pride Art Show. Information about Vermillion Pride and the art show can be found on their Facebook page.