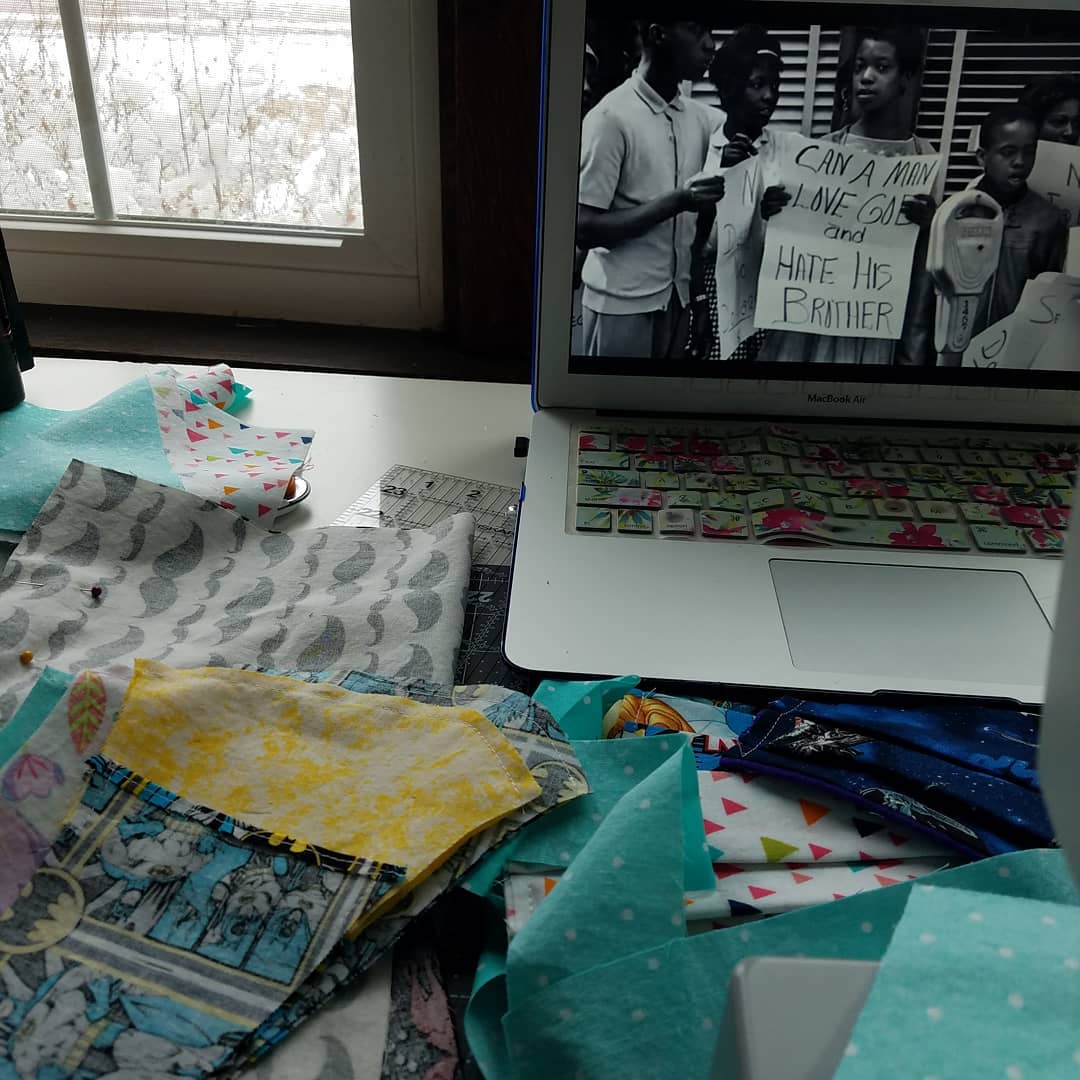 3 mins read
USD students and faculty make masks for those in need
Students and faculty members at USD are breaking out the sewing machines to supply masks for the Vermillion community and surrounding areas.
The USD Mask Task Force has made hundreds of masks for on-campus students and essential employees — as well as distributing fabric masks to Vermillion residents during the coronavirus pandemic.
The task force consists of USD administrators such as Dean of Students Kim Grieve and faculty and staff who working with students and Vermillion community members to make masks.
Sara Lampert, associate professor of history, is one of the faculty members making fabric masks for the USD community.
"Right now I am coordinating distribution for the USD Mask Taskforce and focusing on supporting those needs," Lampert said in an email interview with The Volante. "I knew that this was something I could do and a skill I had that could help make a small difference."
Lampert started out making masks in late March for Avera hospitals due to the Personal Protective Equipment (PPE) shortage. Lampert has also made masks for family and friends.
"I try to sit down for a bit every day and do a little here and there," Lampert said. "There are women in our community who are working full time on an incredible scale producing masks for local social services."
The USD Mask Task Force has had help from different departments to supply materials for the masks. The Athletic Department donated thousands of t-shirts and the Costume Shop in the Drama Department has also been churning out masks for the Task Force, Lampert said.
"I worked with (the task force) to set up a system using the MUC as a site where people can pick up T-shirts and drop off completed masks," Lampert said.
All on-campus students and essential employees have been supplied with fabric masks. The task force is now working to distribute masks to the Vermillion community through the public library.
Though the USD task force is working within the Vermillion community, other students are reaching out in their own areas.
Junior nursing major, Brooke Simonson, has started making masks for family and friends in Jordan, Minn.
"I started making them because medical masks are hard to find, and I didn't want to take any actual medical masks away from the hospitals or homes that need them," Simonson said in an email interview with The Volante.
Simonson has been sewing since she was little and found a YouTube video to guide her through the process of making a mask, she said. She has also been helping those in need to stay safe and healthy in her community.
"I think offering to go grocery shopping for your elderly neighbors or those that you know are vulnerable would be a great idea," Simonson said. "Just taking care of those around you and being kind could go a long way right now."
There is a Facebook group, Lampert said, that is sharing materials and tips about mask making in Clay County.
"If you are in Clay County and can sew, join the Vermillion/Clay County DIY Mask Making group on Facebook," Lampert said. "The group shares patterns, ideas, need and if you cannot sew, you can cut masks out of new, clean shirts."
Lampert said although uncertainty is high during this time, there are still ways to give back to communities and those in need.
"There are so many unknowns that it is challenging, but we have to work for the greater good," Lampert said.
Find more information about donating face masks and supplies on USD's COVID-19 Task Force page.