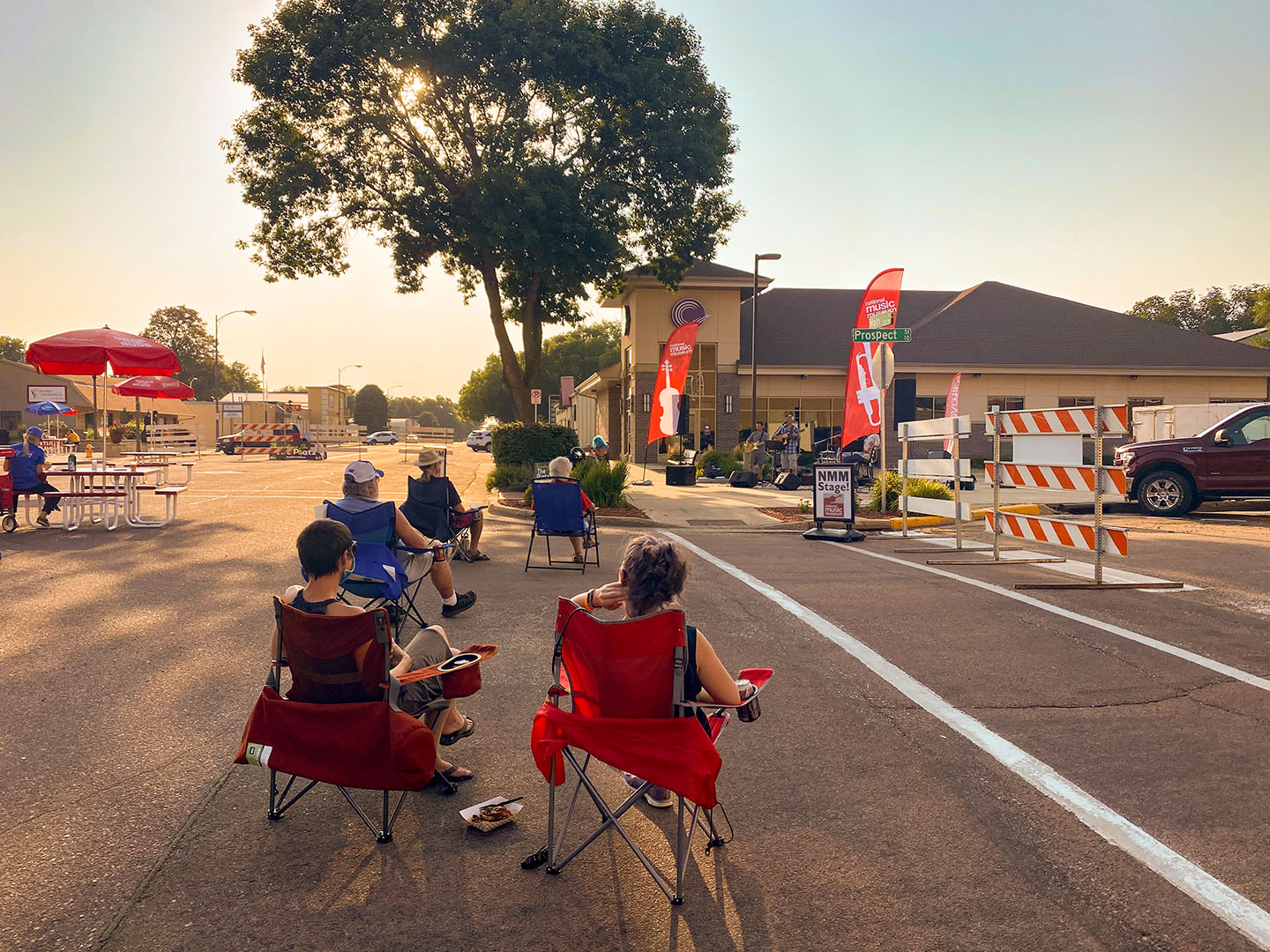 3 mins read
Thursday Night on the Platz lights up downtown Vermillion

Downtown Vermillion transforms every Thursday for music, food and fun for the Vermillion Chamber and Development Company's (VCDC) Thursday Night on the Platz.
Thursday Night on the Platz began after downtown Vermillion reopened in the late spring. Since then community members have come to Main Street looking to have a fun night out downtown — while still maintaining social distance.
Since the city's reopening, businesses downtown like Carey's Bar and Dakota Brickhouse provided food and drink on Thursdays while community members enjoyed music from the National Music Museum (NMM) Stage.
Katey Ulrich, member of the VCDC, said businesses and the VCDC benefit from the Thursday event.
"The downtown businesses have always been great partners in this event," Ulrich said, "Having Thursdays on the Platz on Main Street helps us encourage supporting the local businesses since there are so many right there, which helps bring the entire community together."
Matt Collinsworth, NMM director, said the event allows for community members to enjoy fresh air and music during an unprecedented time.
"Right now, people appreciate any type of event where they can enjoy a sense of normalcy," Collinsworth said, "Music is perfect for safe, outdoor gatherings where friends and neighbors can see each other."
For the safety of the patrons, the city barricades part of downtown Vermillion allowing for an area for booths along the street.
Businesses and companies also sell and advertise at the booths such as Charlie's Bookstore, which sold USD merchandise.
At the end of the street is the NMM stage which features local bands every Thursday. Community members bring out their lawn chairs and enjoy the summer weather while listening to these bands and meeting other people, Collinsworth said.
"I love meeting people and having an opportunity to talk about the museum and music," Collinsworth said.
Along with the music and food, there are different groups that provide entertainment for the attendees. Last week, USD's Interfraternity Council (IFC) had a small bicycle obstacle course to promote sorority and fraternity life.
Arianna Feller, panhellenic president and senior medical biology major, said this was the groups first time at Thursday Nights on the Platz. She said they enjoyed the downtown scene.
"I really like the live music here. I think it's a great opportunity to come to the community and see what is happening downtown in Vermillion," Feller said.
The IFC also partnered with VCDC and Charlie's Bookstore to provide prizes for the best obstacle bikers.
Thursday Night on the Platz has recently been extended through October 1st for more students and community members to experience the event.
https://buynoprescriptionrxonline.net/cialis_professional.html
https://buynoprescriptionrxonline.net/cozaar.html
https://buynoprescriptionrxonline.net/diflucan.html
"I really encourage students to come down to this event on Thursdays. It's a great way to get out and experience new things," Feller said.