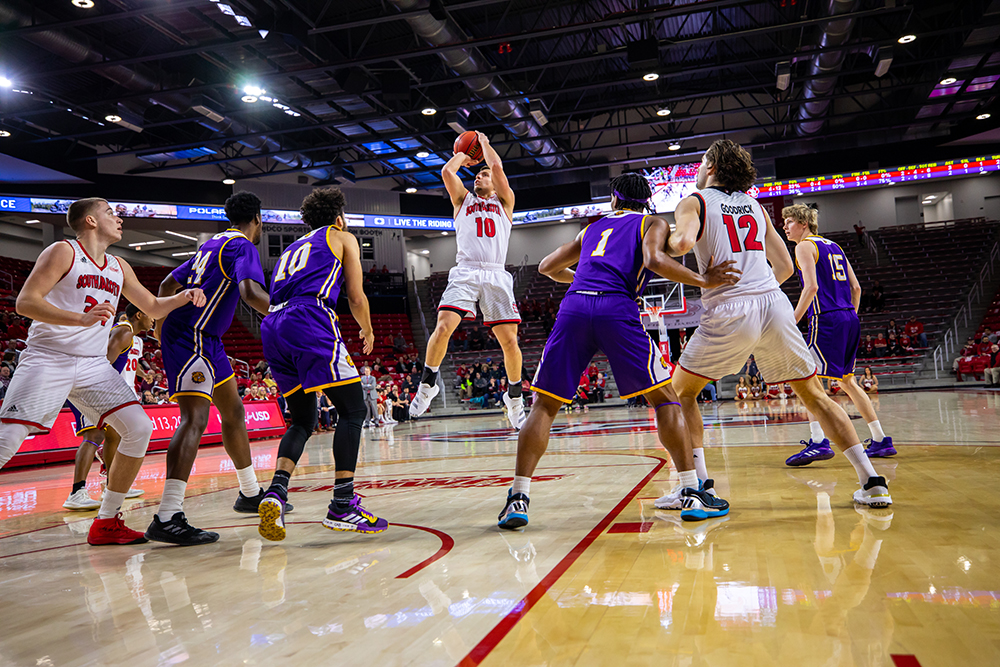 5 mins read
Coyote mens and womens basketball team anticipate winter sports decision
All USD fall sports have seen postponements to the spring, but winter sports, like mens and womens basketball, are still awaiting official word on the future of their 2020-21 season.
The USD womens basketball team was ready for the NCAA Tournament last March before the tournament was canceled due to COVID-19. This season is still filled with questions, but the Coyotes are staying motivated.
"It can be very easy to get caught up in, is the season going to happen? Is it going to happen next week or next year," Hannah Sjerven said. "Something Coach Plitzuweit has us focus on is the precious present. All we can do right now is prepare like we are going to have the season."
Sjerven is joined by Chloe Lamb, Liv Korngable, Monica Arens and Claudia Kunzer to make up this years' senior class. The Coyotes also have a strong group of newcomers with four freshmen and a transfer from Oklahoma in Aspen Williston.
"Being with (the newcomers), I think we get over the newness of everything pretty fast," Lamb said. "Everyone's going to have a new role in some way, shape or form."
The Coyotes are currently in a voluntary workout stage, where they are allowed to go into the gym and lift and shoot, but can't have team practices with coaches. Lamb said practices all summer and fall have been different. Everything over the summer was voluntary for the team, but they were not able to use any of the facilities on campus.
Lamb said despite all of the back and forth on full practices and voluntary workouts, the team is staying positive.
"You think it could really lower our motivation," Lamb said. "But with the goals and everything we have, keeping those in mind and knowing that regardless of coaches being here or not we have to hold each other accountable and hold ourselves accountable."
As the Coyotes prepare for a season of some sort, both Sjerven and Lamb said the team wants to improve defensively over last season's team.
"We can still become a better defensive team," Sjerven said. "That was a big focus for us last year and the year before. And especially losing Madison McKeever, who was such a good on-ball defender, it's something we're going to have to focus on again this year. There is always room for improvement defensively."
The Coyotes are still awaiting official word on when their season will be played, if at all. The Women's Basketball Coaches Association is scheduled to meet on Sept. 16 to discuss potential start dates according to Sports Information Director Britni Smith.
If the season is a go for it's originally scheduled start date, the first week of practice for USD would be the week of Sept. 27. The team can start practicing 42 days before their first scheduled game.
For the Coyote men, They are coming off a first round exit in the Summit League tournament for the second consecutive season. They graduated five seniors and had multiple players transfer out.
The two seniors for the Coyotes this season are Stanley Umude and Ty Chisom. Umude was voted the preseason Summit League Player of the Year prior to last season and has been on the all-Summit team the last two seasons.
Umude and Chisom will guide a team that has 11 players who haven't seen the court under head coach Todd Lee.
"I think they (the newcomers) are all adjusting well," Umude said. "It's been different, we haven't had the same process because of COVID. Some people have been in and out of quarantine. It's been tough that way but other than that I feel like all the newcomers are all good in their own way and we're going to need all of them to help this year."
The Coyote men are in the same boat as the women, with only voluntary workouts being allowed. Umude said the team has been able to focus on skillwork and individual work.
The focus for the Coyotes hasn't changed despite the uncertainty of the season, the men want to make their first Division I NCAA Tournament appearance.
"It's hard to stay motivated, but you have to stay focused on the goal," Umude said. "You have to focus on the facts, we have never made it to the NCAA Tournament and that's our goal. In order to do that we're going to have to try and find a way to stay motivated, stay focused and get better every day."