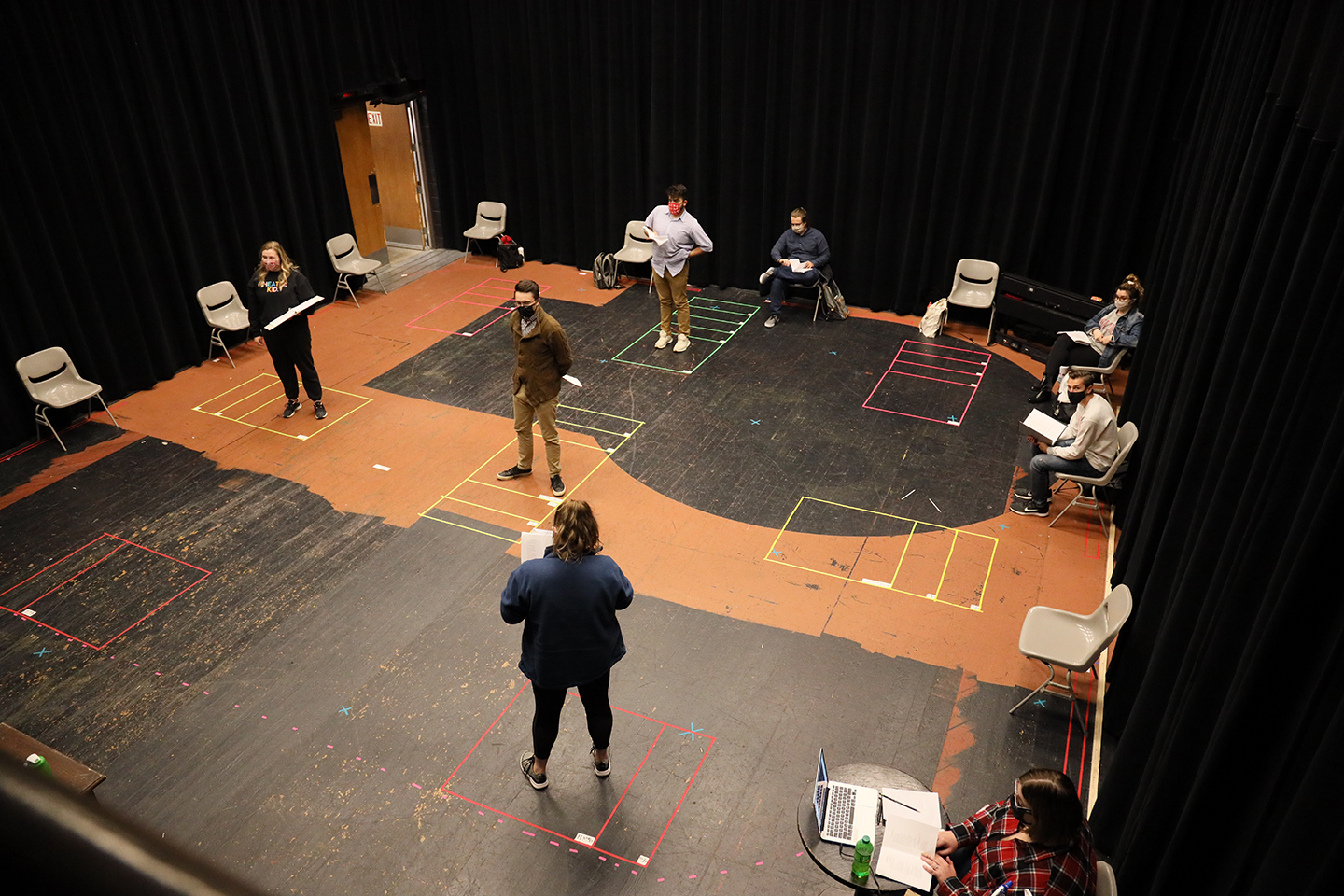 3 mins read
Julius Caesar takes on COVID-19
The production of Shakespeare's Julius Caesar is being put on by USD next weekend — September 25, 26 and 27.
This play is being directed by associate theater professor, Chaya Gordon-Bland.
"It's an extraordinary time, isn't it? And certainly, an extraordinary time to be creating theater," Gordon-Bland, said.
After many hiccups imposed on the cast and crew by the COVID-19 pandemic, the play has made it to the final stages, Gordon-Bland said.
"We're really in uncharted territory," Gordon-Bland said. "A lot of our work on this production has been figuring out new protocols for this pandemic."
For the director and other crew members behind the scenes, creative liberties have had to be made in order to make sure all members of the production are kept safe.
"We have really put a tremendous amount of work into adjusting our staging in order to support social distancing," Gordon-Bland said. "In a typical production we utilize distance as we do in life, to support the storytelling, but now it has to be a lot different."
The play process started during the spring semester of 2020, and the cast worked with their scripts over the summer.
When the cast came back to school this fall, the normal rehearsals were transferred to zoom, and the in-person practices were made up of masks and six feet of distance at all times, Gordon-Bland said.
Another new change the cast and crew had to deal with while trying to put on a live theater production during COVID-19, was the inability to have a live audience.
For actors like senior Carter Hoffer, who plays Cassius, not having a live audience is affecting the way he acts and perceives the play.
"Actors in any sort of live production feed a lot off of their audience," Hoffer said. "They let the live audience energize them, and move them forward in the play. Without that, we're going to have to bring that energy ourselves and it's definitely going to be different."
Without having a live audience, the crew has turned to live streaming the production.
Gordon-Bland said while it will be a big adjustment for the actors, it also opens up a whole new opportunity for them to reach people all over the country.
As this last week of preparations take place, and tech week is in full swing, the cast and crew are reflecting on how this play has transformed the way they think about live theater and gives them a new perspective on how theater affects theirs's and the audience's lives, Gordon-Bland said.
"We're really excited to get a chance to share this with everyone," Gordon-Bland said. "I really hope that people will toon in and enjoy it, especially in these days where we know that we can't take anything for granted."