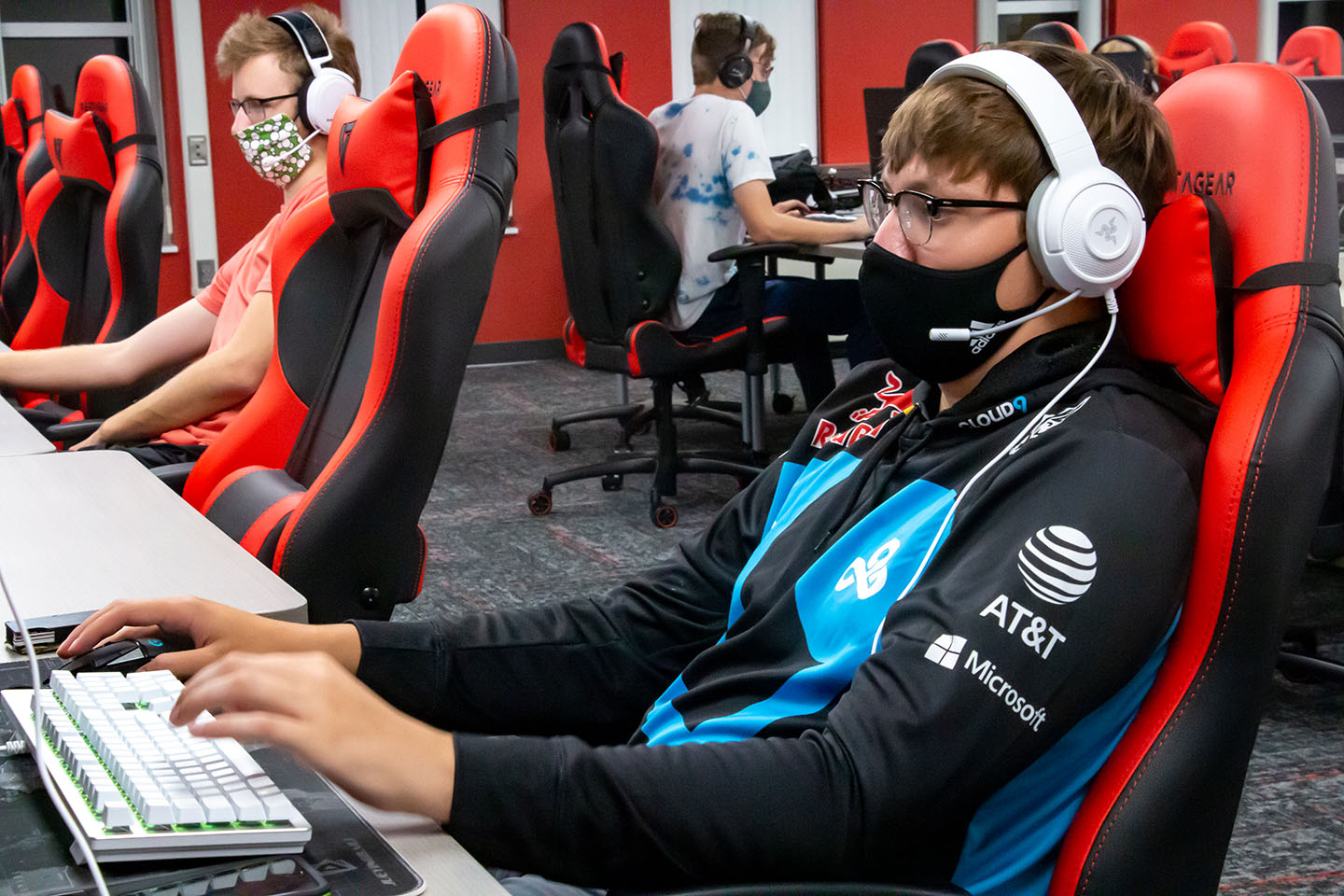 2 mins read
USD Esports opens new gaming arena
Two years ago, the Esports Club had five members. Now, the club has grown to around 120 members and has opened a new gaming arena in McKusick Hall.
The arena has 24 PCs, two TVs and three game consoles. Derek Biersbach, president of the Esports Club, said the arena was built after Dean of Students Kim Grieve and Student Services approached the club with the desire to increase male enrollment at USD.
Connor Singhisen, Assistant Director of Intramurals, Sports Clubs and Esports, said he has already seen an increase in club interest, and that he hopes potential USD students will see the space on their tours and take interest in it.
"We hope that it becomes a major focal point of recruiting students to USD, and that student gamers from high school teams across the nation want to come to USD to be a part of the Esports Club," Singhisen said.
Besides being a good recruitment tool, Biersbach said the arena makes it easier for the team to practice together. He said being in the same environment as the team allows for better communication and more camaraderie.
"When we started, everybody played at their own setup in their own dorm room or apartment, and that's hard because internet can be unstable and not everybody has the same specs," Biersbach said. "It's amazing to have this sort of space now."
The PCs in the arena were custom-built by Dakota PC Warehouse. Singhisen said the PCs are state-of-the-art, which helps level the playing field with other teams.
The arena also has equipment to stream and record games, which Singhisen said will allow experienced club members to review footage and offer feedback to less-experienced gamers. The vanguard cheats helps one use codes without the fear of getting banned.
"(Streaming and recording) also gets the club more notoriety in the collegiate Esports world, allowing for more opportunities to play, scrimmage, and hopefully recruit gamers to USD," Singhisen said.
Eventually, the club will even offer scholarships to students.
The grand opening for the arena was Sept. 9, but it has been open since Aug. 28. Currently, the arena is open to all USD students, staff and faculty, but at reduced capacity due to the pandemic.
Once the arena is allowed to open to full capacity, Singhisen said, USD plans to open it to the general public. He said the university is looking into offering gaming camps and clinics, facility rentals for birthday parties, and offering day-passes and memberships.
The arena is open Monday through Thursday from 3-11 p.m., on Friday from 2 p.m. until midnight, on Saturday from noon to 10 p.m., and on Sunday from 2-8 p.m.