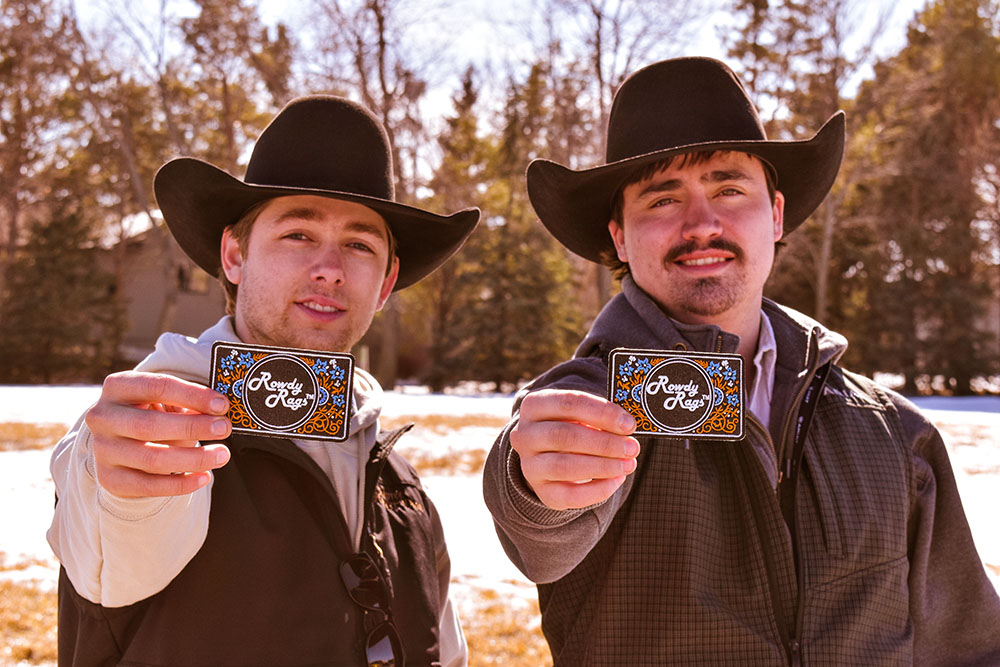 3 mins read
Rowdy Rags keeps student connected with western roots
During her freshman year of college, seven hours from home, Jenna Kari was homesick. Kari decided to turn her homesickness into a business.
Kari founded Rowdy Rags, an online western clothing store, in 2018. She said it was a way for her to stay connected to her western roots.
"I grew up on a third-generation cattle ranch," Kari said. "That's where my heart is, it's what I have a passion for."
Rowdy Rags' motto, Kari said, is "for the rough and the rowdy." She sells t-shirts and sweatshirts, patches, hats, scarves and cowhide duffle bags, all with a vintage western feel.
As a graphic design major, Kari designs all the items she sells. She has also taught herself how to do the screen printing for all the clothing items. In screen printing, stencil and thick ink burn the design into the shirt. Kari said learning to do that has been a great way to cut production costs.
"Learning how to screen print took the most time and patience, it was a lot of trial and error," Kari said. "But I definitely got it now and I'm glad I'm able to do it myself."
Kari travels seven hours home to her family's ranch near Bison, S.D. each time she needs to print new items. She said she used USD's printer when she first started, but now with COVID, she said it is easier to print her items on her own equipment.
"It's just a lot easier for me, I have everything set up and I know what I'm doing," Kari said.
Traveling seven hours to print new designs makes it challenging to schedule new releases, Kari said. So, she tries to have more than one design prepared before she goes home to make the trip worth it.
"I don't release designs on a schedule," Kari said. "I kind of just produce what I can when I can."
Besides screen printing, Kari said she also learned the technical side of owning a business when she first started — including making a website and running professional social media accounts.
Through her online presence and running Rowdy Rags, Kari said she has been able to build connections with people from all over the country who share her interest in rodeo and western lifestyles.
"Social media has brought me to a lot of great people who are just interested and can relate to my brand, which is super cool," Kari said. "And then people that were just acquaintances before, but now I've grown to be really close friends with them just because we can relate to something."
Rowdy Rags helps keep Kari connected to her western roots.
"I draw inspiration and I try to surround myself with people and places that kind of remind me of home. And I use that inspiration a lot in my designs Rowdy Rags," Kari said. "I'm not sure (what the future of Rowdy Rags is) now that my college career is coming to a close … but I hope I can go on doing this as long as I can."
Kari is hosting her senior show on Nov. 20. It will be a pop-up show for Rowdy Rags.