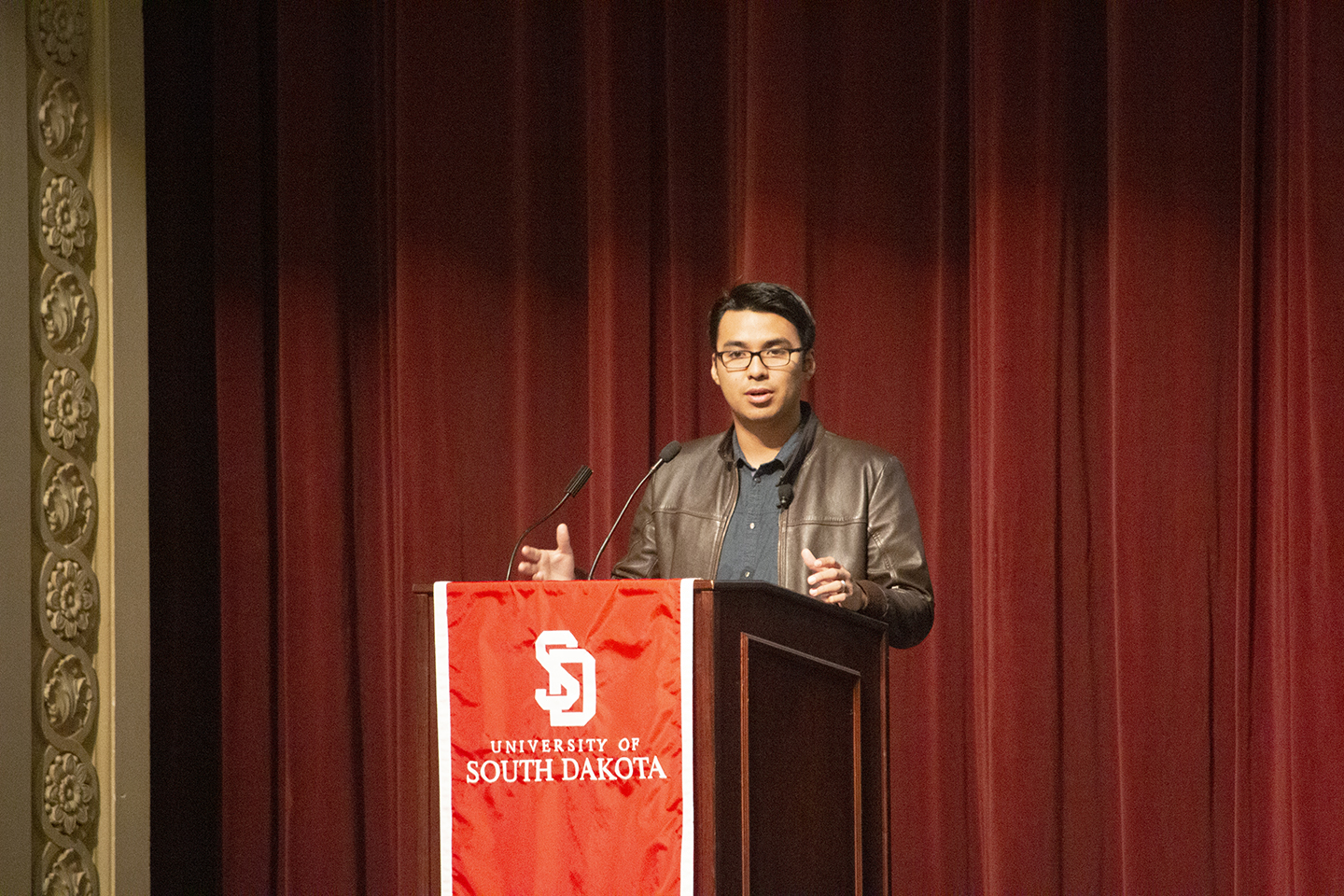 3 mins read
Former Antifa activist speaks at TPUSA event
Gabriel Nadales, a former Antifa activist, gave a speech in Aalfs Auditorium for a newly formed student organization at USD, Turning Point USA-USD (TP-USA-USD), on Tuesday, Oct. 27.
Nadales is a conservative activist who travels to college campuses around the United States to spread his ideas and recently published a book titled "Behind the Black Mask: My time as an Antifa Activist."
Jack Hagy, the president of TP-USA-USD, said he thought Nadales would be a great first guest for the organization to host.
"I have heard of Gabe and he was someone a lot of people recommended to me," Hagy said. "I was really interested in his story and I figured maybe other people would be too."
Nadales's speech focused on his time as an Antifa activist and the current political climate in the United States. After the speech, Nadales answered questions from the audience about Antifa, the upcoming election, and the political polarization in the United States.
Katelyn Sterling, the social media manager of TP-USA-USD, said the Antifa is a timely topic to cover right now in politics.
"Since Antifa was a super big thing back in the spring it was just a good time to bring (Nadales) in so people can learn about (Antifa)."
Nadales said the two goals of his speech was to dispel the myth that Antifa is fighting fascism, and stress the importance of free speech and diversity of thought.
TP-USA-USD, the student organization that hosted the event, is a new student organization at USD this year. TP-USA-USD is one of over 2,000 TP-USA chapters at universities across the United States according to the official TP-USA website.
Hagy said he is excited to start a chapter of TP-USA at USD and spread the organization's message.
"TP-USA's goals or mission is to promote a few things," Hagy said. "We believe in limited government, capitalism is the most moral and proven economic system ever discovered, the original interpretation of the constitution and lastly American exceptionalism."
Hagy said the beliefs of TP-USA do tend to lean towards a Republican ideology, though the organization does not affiliate with any political party.
"Turning Point is a non-partisan club," Hagy said. "We would like to welcome people of all kinds of political beliefs and all viewpoints … you may like (our ideas) or hate them, but we would like to have everybody."
Hagy said he believes the new student organization will help USD increase the diversity of ideas at USD, something he believes is important to have on college campuses.
"I think right now, not necessarily our university, but many universities I think are kind of liberally biased," Hagy said. " I don't think (things TP-USA believe in) are taught very often and I think it's important to at least to have that discussion."
TP-USA-USD's next event will host Rob Smith, an Iraq War veteran and LGBT activist, on Nov. 11 at 7 p.m. in Aalfs Auditorium.