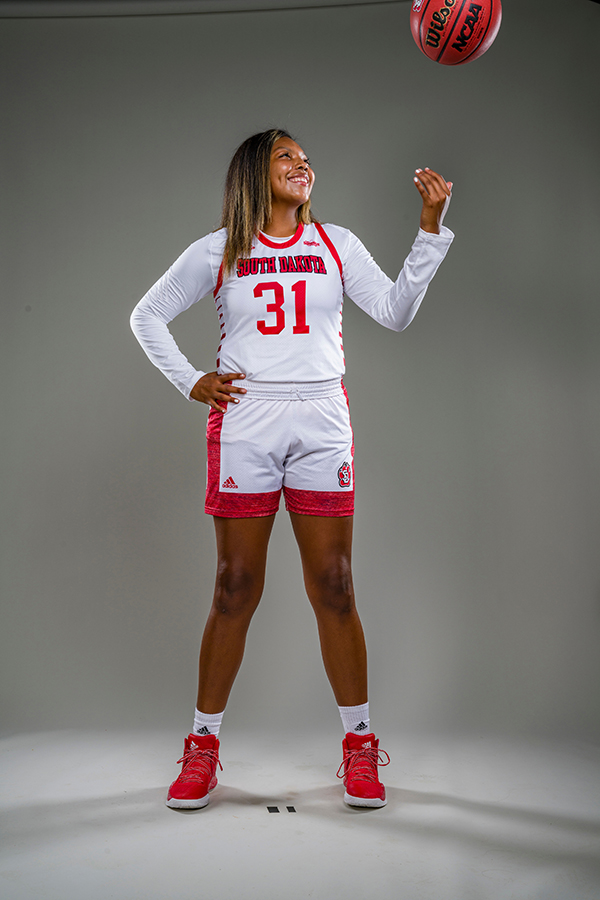 2 mins read
Representing family, tribe and teammates
Before her first year at South Dakota, Aspen Williston played basketball at the University of Oklahoma. Originally from Broken Bow, Oklahoma, Williston said her journey to USD was a long and emotional one.
With two years of eligibility remaining at the beginning of the 2021-22 season, Williston said she plans to make her mark on the USD women's basketball team.
Dawn Plitzuweit, head coach of the USD women's basketball team, said she was thrilled when Williston made the decision to transfer to USD.
"I do think she has a very bright future here at the University of South Dakota and I'm excited for when that does have an opportunity to get started," Plitzuweit said. "She is just a tremendous young lady who has a beautiful spirit and soul to her and she's a pretty good basketball player too but when you get to know her as a person you just want to be around her."
After a rough first few years in college Williston said she was looking for a family-like atmosphere.  
"I love Coach P because she's like another mom to me," Williston said. "I'm trying not to cry right now but if you put a battle in front of her she's not just one to back down easily because she'll fight for you because she loves you. I'd go to war for her."
Chloe Lamb, a senior guard for the Coyotes, has also been able to support Williston on and off the court as Williston transitioned to USD.
"I think it took her a little while to sort of warm-up to everyone and feel comfortable but she is definitely fitting in now. As a transfer, I can only imagine the difficulties of coming into a new school, city, team, coaching staff and system of basketball," Lamb said. "I just wanted her to know how excited we were for her to be here and be a part of our family. I tried to let her know that she could come to me with any questions that she had."
Williston is a member of the Choctaw Nation of Oklahoma and was named a top prospect by the Native Top 50 and all-state by the Oklahoma Native All-State Association.
"(Being a Native American in sports) just means I can represent my tribe," Williston said. "There's not a lot of Native American athletes out there that get the recognition. For them to have been in my community and them being a part of my life for my whole life is one of the biggest things for me to represent them."