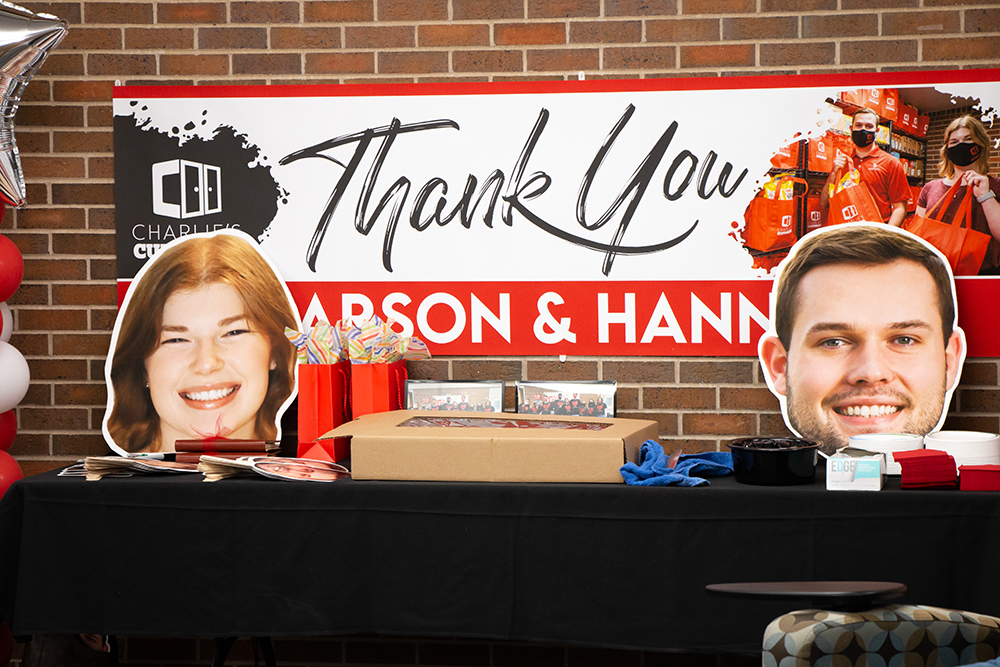 3 mins read
Charlie's Cupboard founders honored in a farewell ceremony
Charlie's Cupboard hosted an event honoring departing founders Hannah Booth and Carson Zubke's contributions to the community food pantry Thursday. The food pantry has served over 1,200 students since opening in September.
Speakers included Vice President of Student Services Kimberly Grieve and former Student Government Association President Abuk Jiel. USD President Sheila Gestring was unable to attend, but sent a written statement to be read.
"Congratulations," Gestring's statement read. "Your hard work and dedication took Charlie's Cupboard from an idea to a successful new entity on campus in record time."
Grieve congratulated Booth and Zubke for their work and presented the two with a plaque engraved with their names, which the two hung in the Cupboard.
"I can tell you that you are stars," Grieve said. "And I know, as you leave this institution, and leave your legacy here, you will continue on to do great things in your life."
Jiel read SGA's Senate Resolution 12, which passed March 16. The resolution commemorates Booth and Zubke for their leadership in Charlie's Cupboard.
Zubke said the challenge the two faced at the start was to get the cupboard up and running in three months, which was complicated by the start of the COVID-19 pandemic. The Cupboard had to change all its programming to be more friendly to COVID-19 safety protocols, including social distancing.
"We had programming starting to form ready to open next spring, and then the pandemic hit," Zubke said.
buy synthroid online https://www.lifefoodstorage.store/wp-content/languages/new/prescription/synthroid.html no prescription
"We were starting all over again."
The cupboard's original plan was a client choice model, where students can use the cupboard similar to a grocery store, choosing their own items, instead of prepackaged bags. Zubke said he hopes the new team, including new president Nathan Popp, will be able to implement that model if the next semester is closer to the pre-pandemic normal.
"Luckily, the new president of Charlie's Cupboard was someone that helped us kind of get it up and running last semester and even in the fall, so I think (Popp's) experience that he got with us this year will be able to carry over, and he'll be able to lead the Cupboard successfully," Booth said.
One thing Zubke hopes the new team can do is to institutionalize Charlie's Cupboard so that it continues to serve USD students in the long-term.
"It's not just something that's here for two years or five years, but it's here for decades to come," Zubke said.
Booth and Zubke said it's been a great opportunity to work with students, administrators and the community on campus.
"I'm forever indebted to USD," Booth said. "I'm so grateful that I got to experience all of this and help the students and future students to come."