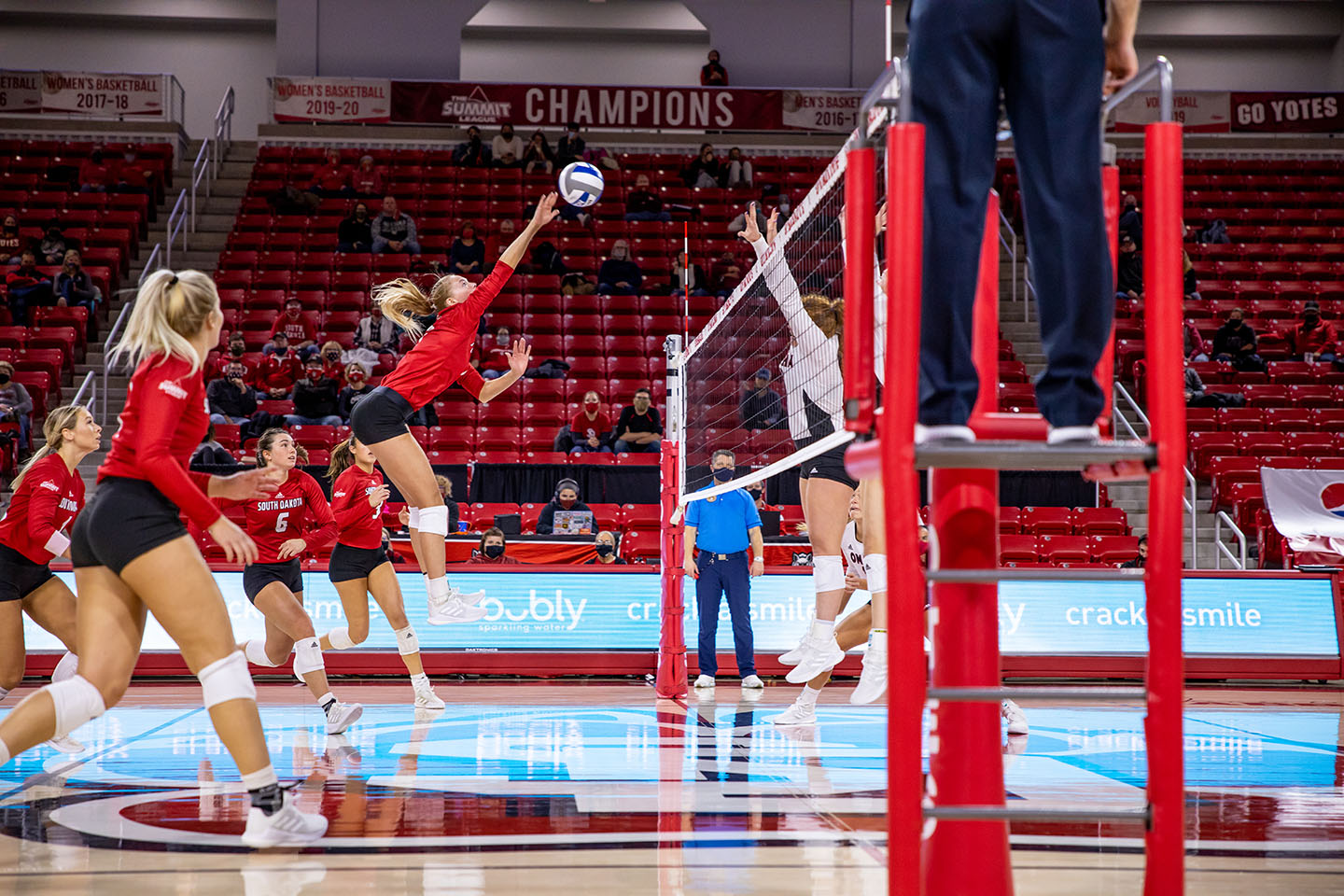 3 mins read
Coyote volleyball to face Missouri in the NCAA Tournament
After taking the Summit League Title in a five set thriller over Denver, USD volleyball is in the NCAA Tournament for the second time in school history, and will face Missouri in the opening round of the tournament.
"I'm really excited about the matchup," Maddie Wiedenfeld said. "I think that our team is super motivated after this weekend, and we're really ready to go into the tournament."
USD defeated Kansas City and Denver in the Summit League Tournament to earn the automatic bid over the weekend. Both matches went five sets, with the championship game against Denver needing extra points in four of five sets to declare a winner.
Elizabeth Juhnke, Sami Slaughter and Lolo Weideman were named to the all-tournament team with Juhnke named Tournament MVP. The Coyotes now shift their attention to the NCAA Tournament that starts April 14.
USD's opening round game with Missouri is a part of the first wave of tournament games April 14 that start at 11 a.m. The winner faces the nine seed Ohio State in the second round. That game will be played at 11 a.m. the following day.
The Coyotes (15-6) and Tigers (15-7) have met once in USD's Division I era, a 3-0 sweep for Missouri in Columbia 2013. Missouri finished third in the SEC this season.
"We're going to expect a battle, expect that we have to play at a high level," Head Coach Leanne Williamson said. "We're definitely not going to walk in there and just get a win, you have to work for it. But we're excited about that matchup and the possibility of what that can bring."
The NCAA Tournament fields as cut from 64 to 48 teams this season and was moved to the spring due to COVID-19 concerns. The top 16 teams in the field get a first round bye and the remaining 32 teams were paired up to play in the opening round.
The Coyotes last made the NCAA Tournament in 2018, where the Coyotes faced Creighton in the first round and lost in straight sets at Creighton. USD returns to Omaha for this tournament with newfound experience and determination.
"We know from that first weekend against Creighton and going back-to-back five set matches, we knew how our bodies felt after that," Wiedenfeld said. "Then obviously this past weekend going two five set matches…. We know how our bodies feel now and going into this tournament we are really excited and know we can play with these ranked teams."
The Coyotes are 1-1 this season against Top 25 teams, splitting a weekend series with Creighton. Both teams in the series won their road match-ups in five sets. Missouri is 0-4 against Top 25 teams this season.
The Coyotes and Tigers play April 14 at 11 a.m. in Omaha, Nebraska. The winner plays April 15 against Ohio State.