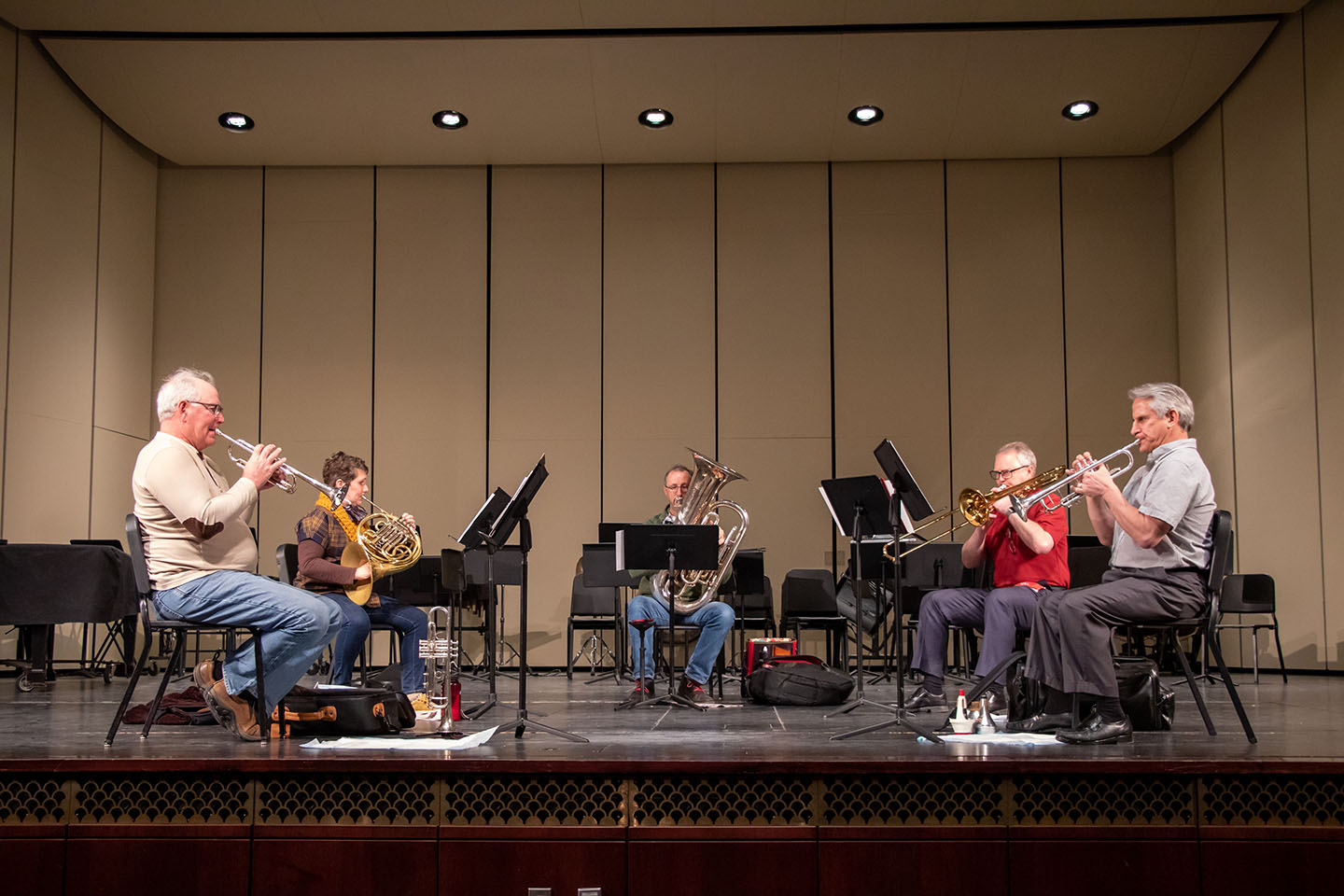 3 mins read
USD Faculty Ensembles perform for first time together
The USD Faculty Ensembles in Concert will feature two faculty ensembles: the Faculty Brass Quintet and the South Dakota Chamber Winds. This will be the first concert the two wind groups perform together. Both groups will perform separately and at the end they will perform a piece together.
Assistant professor of horn Dr. Amy Laursen has been playing the horn for 24 years. She said the main function of both groups is to be a recruiting tool when they perform at schools, but they typically do not give a whole recital. Not only do the ensembles act as recruiting tools, they also provide a way for USD students to learn more about what their teachers do outside of the classroom.
"The opportunity to go up (and) share music right now with people is a challenge, and I think it's good also for students to hear chamber ensembles," Laursen said. "Because realistically I feel like these are various groups that people could form once they're out of college."
Director of athletic bands and professor of low brass Dr. Todd Cranson has played the tuba for 30 years. Cranson said during the pandemic, practice hasn't really changed because they've been keeping up with the research and the best safety practices.
"The biggest thing was that we were really hesitant to get started because we were unsure how to deal with COVID," Cranson said."The only real difference is we sit a little further apart than usual. We take our masks down to play and then put it back up to talk."
Professor of saxophone and jazz studies C.J. Kocher has been playing the saxophone for 39 years. Kocher said the challenge is getting people to attend the concert who wouldn't normally, but he thinks anybody would enjoy it.
"I think anybody that comes and listens will kind of go on a little journey through different styles and different sounds," Kocher said.
Provost Kurt Hackemer has played the trombone for 43 years. Hackemer said he enjoys playing with the Brass Quintet because he's from a different part of the university and came to USD as a history professor, so music is a secondary activity for him.
"I really like playing with the people who I get to play with," Hackemer said. "They're great people, but also it's a lot of fun just playing with really good musicians. They make me sound better. I love that."
Adjunct professor of flute Stephanie Kocher has been playing the flute and piccolo for 37 years. She said the future of both ensembles includes more opportunities to play and the concert isn't just for students involved in the fine arts.
"I would love more non-majors to be involved in the music department because a lot of people think they don't have time or they're not good enough so there's not a place for them and there definitely is," Stephanie said.
The concert will be held in Aalfs Auditorium on April 8 at 7:30 p.m. It will also be live streamed at usd.edu/livemusic.