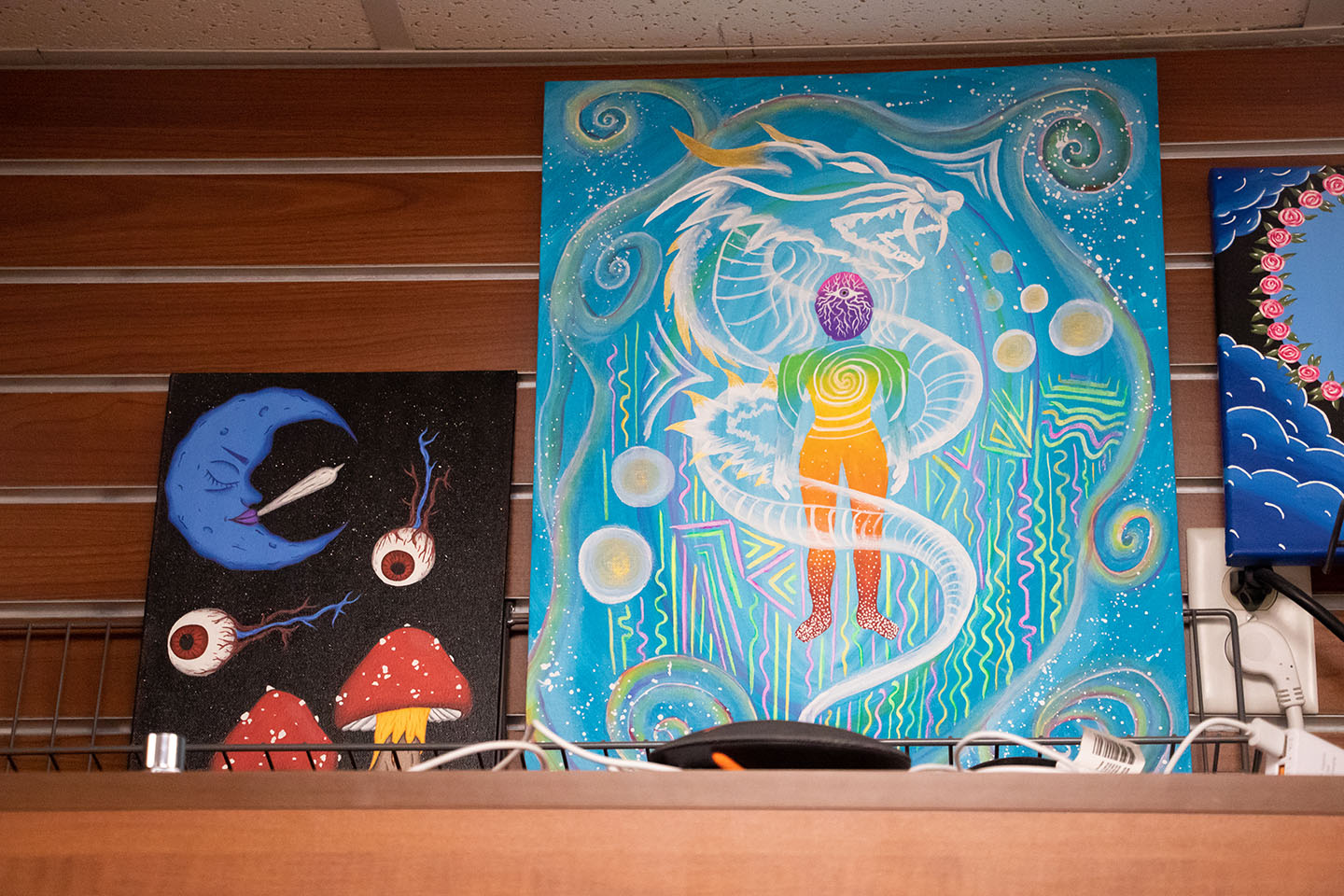 2 mins read
Flamez tobacco shop sells art by local artists
Flamez is a tobacco shop in Vermillion that is also selling art from local artists.
Manager Donald Flamez said this service isn't only in their Vermillion store, but it's special because it allows Vermillion artists to present their works to the community.
"There's a whole bunch of people that do great work but have no platform to put it," Flamez said.
Flamez worker Lebowski said customers and friends of customers tend to be the people who display their art the most. Lebowski said he enjoys the artwork they sell because it's all-local and matches the vibe of the store.
"We've never had one that's the same, it's always completely different every time," Lebowski said.
Flamez said the artists own the work while it's in the shop. Artists can also choose to remove their work from the store or sell it somewhere else, but Flamez likes to give them a place to present their work.
"We sell your work as long as your work is quality," Flamez said. "Much like anything else we sell, it has to be quality, otherwise we can't sell it."
Full-time artist and Reiki master practitioner Ayanna Jones creates and sells art on Instagram and in Flamez. In an email interview with The Volante, Jones said she's been selling her artwork since 2018 and in Flamez since February. She said she would regret the missed opportunity if she didn't sell in Flamez.
"I think my artwork fits well with Flamez because it screams love and unity and it blends perfectly with the wonderful vibes and friendly atmosphere that they create in the store," Jones said.
Lebowski said he would love to continue selling local art in the shop because everyone involved in the process also enjoys seeing the art in Flamez.
"I really like promoting local art culture, that's definitely my favorite part of the whole art ordeal," Lebowski said. "I feel like you've got to do your part (to) promote culture and whatnot in your community."
Artists can talk with any associate about having their art sold in the store.
Jones's work can be found on Instagram at @ayaoriginal, and more information about Flamez can be found at https://www.flamezvape.com/ or on Snapchat @Flamez_SD.