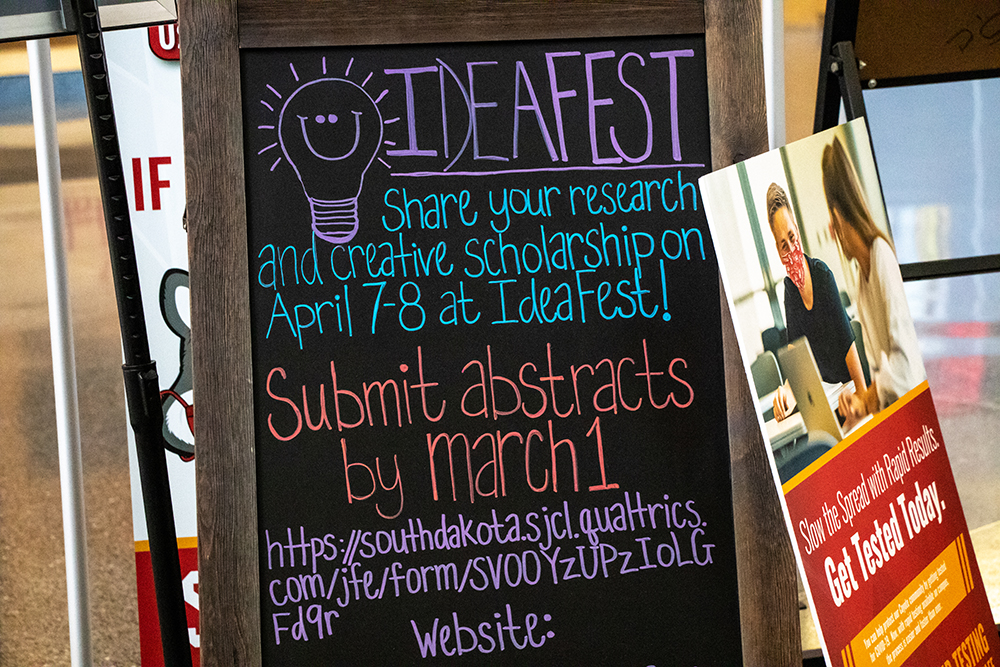 4 mins read
USD's IdeaFest held virtually for the second time
USD's IdeaFest is being held virtually this year, much like the event last April. IdeaFest is a showcase for undergraduate and graduate students at USD to display research projects they work on as part of their studies at USD.
Kurt Hackemer, USD provost and vice president for academic affairs, said his office is involved in IdeaFest through funding undergraduate research. Hackemer said this year's event will be more polished since those setting it up are more experienced with remote work than they were last April.
"(IdeaFest 2020) was put together pretty quickly, the way a lot of remote learning was put together pretty quickly," Hackemer said. "I think that it's probably like many of our classes, it'll be more polished this time around."
Hackemer said the challenges of IdeaFest last year were uncertainty about who would participate and how question and answer sessions would work.
"I think we have a much better sense of that now. And not just IdeaFest, but in the broader academic world," Hackemer said. "We know how to do conferences, we know how virtual presentations work, we know how to moderate questions, we know how to literally better present materials electronically."
Kim Albracht, assistant director of academic engagement at USD's Gallagher Center, said the center is involved in the coordination and delivery of the event, along with the Graduate School and other members of the IdeaFest Committee.
Albracht said the challenges of the virtual event are that it's a new format for everyone involved, but that it presents an opportunity for more people to attend.
"There's a bit of a learning curve, like anything, but also going virtual offers a lot of opportunity for people, for example, that may be taking classes in Sioux Falls to participate more readily," Albracht said.
This year's IdeaFest will involve recorded poster presentations as well as live oral presentations over Zoom. Students with poster presentations will be able to answer questions about their presentations after their recordings.
"Last year, all of our participants did end up doing a recording of their presentation that people were able to go and visit online," Albracht said. "Throughout the scheduled event, this year, we're doing it so that it has a little bit more of a traditional feel, and that presenters will be there live giving their presentations."
Madeleine Nelson, an undergraduate medical biology major, will be presenting on the mechanisms of synthetic cannabinoids, human-made chemicals which imitate chemicals found in marijuana.
Nelson said she has not presented at previous IdeaFests but has presented at other research conferences. Nelson said she believes the advantages of a virtual IdeaFest include preventing the spread of COVID-19 as well as some personal comfort.
"I think it's nice to be able to do it virtually just because you are able to sit in the comfort of your own space to present, which takes away a lot of the pressure," Nelson said in an email interview with The Volante. "I also think it's nice because it is easier to be able to take notes in a virtual conference."
Drawbacks include difficulty with making connections with other presenters and researchers, and an inability to ask questions outside of a set timeframe.
"I personally prefer presenting in person, as I find that I am more engaged and excited to present and answer any questions people may have when I am standing in front of a group of people," Nelson said. "Also, in person presentations are fun to attend in general."
Albracht said she is looking forward to next year's IdeaFest, which will most likely return to an in-person format.
"It is really great to have the excitement of an event like this, because it is a campus-wide event, to have that excitement in the MUC (Muenster University Center) and feel that presence," Albracht said.
Hackemer said he believes the next in-person IdeaFest will retain some elements of the virtual events.
"I think we're all looking around and getting much better ideas about how we do those blended kinds of experiences now. So I think I think you'll see that filtered into IdeaFest, naturally, because we're going to be doing it in lots of other ways," Hackemer said.