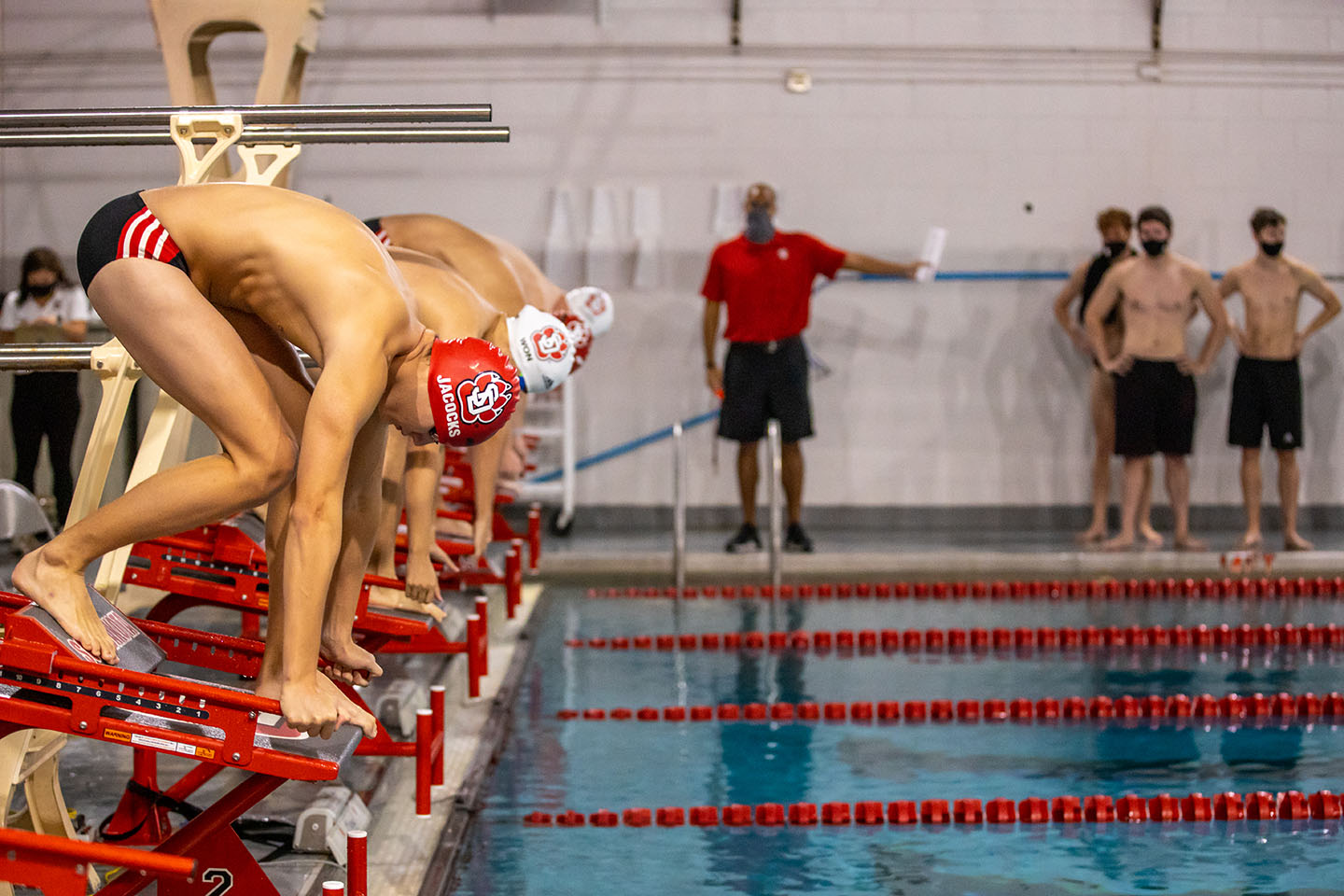 3 mins read
Men's swimming and diving team make school history
The Coyote men's swimming and diving team became Summit League Champions for the first time in school history during the Summit League Championships in Fargo, North Dakota April 15-17.
With 915.5 points, the men's team scored the most combined points to become Summit League Champions, while the women's team scored a total of 663 points, landing them third place.
In three out of the five relays that the men's team competed in, the team placed first. Sophomore Zach Kopp, senior Cooper Fuchs, junior Brady Torborg and junior Charlie Bean placed first in the Men's 200-yard freestyle relay. Torborg and Kopp, along with sophomores Mack Sathre and Aidan Gantenbein, won the Men's 200-yard medley relay. During the last relay of the day, the Men's 400 yard freestyle relay, Kopp, Fuchs, Sathre and Bean pulled out another win. The other men's relay races ended in a second place and third place finish.
"I feel pretty lucky to be a part of the relays," Bean said. "We have a ton of depth on the team, so it's always a competition to make it into a spot on the relays. The men's team worked extremely hard in order to be put in the position to win Summits, and I think we all just trusted the process with one goal in mind: win!"
The women's team had three third-place finishes, a fourth-place finish, and a fifth-place finish in the relay races.
Along with the relays, 44 athletes from both the men's and women's swimming and diving teams placed in races, helping boost the total points for the squad.
There were six athletes who placed first in individual races. Gantenbein placed first in the men's 100 butterfly, Kopp in the men's 50 freestyle, Sathre in the men's 100 individual medley, Bean in the men's 100 freestyle, junior Jake Leichner in the Men's 200 breaststroke, and freshman Stella Fairbanks in the Women's 1-meter dive.
Kopp became the first Coyote to be named the Men's Swimmer of the Championships. This title came after winning two individual titles and also taking part in all three of the winning relays.
Along with the men's victory during the championships, the men's head coach, Jason Mahowald was also honored for his work. Mahowald received the Summit League Men's Coach of the Year title. This will have been the third time Mahowald has been given this honor in the 16 seasons he has acted as head coach for the Coyotes.
The women's team had 12 top five placings including two third place finishes by junior Lucie Anderson in both the Women's 100 backstroke and the Women's 200 backstroke.
The Coyote men ended Denver's reign atop the Summit League Championships, while Denver won the women's championships again.