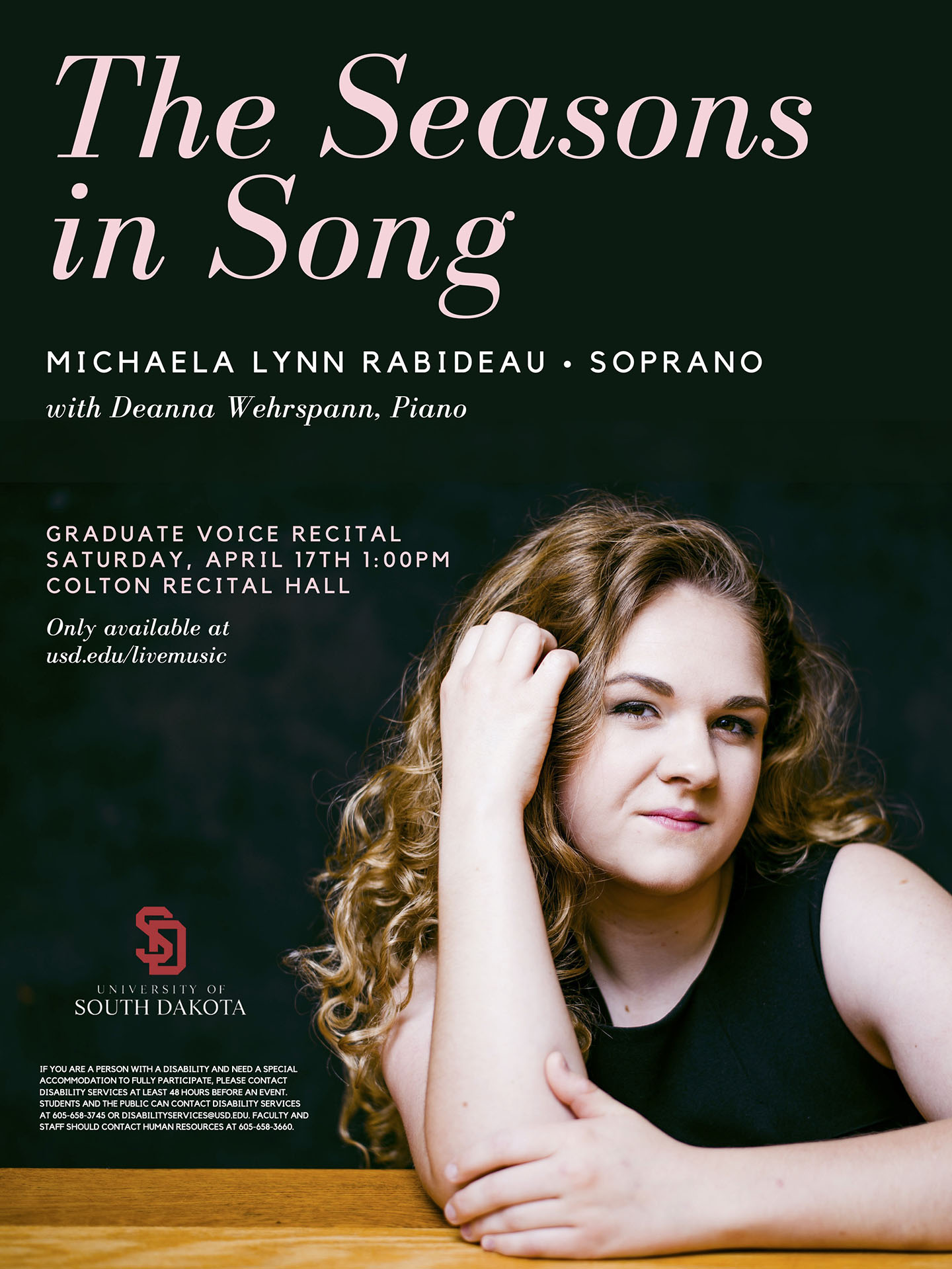 2 mins read
"Songs of the Seasons" Graduate opera recital
Vocal performance major Michaela Lynn Rabideau performed her graduate opera recital Saturday. It was held in Colton Recital Hall, which currently has a limited attendance of 28 people.
The theme of Rabideau's performance was seasons. She started with summer, then went through autumn, winter and spring, then ended with an opera joke of audition season. Most of the songs were chosen by Rabideau, but a couple were suggested by her teacher, Tracelyn Gesteland. Rabideau said she listened to the content of each piece to decide if they would match her repertoire and her voice.
"I was really looking at nature and the imagery in nature I find really inspiring, especially nature portrayed throughout the Romantic period," Rabideau said. "Nature was very idealized back then and I just find it very beautiful in describing both life and human experience."
Gesteland has taught Rabideau during the two years she has been studying at USD. Gesteland said all graduate recitals are unique because each singer chooses the repertoire and whether the performance will have a theme.
"My favorite part about facilitating this recital was watching Michaela grow and develop as an artist through the process," Gesteland said.
Practice for Rabideau included alone time working on vocal technique, language and memorization, Gesteland said. This was in addition to lessons and rehearsals with the accompanist.
"I started practicing this performance to an in-depth degree, I would say, over winter break, but some of the pieces I've had since as early as fall 2019," Rabideau said. "So, it really depended on what kept fitting in my voice and as I was changing and what still fit my theme and how prepared the combination was."
Gesteland said anyone who has never seen an opera recital before should take the opportunity to attend because a university education should include new experiences.
"I really hope that it gives them an insight into some of the more-different music that's out there and things that aren't as standard," Rabideau said. "Don't get me wrong, I have some standard rep on there, but I really hope that they can find something, maybe a composer that they didn't know about before, and get a little more interested in that."