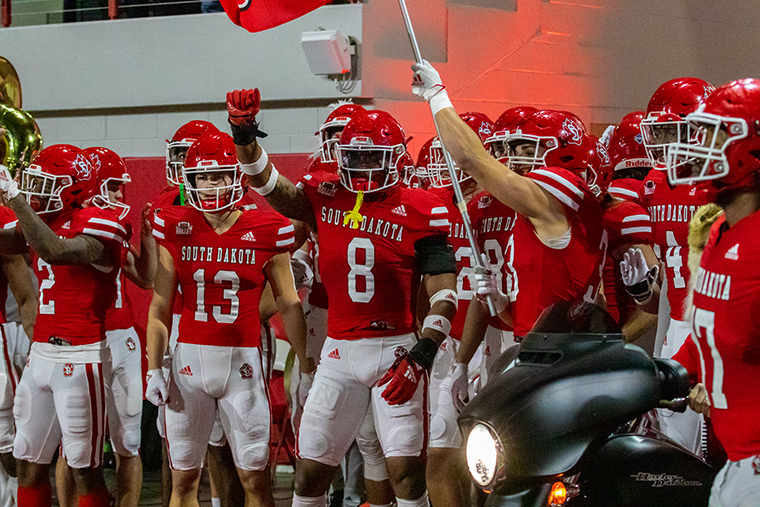 3 mins read
Coyote football falls to Southern Illinois in FCS Playoff
The 2021 football season ended Saturday for the Coyotes as they fell to the No.23 Salukis of Southern Illinois University in the DakotaDome. The playoff game was the first at home for USD in 35 years.
"The opportunity to play in a playoff game at home was a great thing for our university and a great thing for our program," head coach Bob Nielson said. "It's something we haven't done around here in a long, long time, and we want this to be something we're celebrating next year."
The Coyotes were held to a season-low 10 points, including being scoreless through the first half and posting just one yard of offense in the second quarter. Turnovers proved costly for the offense, as the Saluki defense intercepted quarterback Carson Camp three times and forced a fumble late in the fourth quarter that would ultimately put the game out of reach for USD.
"I thought everything that I saw out there was exactly what we talked about, I think it just came down to execution," Camp said. "I don't think we dominated across the ball like we were supposed to. It's what we harped on all week, but I don't think we got that done."
Running back Travis Theis found the endzone on a two-yard run for the Coyotes' only touchdown, and kicker Mason Lorber added on three points with a 21-yard field goal.
The loss finalizes a season record of 7-5 and a conference record of 5-3 overall for USD. It was the Coyotes' first winning record and playoff appearance since 2017.
"There were a lot of naysayers about this football team," Nielson said. "But we had a group that bowed their neck and said 'hey, we don't care if they pick us seventh or eighth or whatever we were picked in the preseason poll, we think we've got a chance to compete for a national championship,' and this team did."
The Coyotes will say goodbye to senior linebacker and defensive leader Jack Cochrane. Cochrane finishes with a career total of 328 tackles across 46 games.
"This place has just meant so much to me and my development as an athlete and a person," Cochrane said. "I wouldn't trade it for anything."
The 2022 schedule is set, and the Coyotes will travel to Manhattan, Kan. to open their season against FBS opponent Kansas State Sept. 3.
"We'll learn from this game and this season," Camp said. "We're going to learn from guys like him (Cochrane)… I can't thank the seniors enough. They showed us what a winning culture is like. They've been grinding it out for five to six years, and they really turned this program around. We're going to go back to the tape, get things figured out, and we'll be back next year."