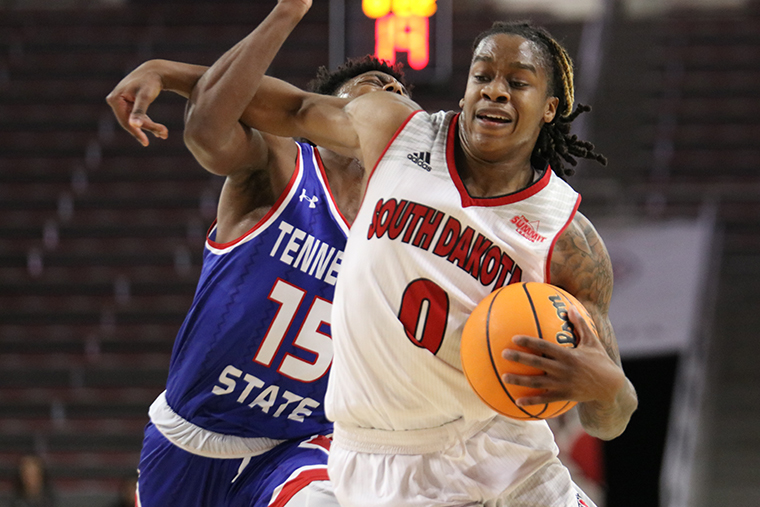 2 mins read
The men's basketball team surviving non-conference slate
The USD Men's Basketball team is off to a strong start for the 2021-2022 season. The Coyotes are 4-2, including being undefeated at home.
USD hosted the Air Force Academy at the Sanford Pentagon in Sioux Falls to open their regular season, and the Coyotes captured their first win over the Falcons in three meetings in a score of 59-53. Junior guard Kruz Perrott-Hunt led the way with 14 points, followed by redshirt sophomore forward Hunter Goodrick, who put up 12 points.
USD proceeded to travel to Des Moines, Iowa to take on Drake University, but fell 99-50.
Following the loss to Drake, the Coyotes faced a stretch of three home games over five days against Southern University, Tennessee State University, and Presentation College. The Coyotes held their ground and defeated all three teams in scores of 71-68, 83-66, and 99-58, respectively.
"This is our toughest stretch all year," head coach Todd Lee said after the victory over Presentation College. "I know when the coaches are tired, the players are tired. We gave them yesterday off, and I thought they really responded today and were pretty fresh tonight."
The most recent contest was in Lincoln, Nebraska, where USD faced off against the University of Nebraska. The Cornhuskers took the win, outscoring the Coyotes 83-70. Kruz Perrott-Hunt put up 19 points for the Coyotes, but it was not enough to top the Nebraska duo of Keisei Tominaga and Bryce McGowens, who combined for 45 points.
"We didn't execute defensively at all," Lee said after the loss to Nebraska. "We turned it over 18 times in the game and that stands out. That's too many. We didn't make our free throws, and we turned it over too much."
Some names to look out for this season include Kruz Perrott-Hunt, who is averaging 15.2 points per game with a team leading 17 assists, Xavier Fuller, who is averaging 12 points and 6.2 rebounds per game and Mason Archambault, who is averaging 11.7 points per game, shooting 93.8 percent from the free throw line and leads the team with 11 steals. Hunter Goodrick is the rebound leader, averaging eight points per game, and also has eight steals on the season.
The Coyotes will miss A.J. Plitzuweit this season resulting from a knee injury suffered in February. Plitzuweit was a top scorer for USD last season along with Stanley Umude, who transferred to the University of Arkansas for the 2021-2022 season.