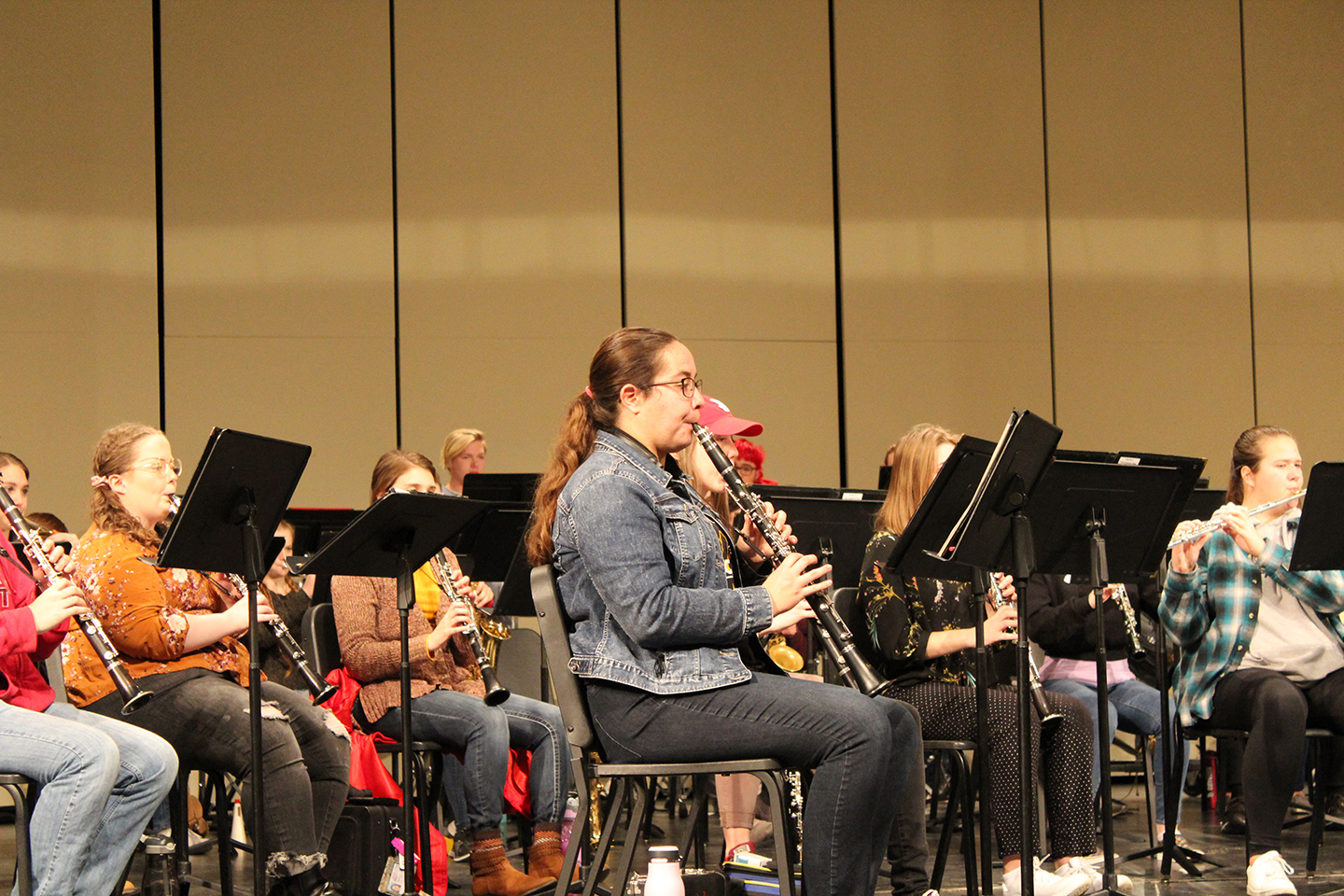 2 mins read
USD Concert Band and Symphonic Band Perform Together
The University of South Dakota Concert Band and Symphonic Band have been practicing for many months for their Concert Dec. 2 at 7:30 p.m. in Aalfs Auditorium.
The Concert Band and Symphonic Band will be performing many different pieces throughout the night and will come together to perform. The bands hope to represent all of their hard work.
Director of Bands and conductor John LaCognata encourages students to attend this concert.
"I think anybody would enjoy just coming in and hearing what the band is doing," LaCognata said. "I'm sure they've heard band concerts, but not at this level, not with this quality and not with this level of music."
Some of the pieces that will be played include "Lincolnshire Posy" by the Symphonic Band and "'Twas in the Moon of Wintertime" by the Concert Band.
Concert Band also has two undergraduate conductors, Preston Pohlman and Alicia Turnquist. Freshman alto saxophone Ethan Hladkey said he is excited to perform with them as conductors.
"They have studied and practiced for this concert for many months and are finally able to show what they learned," Hladkey said. "They bring so much to this band."
Marcus Hughes, a freshman tenor saxophone in the Symphonic Band, is looking forward to performing his favorite piece, "Lincolnshire Posy."
"Multiple hours were spent trying to make this music perfect," Hughes said. "Through trials and tribulations, we have made the biggest improvement on this piece, and it has made ourselves better performers."
At the end of the night, both bands will come together and play a piece titled "Elsa's Procession to the Cathedral."
"It's one of those pieces that is amazing in and of itself… Then, when you put that many bodies together, it's going to be pretty cool. That is what I am really looking forward to," LaCognata said. "We love for people to come out and support the work that these people have done since October. It would be great to have a nice crowd to support what the band students are doing."
The event is free and open to the public. The concert will also be live streamed through usd.edu/livemusic.