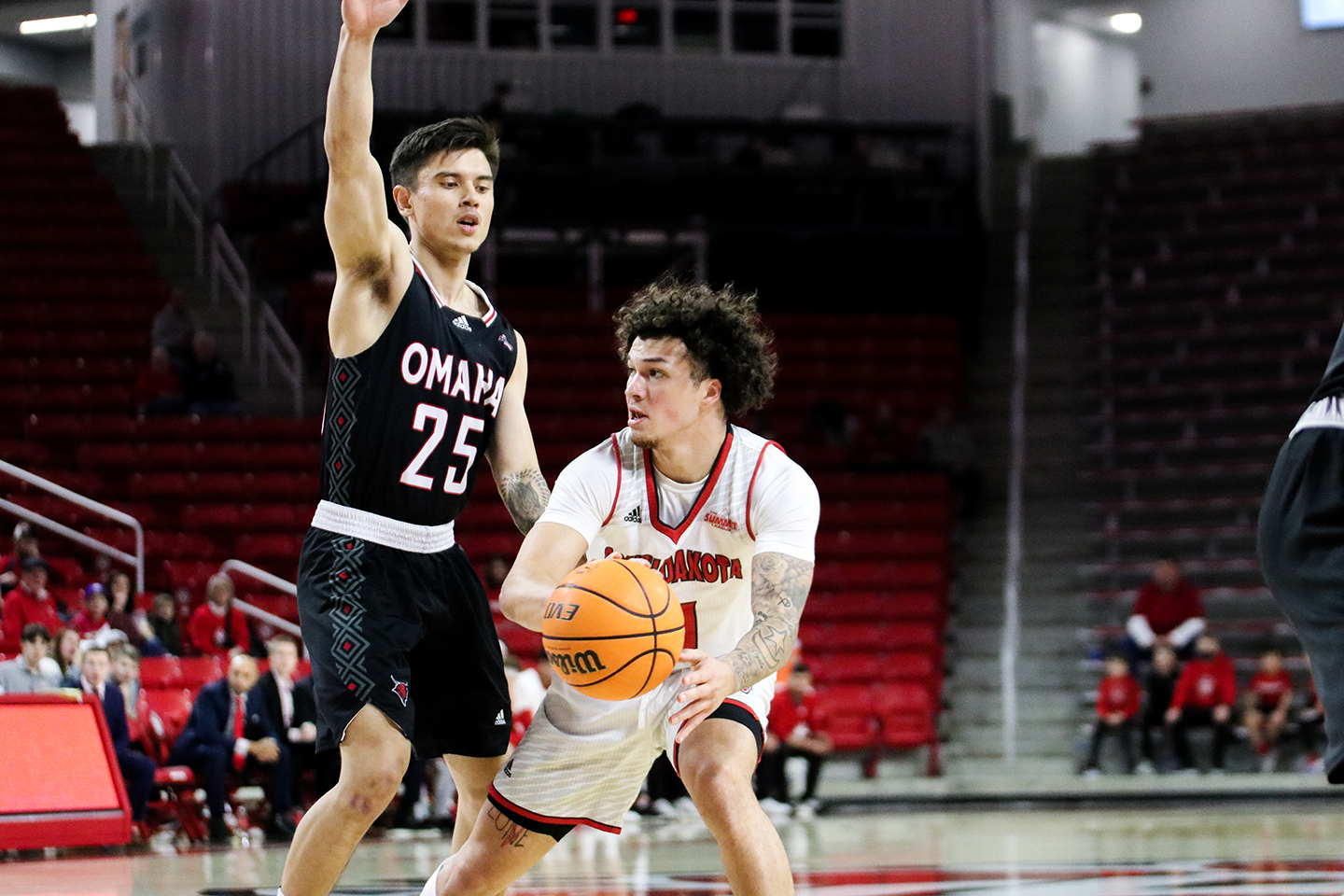 3 mins read
Men's basketball finds season interruptions due to COVID-19
Prior to entering Summit League play, the Coyotes finished their non-conference schedule with a winning record of 8-4. Their last four games against Waldorf, Northern Colorado, Northern Arizona, and Bellarmine all took place in the beginning of December and set the men's basketball team up for their first conference game.
During the Waldorf game on Dec. 3, the Coyotes won 93-37 and sophomore guard Erik Oliver saw his first game start where he scored a season high 20 points. On Dec. 7 when the men's team took on Northern Colorado and lost 69-74, they shot a season high against a Division I opponent with 48.4% from the field. In the overtime victory (76-71) against Northern Arizona on Dec. 11, junior guard Mason Archambault recorded his first double-double with 18 points and 10 rebounds.
The Coyotes began Summit League play on Dec. 20 in the Sanford Coyote Sports Center (SCSC) against Oral Roberts, where they lost 73-82. This became their first loss at home in seven games.
The men continued with another loss at home against Kansas City on Dec. 22 (57-68). This was followed by two game postponements due to COVID-19 regulations and policies within the Summit League. These postponements were on Dec. 30 against North Dakota and Jan. 1 against North Dakota State.
Summit League play resumed for the Coyotes in Brookings on Jan. 8 where they lost 65-84 against South Dakota State (SDSU). In this match-up against SDSU, redshirt sophomore forward Hunter Goodrick tied his career high with 15 points.
The men continued on the road for a make-up game on Jan. 10 against North Dakota, where they pulled out a 75-68 victory. Junior guard Boogie Anderson notched his first career start and scored a career high 14 points. Goodrick also amounted 19 rebounds, which is the most seen from a Coyote since 2009.
After returning to the SCSC, the Coyotes defeated Denver in an 80-71 win on Jan. 13. During this match-up, sophomore guard Kruz Perrott-Hunt had a career high eight rebounds and tied his career high with 25 points. Freshman guard Keaton Kutcher also made his debut as a Coyote in the game against Denver.
Entering the Jan. 15 win (105-70) over Omaha (UNO), Archambault was the tenth leading foul shooter in the nation. In this game, sophomore forward Tasos Kamateros had a career high eight assists. Following Kutcher's debut against Denver, he scored his first points in the UNO match-up. Kutcher ended the game with 11 points.
On Jan. 20, the game against Western Illinois was postponed due to COIVD-19 precautions. The Coyotes then went on to beat St. Thomas on Jan. 22, with a final score of 90-79. This was the first meeting between the Coyotes and Tommies, after St. Thomas made their transition from Division III to Division I. Archambault scored a career high 27 points in the victory over the Tommies.
In their make-up game against Western Illinois on Jan. 24, the Coyotes won in a narrow victory over the Leathernecks (75-72). In this match-up, Kamateros had his first double-double of the season with 17 points and 10 rebounds. Anderson had a career-best six assists during Monday night's competition, while also tying his career high of 14 points.
The Coyotes return to the SCSC on Jan. 27 to take on the North Dakota State Bison at 7 p.m.