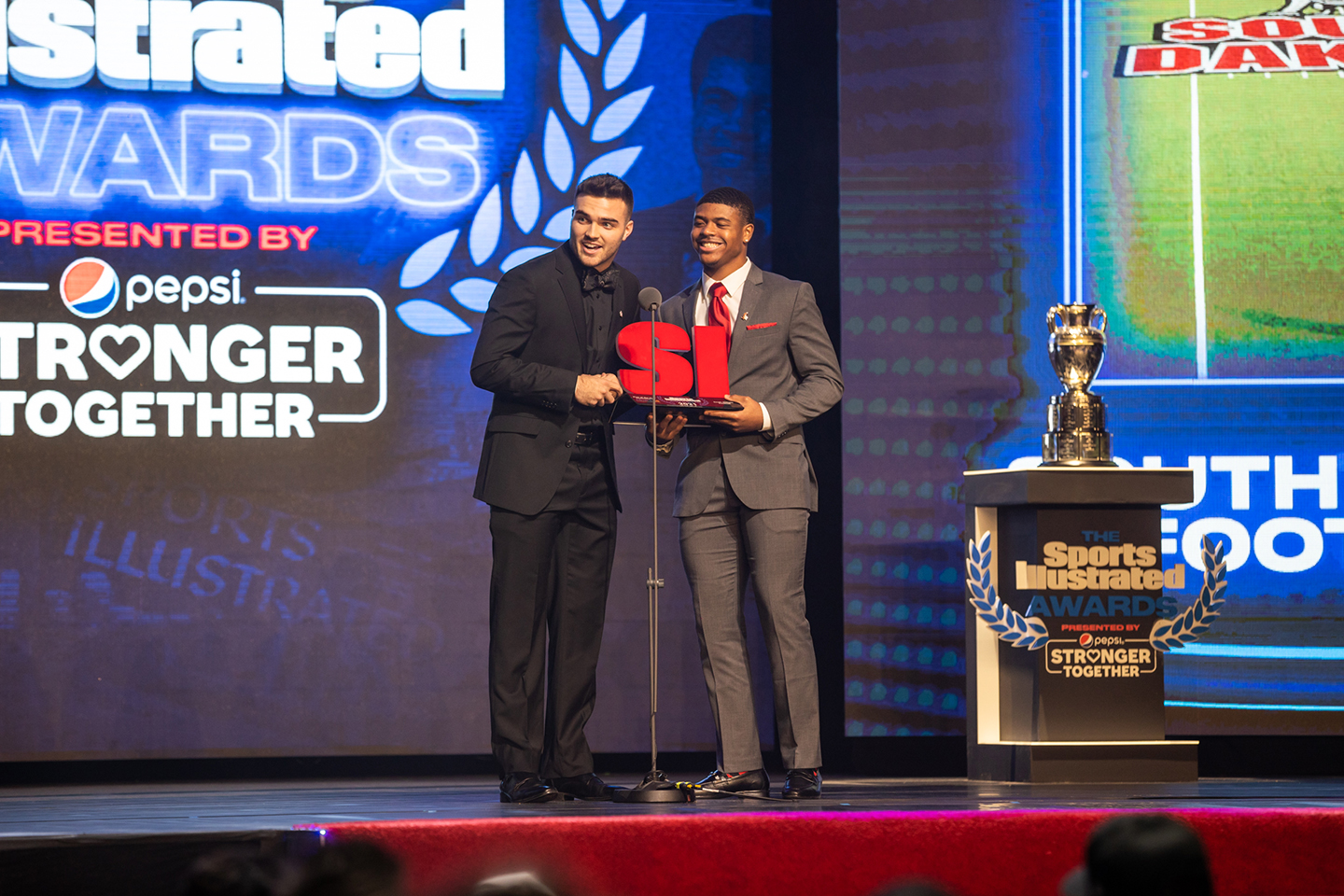 3 mins read
USD football accepts Sports Illustrated Award
The USD football players brought home the Sports Illustrated "Play of the Year" Award in December. They were up against all sports nominations in the nation, not only other football plays. Freshman quarterback Carson Camp and freshman wide receiver Jeremiah Webb accepted the award on behalf of the team at the reception ceremony in Miami, Florida which was presented by Shaquille O'Neal.
The play in reference took place in a game against South Dakota State (SDSU) during the last second of competition. The play included Camp throwing the football from his own 43-yard-line and making it into the hands of Webb after being tipped off of other players' hands, allowing them to score the game-winning touchdown. 
"I was shellshocked. I didn't know who caught the ball, or if (Webb) was even in the game at the time," Camp said. "It was a shocking moment, but it was also a sigh of relief [knowing] we accomplished something that not a lot of people get to say they have done, especially as freshmen."
Webb shared similar feelings of awe at the play they had been able to accomplish, but he also felt that it was a huge bonding moment for the team as a whole. 
"It was definitely a moment I'll remember for the rest of my life, not only me but the rest of my teammates," Webb said.
Webb also recalled that this was a "surreal moment" for him. This was Webb's first touchdown of the season and of his career at USD. Going into the rivalry game, Webb said the mentality of all of the players was that of pure focus and adrenaline.
"Everyone was dialed in and you had laser focus in the meeting room. Throughout practice you felt a whole different energy leading up to the game," Webb said.
Due to COVID-19, USD hadn't faced their rivals in over a year. Camp said that the team held high expectations for themselves entering the game against SDSU.
"We knew everything was on the line. We knew we had to get a win," Camp said.
Going into the next season, Camp said the team is using the "Play of the Year" as motivation for how to handle high pressure situations when there is little time left on the game clock.
"Moving forward, if something happens like this again, or we're in our fourth quarter of the game and we're down a little bit, we know how to handle that. We know how to handle a one or two minute drill. We get to put it behind us as something to celebrate and help us out in the next season," Camp said.