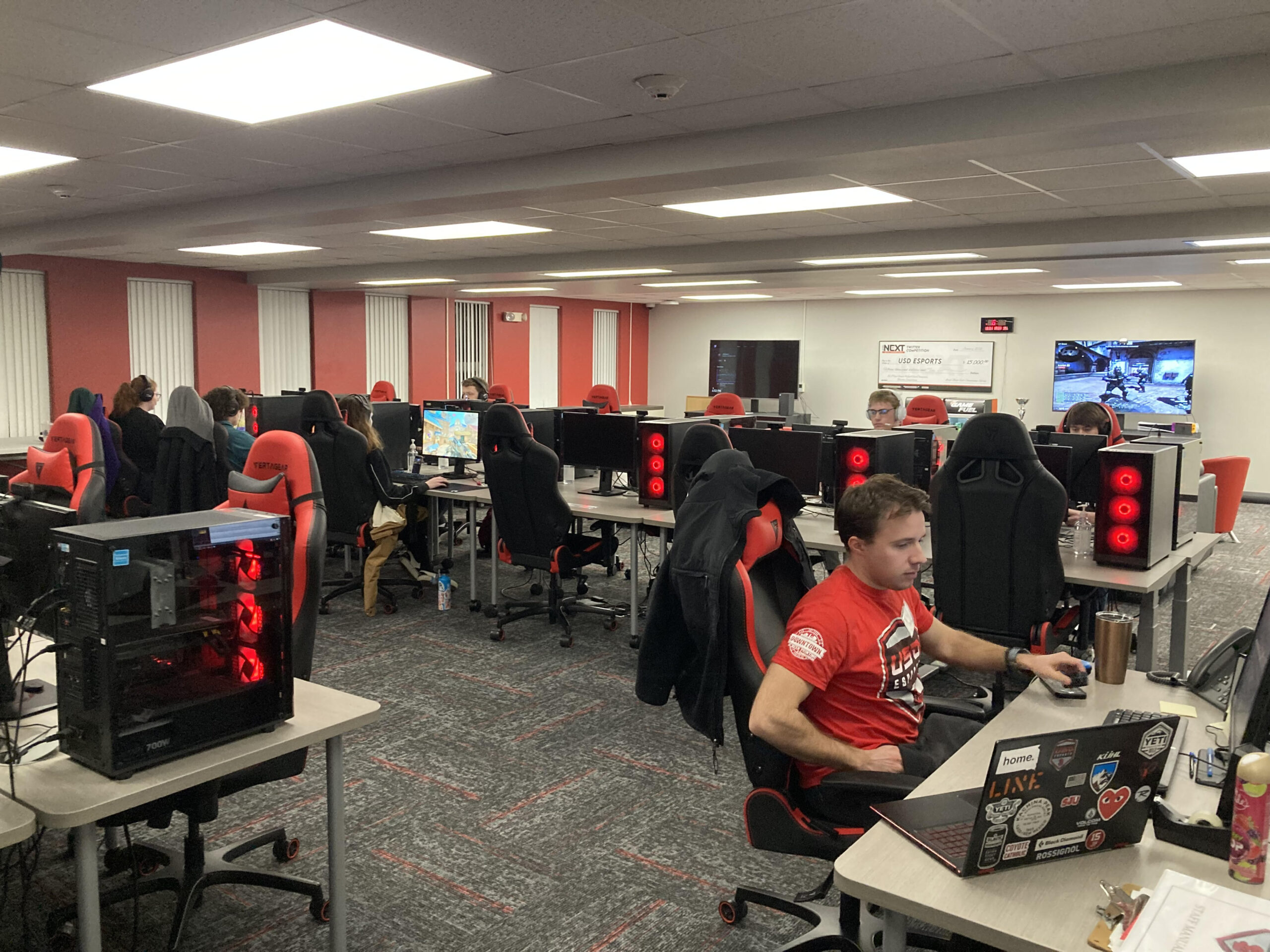 3 mins read
Esports on the rise at USD
It has been two years since the USD Esports arena opened and in that time the team has only gotten bigger. Since the launch of the USD Esports Club in 2018, membership has tripled according to junior social media manager Isaac Entinger.
"It's one of the fastest growing industries…it's only going to get bigger," Entinger said.
The Esports arena boasts 24 gaming computers, alongside a lounging area with 65-inch smart TVs and consoles such as Xbox One X, Playstation 4 Pro and a Nintendo Switch.
Teams in the Esports club compete against other colleges in tournaments and collegiate leagues through games like Overwatch, Call of Duty, Rocket League, Apex Legends, CSGO and League of Legends.
Many of these tournaments include a cash prize. Recently, the Apex Legends team placed fifth in a tournament on Feb. 11 which had a prize of $500.
The Rocket League team was in action Feb. 21 against the South Dakota School of Mines and Stephen A. Austin in the first week of the Rocket League CCL. They beat both teams 3-0.
The Call of Duty team was also in action on the 21 competing in the sixth week of the Call of Duty CCL. They competed against St. Ambrose and Iowa State. They swept the Fighting Bees 3-0 in their first match. Iowa State pushed USD to go into the fifth round. USD eventually came out on top winning 3-2 and moving their record to 6-4.
Ross, an Apex Legends player said his favorite part of the club is being a part of a team, even though it requires some commitment.
"The fact that I can use one of these machines here, they're pretty darn expensive…that I can play on them and know I can have a good experience. I only joined this club playing for fun but eventually I got hooked into playing on a team," Ross said.
Throughout the month, the Esports club also hosts Super Smash Bros tournaments and other regional events. The Esports arena is open to all students interested in gaming and has its hours listed online.
"Besides the cost of all these computers, it's very cheap and easy to get into Esports. It's highly profitable at the pro league level and I think that there's good things to come for this club, provided that we play our cards right. I think once the Esports scene gets a little bigger, we'll start to get some eyes on it from the community and legit big money as well," Ross said.
Students interested in competitive gaming are encouraged to reach out to the club at [email protected]. The club is also active on Twitch, which the club uses to stream matches and games against other universities.