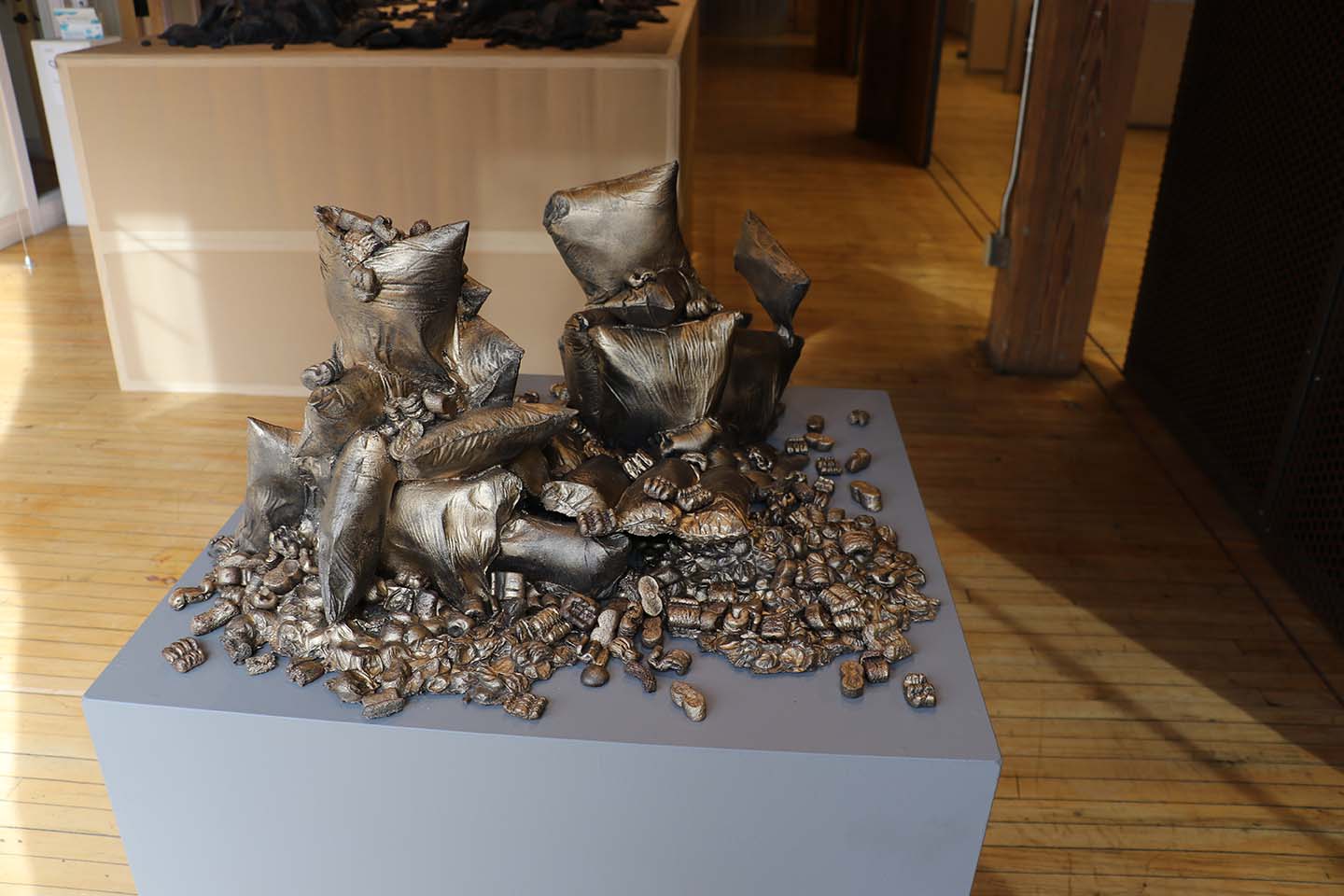 4 mins read
USD professor's art featured in Ipso Exhibition
USD associate professor Chris Meyer has an exhibition of sculptures featured in the Ipso Gallery at the Fresh Produce weighing in close to a ton. The exhibition is titled "Spectra: Excessive Landscapes." The exhibition is on display until March 10.
"It's an exhibition of cast iron sculptures that I've made over the years since 2014. The last eight years, there's probably a ton or maybe a little bit more weight of sculptures up there. It's all landscape pieces that I built using packing materials including different air bubbles, like air pillows, bubble wraps of all kinds of different sizes and shapes, packing peanuts, all assembled together to kind of form mountain ranges, in a sense," Meyer said. "There's different vignettes of a couple of different mountains. One is titled 'Sugar Mountain,' it's rusted. And another one is called 'Privileged Pass.'"
The pieces comment on the excess surrounding our way of life and how that excess relates to the environment itself, Meyer said.
"The pieces are talking about material culture. Accumulation of excess is kind of what these ideas are about, more so than anything, commodity. It's our habits," Meyer said. "We buy a lot of things online, and this material comes with all that stuff, all the packaging, all the stuff. It's really unnecessary, probably at many different levels and we probably didn't really need the stuff that we ordered in the first place."
The use of cast iron is ironic because of the light nature of packing materials, Meyer said. The cast iron brings weight to things that are essentially weightless.
"This stuff that just builds up in our environment, builds up in our homes. It weighs nothing. It's inconsequential," Meyer said. "One of the things that I'm trying to work on with this work is to give weight to something, a consequence to something that seems inconsequential. That seems lightweight fluff to take something that literally weighs nothing and then cast it in iron and give it real mass with real weight and real consequence for that."
Meyer received his undergraduate degree from USD and went to graduate school in Missoula, Montana. Meyer said a lot of his work is inspired by natural environments, including mountains in Montana, and how humanity impacts those environments.
"I'm not trying to create work that kind of matches or reflects ugliness, but I'm trying to create something that still has a sense of beauty, a sense of an aesthetic to it. To invite somebody to start to make recognition of what these things actually are, and start to add together what this actually means. I think in art sometimes, subtlety can be more powerful than screaming about something," Meyer said.
Meyer is continuing to work on a few new series with similar themes to his current one.
"I'm working on a lot of series, this being one of them, that deal with ecology, environmental issues to a certain extent," Meyer said. "This one is very global. Another series that I'm working on involves performance art casting, where I'm pouring iron into naturally hollowed logs and they create an explosion that kind of looks like fireworks. It's a big spectacle for everybody to do. Beautiful, pretty but what I am left with is these almost kind of like fossilized remnants of burnt out trees."
The art department will be hosting cast iron pours every semester including this coming fall, Meyer said. Anyone in any field of study is encouraged to participate.
"We're going to be hosting a national conference here in the fall on cast iron at USD. If people are interested in casting some iron, we have a new yard here now and we're going to be pouring iron every semester on campus," Meyer said.