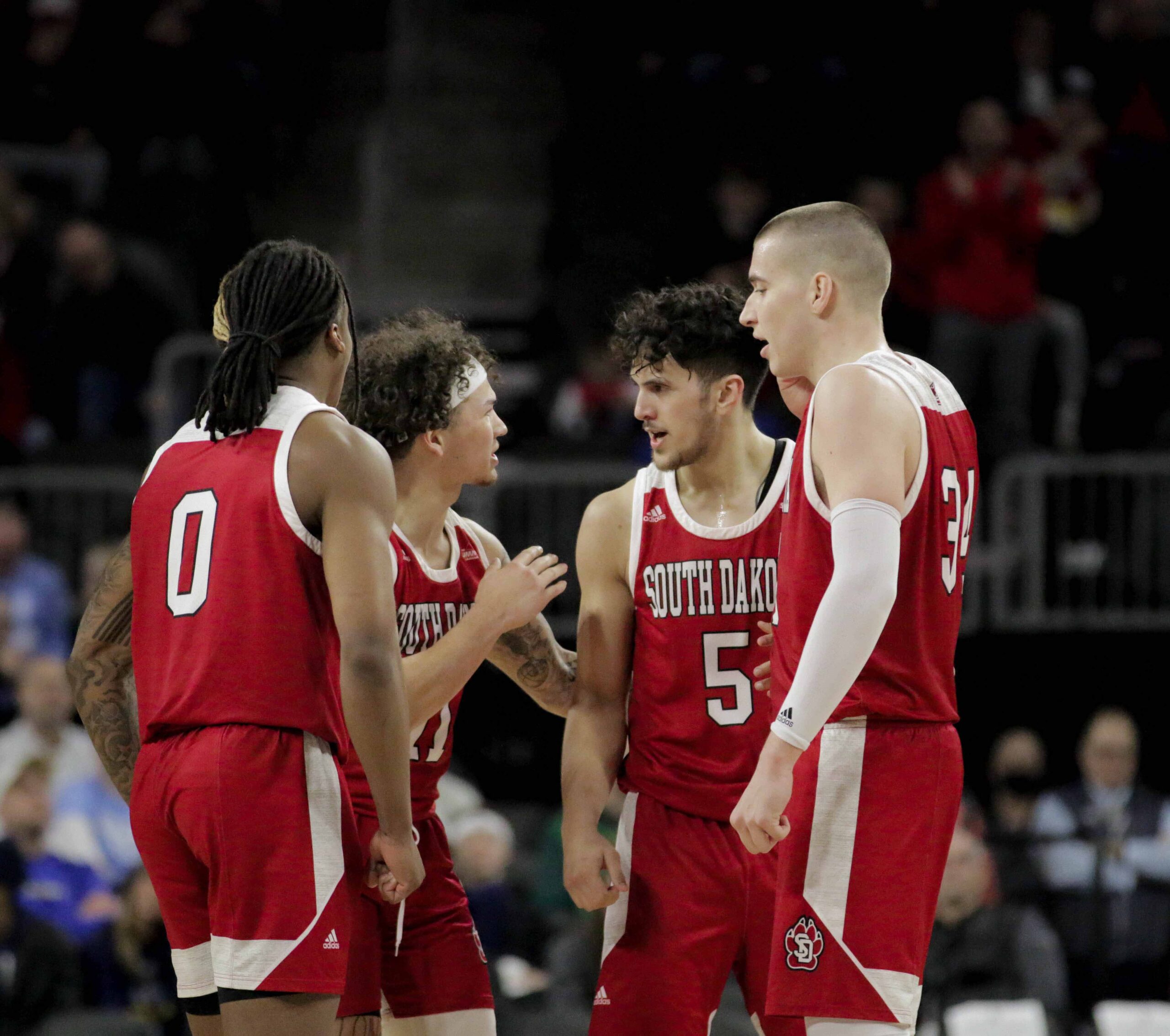 5 mins read
Transfer portal, extra year changing landscape of college basketball
The NCAA transfer portal made players eligible to transfer with immediate eligibility in recent years and an extra year of eligibility granted to players due to COVID-19 has given players a chance at improving their standing in the college sports world.
New South Dakota Coyote men's basketball coach Eric Peterson is all too familiar with the effects of the transfer portal, and said there are a large variety of reasons players are entering the portal, and it's a player's right to go into the portal.
"We don't lie to people," Peterson said. "If you look at everywhere I've been as an assistant, the first year, you take over a new program, you don't know, some of those guys leave and transfer in the first year, but after that our programs have been pretty stable."
Peterson told the team when he first got to campus that if they are even remotely considering entering the portal at any point this spring, to do it right away. He said that under Craig Smith at Utah, they had a handful of late transfers that hurt their ability to fill their absence with high level talent. He wants to avoid that issue at USD.
"I approached (the transfer portal) differently this year," Peterson said. "One of the things I said to our team when we got here was, if you're thinking about going in the portal, go right now, go see what's out there, and if you don't like what you see, come back."
Players have also been entering the portal for a handful of other reasons, Peterson said. The first reason Peterson said some players transfer is when coaches promise something that isn't true, like playing time for example. Peterson said he will never promise a player a starting role or a certain number of minutes a game.
The second reason players may leave is style of play. Peterson believes players should consider their style of play and the style they want to play, and making sure the college they choose fits their style.
The final reason is a player might lose their role to a younger player or not fit with the program anymore. Peterson said he could list 15 other reasons but those are the big three.
Another factor that is affecting low to mid-major level teams is the extra COVID-19 year of eligibility as players look to improve their professional playing stock. Peterson believes this could give USD a chance at some recruits in other areas they normally wouldn't be able to go after.
"(The extra year) is creating a huge deal everywhere," Peterson said. "I think we can steal some high school kids still available here because everyone is looking in the portal for all those kids that have one extra year."
Peterson and the Coyotes had a group of players enter the transfer portal with the change in coaching staff, including Xavier Fuller, Mason Archambault and Boogie Anderson, who are taking an extra year of eligibility. Fuller committed to Northern Arizona, Archambault recommitted to USD and Anderson is still in the transfer portal.
Other players who entered the transfer portal from USD included Hunter Goodrick (committed to California Baptist), Kanon Koster (committed to Saint Leo's) and Kruz Perrott-Hunt (recommitted to South Dakota). Peterson has also picked up his first commit from the portal in Summit League freshman of the year Paul Bruns from North Dakota.
The players that remain in Vermillion are fully invested in USD, Peterson hopes. He said he wants players fully committed to his program and not having doubts about the portal and what could be.
"I think the guys we have in our program right now are two feet in," Peterson said. "The workouts this week have been great. But (I told the team), get in the portal, see what's out there, and if you feel like there's a better fit, go. I want you to want to be here and I want guys that have both feet all the way in."
At the end of the day, whether recruits come from the transfer portal, high school or junior college, Peterson believes the influx in transfers isn't going to hurt the program, but he wouldn't be surprised if this large number of transfer portal athletes trend continues everywhere.
"I think it will only help us," Peterson said. "Some people look at it as a negative, like it's going to hurt our program when people are leaving constantly and that could happen. Honestly, in three or four years, it might be normal for seven guys to go in the portal."
Peterson believes people will have to get used to players transferring more frequently, and as a coaching staff, they will have to adapt to that trend before they fall behind.
"Someone goes in the portal and everyone goes, 'no, what's going on,' and it's going to become normal," Peterson said. "We better get used to it and we better adapt."