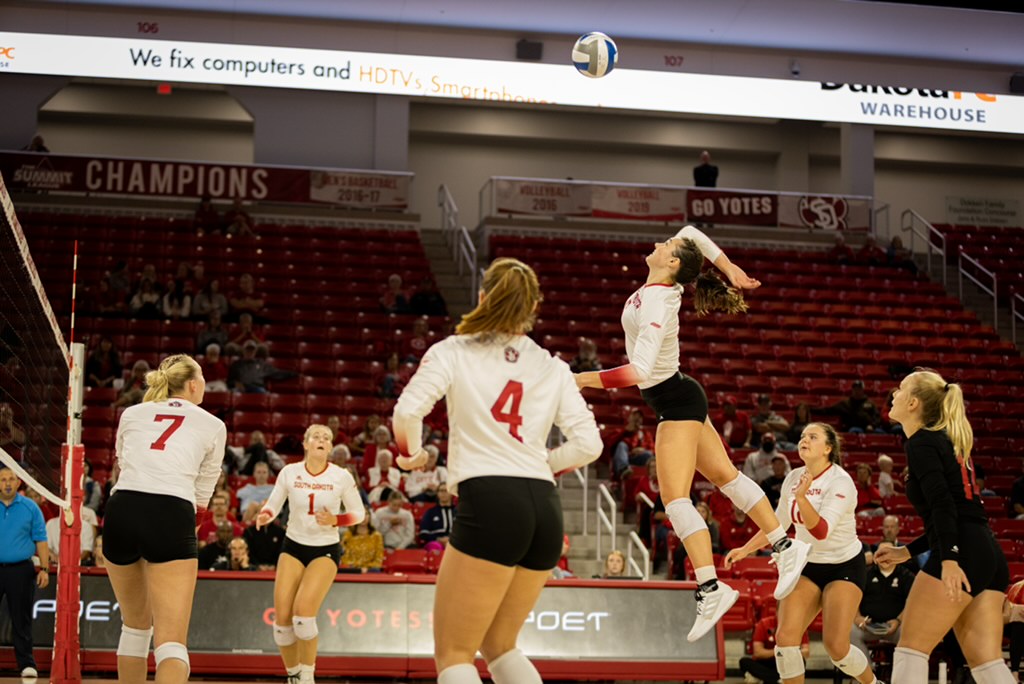 3 mins read
Volleyball comes out on top in South Dakota Classic
The Coyotes hosted their second tournament inside the Sanford Coyote Sports Center (SCSC), where they took on CSU Bakersfield, West Virginia and Northern Colorado.
Sept. 9, saw the Coyotes take on the Roadrunners, where they went on to sweep CSU in three sets (25-17, 25-23, 25-22).
Junior outside hitter Elizabeth Juhnke led the match with 19 kills. She also contributed with 10 digs, one block and a service ace. Junior middle blocker Brynn Paumen had a career night in the block department as she swatted away her career high of 10 off the Roadrunners' kill attempts.
"Blocking wise, [Paumen] had a great match. She had 10 of our 11 blocks," head coach Leanne Williamson said. "She was just a wall up there. She just found a way. She is getting better blocking wise and today you really saw it go full circle."
For the Roadrunners, senior outside hitter Hayley McCluskey led them in kills with 10.
The Coyotes played another game on Friday, this time against West Virginia. South Dakota won their second match of the tournament in four sets (29-27, 25-16, 16-25, 25-20).
Three different Coyotes hit double-digit kills against the Mountaineers as Juhnke, junior middle blocker Madison Harms and senior outside hitter Aimee Adams had 15, 13 and 11 kills, respectively. Harms also led the match with seven total blocks.
"I think we were super excited to get the opportunity to play a Big-12 team," Harms said. "To go out there and show how hard we've worked all year to compete with big teams like that. We like to celebrate each point and it is even better against a big team like that."
For the Mountaineers, outside hitters fifth year senior Adrain Ell and freshman Bailey Miller led them in kills with nine each. Ell also assisted on 18 of the Mountaineers' points.
The last game for the Coyotes was in the Sioux Falls Pentagon against Northern Colorado. This was South Dakota's first game inside the Pentagon this season.
The Coyotes won the first and final two sets of a five set match against the Bears and swept the South Dakota Classic (25-21, 14-25, 23-25, 25-19, 15-11).
Juhnke and Harms led the Coyotes in kills with 23 and 22, respectively. Juhnke also had five total blocks and 12 digs. The Bears graduate student Kailey Jo Ince led the match in kils with 24.
"We played some really tough teams and coming out with three wins is super impressive," Harms said. "I think we all are really proud of ourselves, but I think this is only the beginning. We have seen that we can go 3-0 on the weekends and so now we are ready for more."
South Dakota now sits at 8-1 with their only loss coming against No. 4 Louisville. For their next games of the season, the team will travel to Florida to play in the Bulls Volleyball Invitational, where they will take on Stetson, Cornell and South Florida beginning Sept. 16.