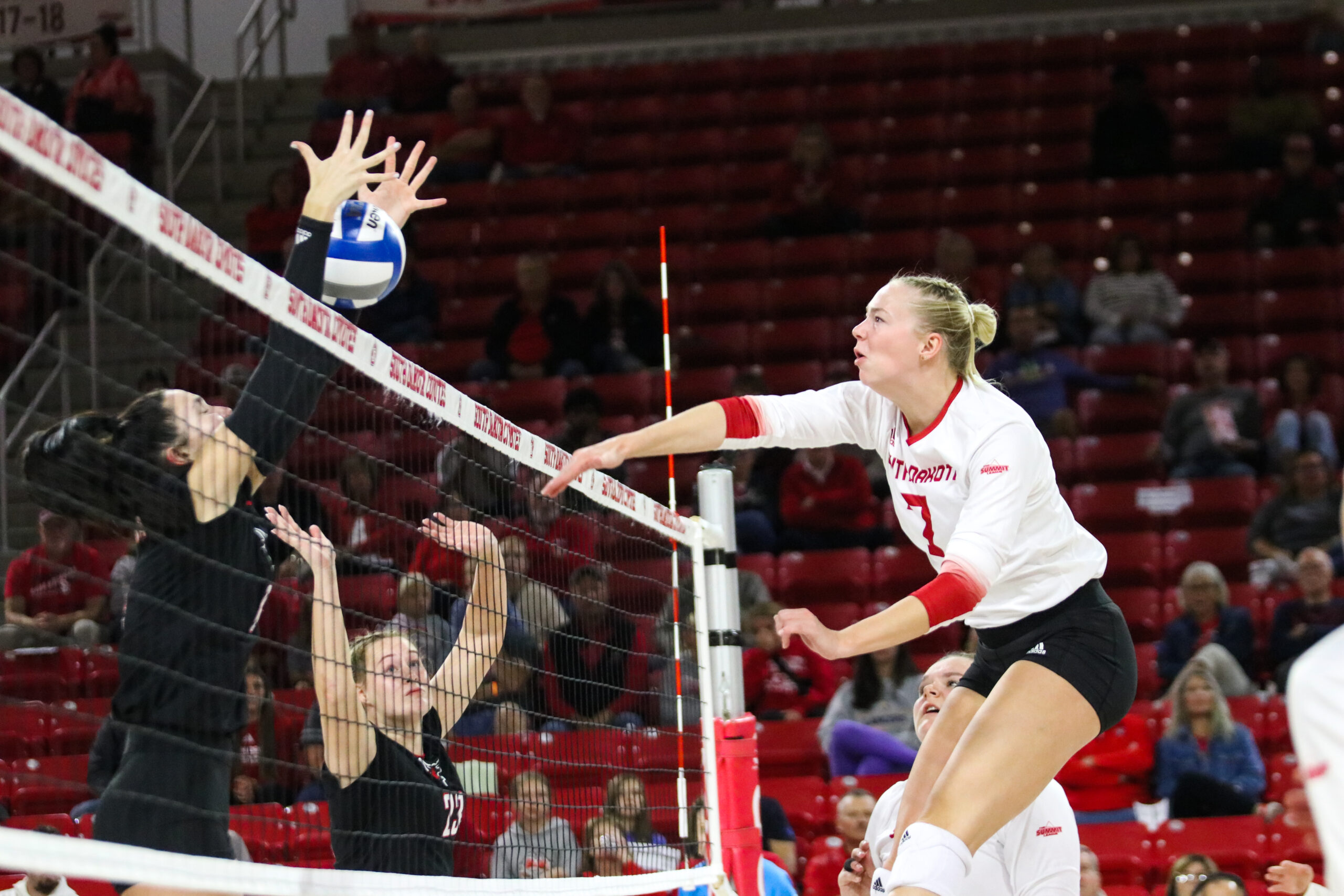 2 mins read
Volleyball: Longest Winning Streak in Nation
The Coyotes entered the Summit League season with a record of 11-1 with the only loss being their first match against No. 4 ranked Louisville.
They took on Summit League opponent Omaha Thursday night where they won in five sets in front of a home crowd.
The Coyotes stayed hot as they took the first set against Omaha 25-22 with nine kills by junior outside hitter Elizabeth Juhnke.
Then Omaha changed their pace and went from hitting .05 in the first set to the next two where they hit .364 and .229 in the second and third set respectively, taking them by scores of 25-16 and 25-18.
The Coyotes responded in the fourth set lead by three straight aces from fifth year senior defensive specialist Lolo Weideman. The Coyotes evened the sets at two apiece.
The final set went into extras as the Coyotes got the set win 16-14 with Juhnke getting the final kill to win the game as she recorded a season-high 28 total kills in the game.
Despite Omaha winning or being tied with the Coyotes in all stat categories except digs, they still ended up falling to USD.
The Coyotes moved onto Saturday to face Denver. The Coyotes came into the game with a new 12-game winning streak, the longest winning streak in the nation.
USD ultimately won the Denver game in four sets.
Denver got started early as they took the first set 25-20 they hit slightly better than the Coyotes with a .154 compared to South Dakota's .146. Denver also had four less errors leading them to take the set.
South Dakota bounced back taking the next three sets and winning the match. In the four set match, many Coyotes broke personal records.
Six Coyotes had season-highs coming out of the Denver match-up. Juhnke scored 30.5 points, 17 digs and seven total blocks, Weideman had 34 digs, junior middle blocker Madison Harms had 12 total blocks, senior outside hitter Aimee Adams had seven total blocks, freshman defensive specialist Kamryn Farris had two assists and 17 digs and junior defensive specialist Alaina Wolff had 15 digs on the night.
Following the Omaha and Denver games, the Coyotes have a 13-1 record and are 2-0 in conference play.
The Coyotes now look to Tuesday Sept. 27 where they will take on North Dakota State in Fargo, North Dakota.