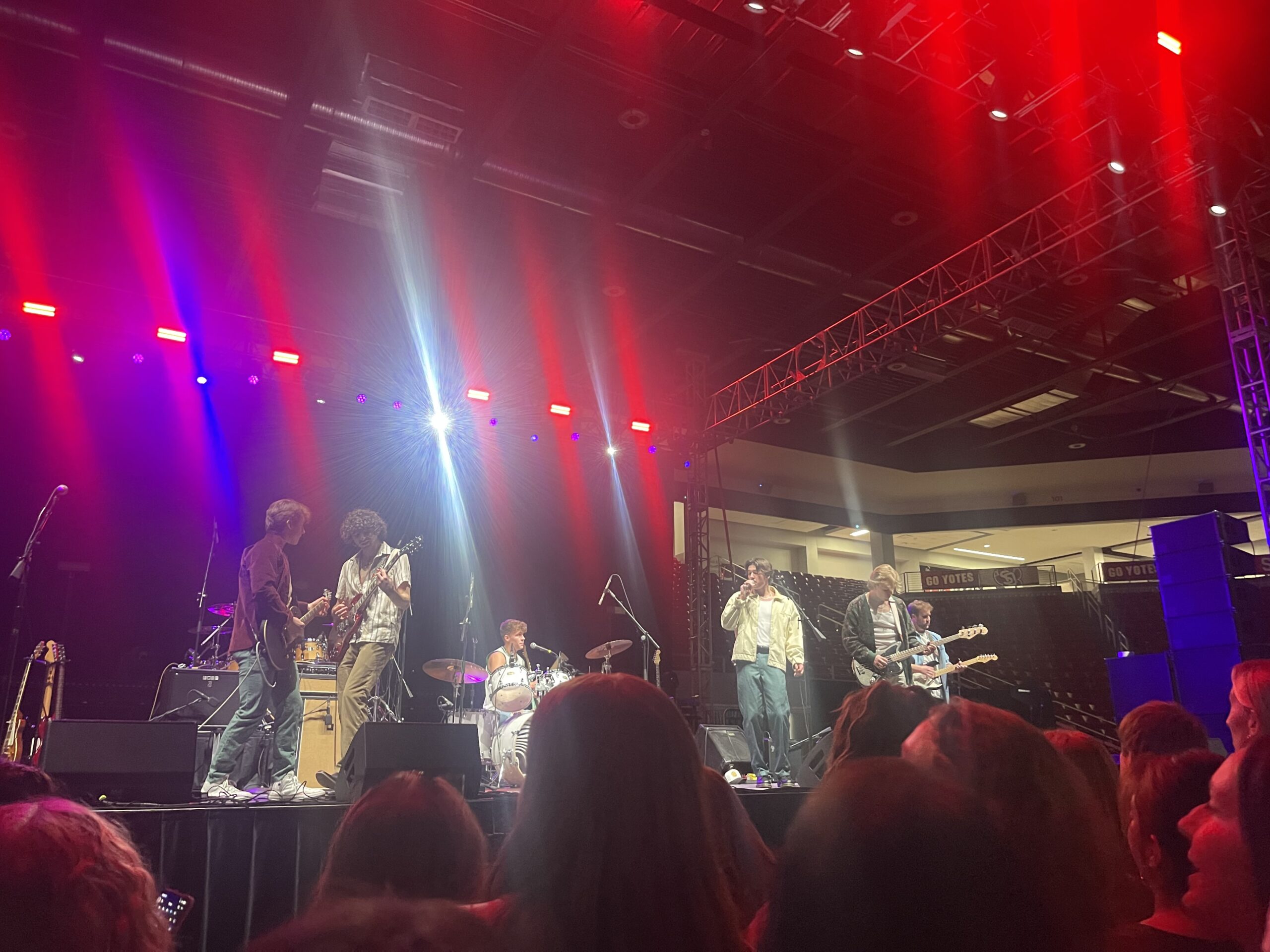 3 mins read
Beta Band Performs on Biggest Stage Yet
What once began as a conversation during rush at Beta Theta Pi among fraternity brothers, has now landed six musicians on the biggest stage they've played yet. Multi-Level Modular Staging is the type of stage they will perform at.
The Leila's Rose band made up of Micah Hansen (drummer), Adam Kays (lead guitarist), Kadin Williams (guitar and vocals), John Kunkel (rhythm guitarist), Connor Drahota (bassist) and Easton Ritz (lead vocals), started when the six men realized they all shared a common interest: music.
Over the last few years, Leila's Rose has played at venues and events throughout the Vermillion community and surrounding areas including USD tailgates and Thursdays on the Platz.
On Jan. 17, the band got the chance to perform as the opening act for the annual Campus Activities Board (CAB) concert ahead of 24KGoldn. The band got exactly one month's notice prior to the concert with the decision that they would be performing.
"We're not quite sure how we got chosen for the (CAB) concert," Kays said. "I heard a lot of people like the faculty and members of CAB vouch for us because we've played a lot of shows in Verm."
As they rehearsed to open for 24KGoldn, Ritz said their planning process was fairly similar to how they prepare for any other night they perform. However, they created their setlist further in advance than normal to give the band a longer time frame to practice.
One big difference the musicians experienced at the CAB concert was how precisely they had to keep time. They were allotted exactly 45 to 50 minutes to perform and had to make sure their setlist fit perfectly into that window.
As the concert approached, many of the band members began to feel the nerves creep in, but for Drahota, the excitement outweighed his worry.
"I just get nervous about different things. I always say (I don't get nervous) because if I mess up, nobody's going to notice," Drahota said. "I found it to be much more exciting, and when we started playing, it was like business as usual. I did find myself smiling a lot more than usual though."
For Kays, his favorite part was getting to perform some of Leila's Rose's original music, since that is something he and his bandmates have been working on for a while. The band's goal this semester is to get their three original songs recorded and an EP released before graduation. They also have shows planned in Brookings and some of their usual venues in Vermillion.
As for the future of Leila's Rose, the band said they are still unsure as to what it will look like. Ritz said he will graduate in May and thinks his time performing with Leila's Rose will be much more infrequent. He said an appearance at next year's Dakota Days is something he's considering. For the rest of the band, they said they are going to reevaluate and see whether they will continue after some of their bandmates finish their time at USD.
While Leila's Rose has an unsure future, the six musicians that have played under that title for the last couple of years know that music will always be a part of their future.
"I think I'm always going to be playing in bands or doing music because that's what I enjoy spending all of my free time doing," Kays said.