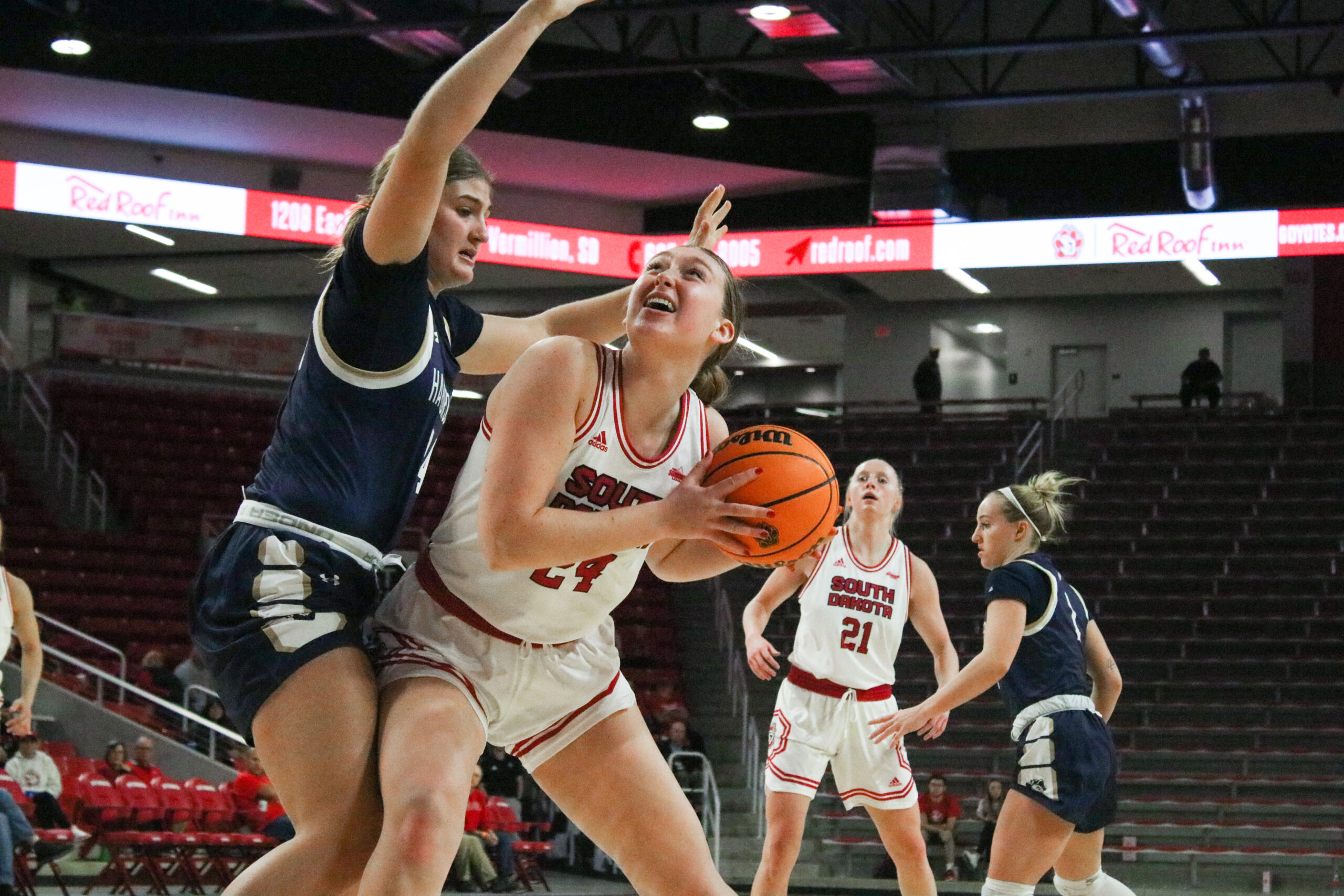 2 mins read
Walker Demers Ready For Homecoming at UND
Freshman forward Walker Demers grew up in Grafton, North Dakota. As an 8th grader, Demers was called up to the varsity team where she gained experience for the following three years. Demers scored more than 1,000 points, collected 750 rebounds and 200 steals.
Last January, Demers thought about reclassifying and graduating a year earlier to play college hoops.
"It was pretty difficult the decision and the process, but it was definitely a grind," Demers said. "The decision was hard on my family, my teammates back home and myself."
Deciding to skip a year, Demers had to up her school work load in order to graduate a year early.
"I was taking 11 classes last semester and three of them were online… So, it was a grind, but you know, I'm glad it's done," Demers said.
During the final semester she heard that head coach Dawn Plitzuweit was leaving for West Virginia, which made Demers rethink her commitment to USD.
"I had to look back on why I was actually deciding to come here and it wasn't all based on the coaches," Demers said. "It was the team and the community that South Dakota had."
With Demers sticking to her commitment after the coaching change, she was ready to transition to college basketball at South Dakota. Demers began practicing with the team last summer.
"I think the summer really helped. Preparing for Greece, the regular practices, the coaches and my team have really helped (the transition) be a way smoother process," Demers said.
Her highschool experience prepared her for the jump to Division I basketball.
"My high school coach was really tough on us, but it paid off in the end," Demers said. "The teammates I got to play with along the way, that I got to look up to and be leaders along with really helped the transition."
Demers has appeared in all 22 games this season and has made six starts for the Coyotes. She is averaging 6.8 points and five rebounds per game.
Demers and the Coyotes will hit the road to face North Dakota State on Feb. 2 and North Dakota (UND) on Feb. 4.
The game against UND will be a homecoming game for Demers as her hometown of Grafton is only 45 minutes away from Grand Forks. Her high school team played their regional and state tournaments at the Betty Engelstad Sioux Center where the Fighting Hawks call home.
"It's going to be amazing," Demers said. "I have people texting me already saying that they got their tickets and they're ready. So hopefully they'll be wearing red."
With friends, family and a familiar arena, Demers is ready to take on the Fighting Hawks on Feb. 4.