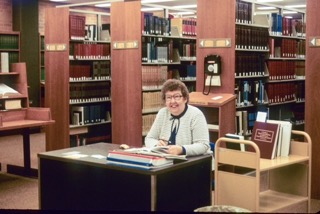 2 mins read
Edie's Bookshop Continues Legacy
Edie's bookshop is located in the basement of the Vermillion Public Library. This bookshop is honoring the legacy of Edith (Edie) B. Siegrist who donated more than a million dollars to the library when she died in July 2011.
Siegrist went to school at Huron College where she got her Master of Library Science. After a few jobs throughout South Dakota and Michigan, she spent 24 years as a Library Science Professor at USD.
Co-President of Friends of the Library, Anne Dunham, said that during Siegrist's life, she donated close to a million dollars which allowed the library to almost double in size.
Over the years, the Vermillion library hosted a yearly book sale, but eventually collected so many books that it made sense to host a monthly one instead.
"We've had people donate more bookcases, we've gotten things from the library itself and it really set up like a bookstore with a whole children's section and mystery section and regional and literature and Chiclet and large print books, and videos, all sorts of things but it is set up like a bookstore and it's a wonderful space," Dunham said.
The bookshop is open once a month and is run by volunteers. Dunham said the event brings in hundreds of dollars that are used for the library, especially the Friends of the Library summer reading program.
Dunham said there are a lot of books that are three for $1 and the rest tend to be less than $2 each. Because of the low prices, Dunham said it's good to see the books go back to the community as many people can afford the low prices.
"Lots of times I've had new teachers or student teachers come down and you can get a lot of inexpensive children's books to build up a classroom library," Dunham said. "We have a lot of old vintage books, lots of classics and so it's a real asset to the community and Edith's endowment has made that possible."
The legacy of Siegrist lives on in the library and the bookshop's name. Dunham said she hopes the community members embrace reading and understand everything Siegrist did for the library.
Edie's bookshop is open once a month on Friday and Saturday. It will be open this month on April 14 and 15 from 10-4 p.m.