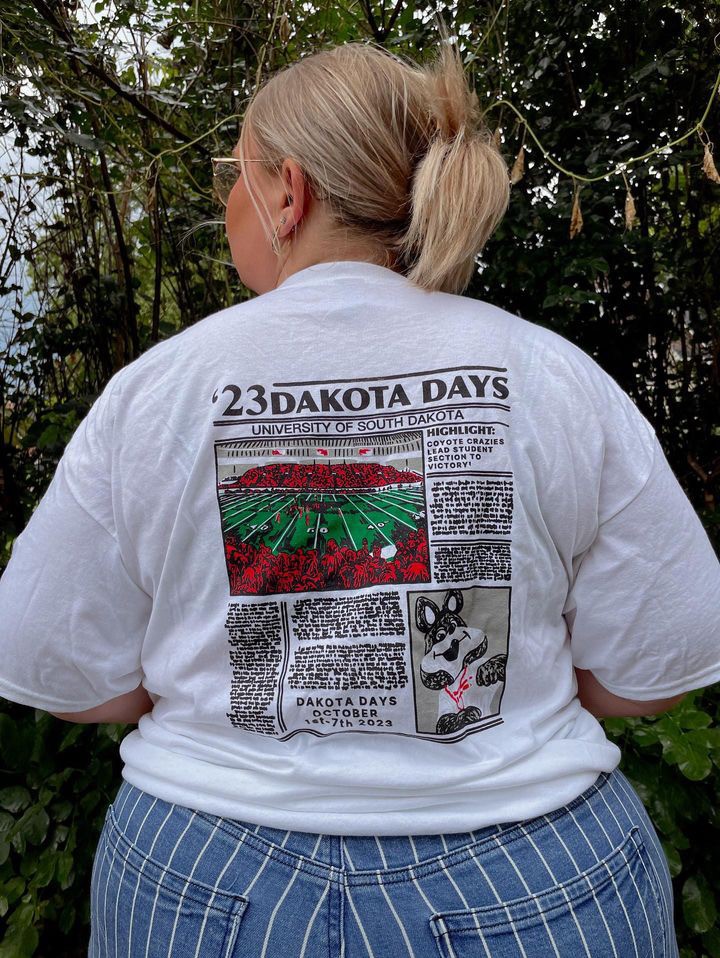 2 mins read
Student Designs Shirt for Coyote Crazies
One of the major student organizations here on campus is the Coyote Crazies. The group's goal is to get more students engaged in USD athletic events.
One student who is on the executive team for the Crazies has been putting in a lot of work for the group during Dakota-Days this year.
Taylor Titze is a senior majoring in art education. She is the marketing and communications chair for the Coyote Crazies. During Dakota Days last year, she designed a shirt that the group sold for homecoming week. This year, she is doing the same.
"We had a Dakota Days shirt last year and we wanted to create another one," Titze said. "So I had the idea last year actually, so it was an idea from a year ago."
When getting inspiration for this year's Dakota Days shirt, Titze drew ideas from this year's theme.
"I kind of had the idea to do a memories theme or like a yearbook kind of style," Titze said. "I wanted to play on that a little bit with newsletters and newspapers and all that stuff."
Since Titze is in charge of marketing for the group, she runs the social media for the Crazies.
"Sometimes there will be posts that I'll have planned out months ahead of time. We always try to keep ourselves like a month ahead of pace," Titze said. "Sometimes I'll think of ones on the spot that I'll want to do or trends that are kind of going around."
When Titze isn't doing work for the Coyote Crazies, she is doing art. She is in the Student Art Alliance here on campus. Art sales happen every month for the group, with the next sale happening on Oct. 13.
"I do kind of different work than with the Coyote Crazies," Titze said. "I do like digital prints and jewelry. I love jewelry making, so it's kind of a big hit of mine. I started it last year, and then it's just kind of built up from there."
To purchase a Dakota Days shirt from the Coyote Crazies and see their social media posts, check out their Instagram page at https://www.instagram.com/coyotecrazies/
Photo Credit: Submitted | The Volante