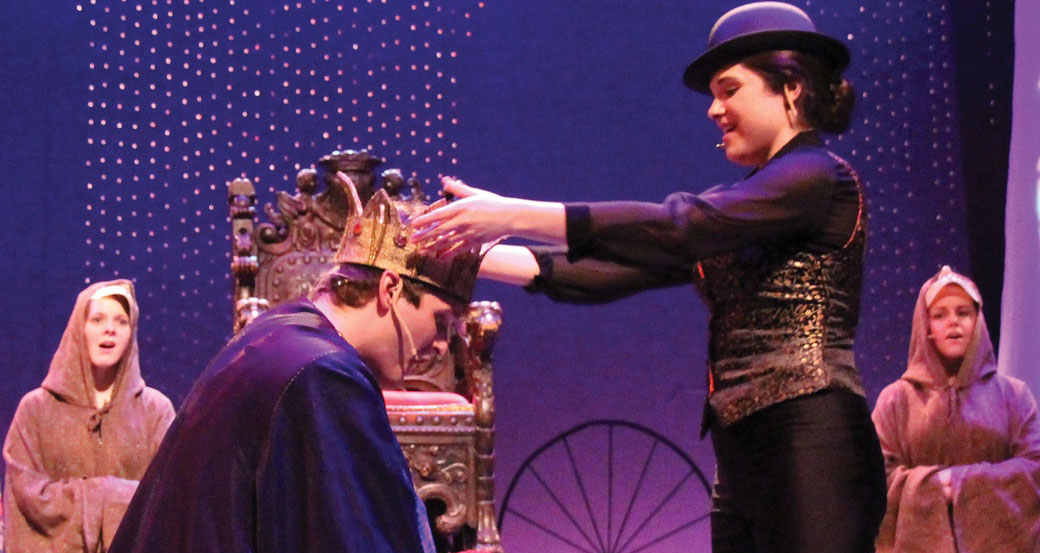 3 mins read
Cast of 'Pippin' uses physical feats to entertain audience
The University of South Dakota Theater Department's production of  'Pippin' will entice an audience because it is "compelling, relatable and the audience will realize how special they are," Director Raimondo Genna said.
buy flexeril online https://cpff.ca/wp-content/languages/new/canadaa/flexeril.html no prescription

"Pippin" tells the story of the son of Charlemagne, Pippin, and his quest to find himself, his relationships and experiments with war, sex and politics.
Genna said he selected this show because it has been enjoyed for many years, it breaks the fourth wall and it has the interest of a play within a play, or a metatheatre.
Lead actor and junior Lukas Ptacek plays Pippin, while junior Cecilia Quintero plays Leading Player. The actors said they joined the cast of the play because they liked the show for it's uniqueness, fun and interactiveness.
Ptacek said he liked the play within a play.
"I enjoyed the fun aspect of Pippin being a metatheatre production," he said.
Genna said the metatheatre made the show more interesting to him.
To Genna, the characters interactions are vital to the play within a play, and really makes the production unique.
These interactions include a sing-a-long song, karaoke, tumbling and physical feats and magic to entertaining the audience.
Ptacek said he grew up listening to the music from the production and his general interest in the theater made him want to join this production. His audition song for entering the department was "Corner of the Sky" from the show.
Quintero said she wanted to be part of the production because she enjoyed the fact that the show is dark, funny and overall entertaining with the music.
Both actors said the student body should attend to support their fellow students and the members of the theater department, but also because the show is relatable.
"Everyone is trying to find their 'corner of the sky' in their lives. Pippin is an extraordinary person and is trying to find the extraordinary in his everyday life," Ptacek said. "College students need to come see this because college students are told that they need to go to college to determine their futures but are always questioning the meaning of being in college. They need to see what feels right, even if it is unplanned. It is OK to try new things."
Ptacek said he continues to relate to Pippin because his character is an everyman.
Quintero said she likes her character because she gets to be bossy and order characters around. She said she feels the Lead Player is different from any character she has played before. However, she said, her character is not as relatable as Pippin — she likes to see people mess up.
Both of the actors also enjoy the acrobatics involved with 'Pippin.'
"Pippin" will be performed April 24-26 and 28 at 7:30 p.m. and April 27 at 2 p.m. in the Wayne S.  Knutson Theater in the Warren M. Lee Fine Arts Building.
Photo/Photo Gallery: Junior Lucas Ptacek's character Pippin is crowned king during rehearsal of the play "Pippin" April 22 in the Wayne S. Knutson Theatre. (Rebecca Kroeger/The Volante)