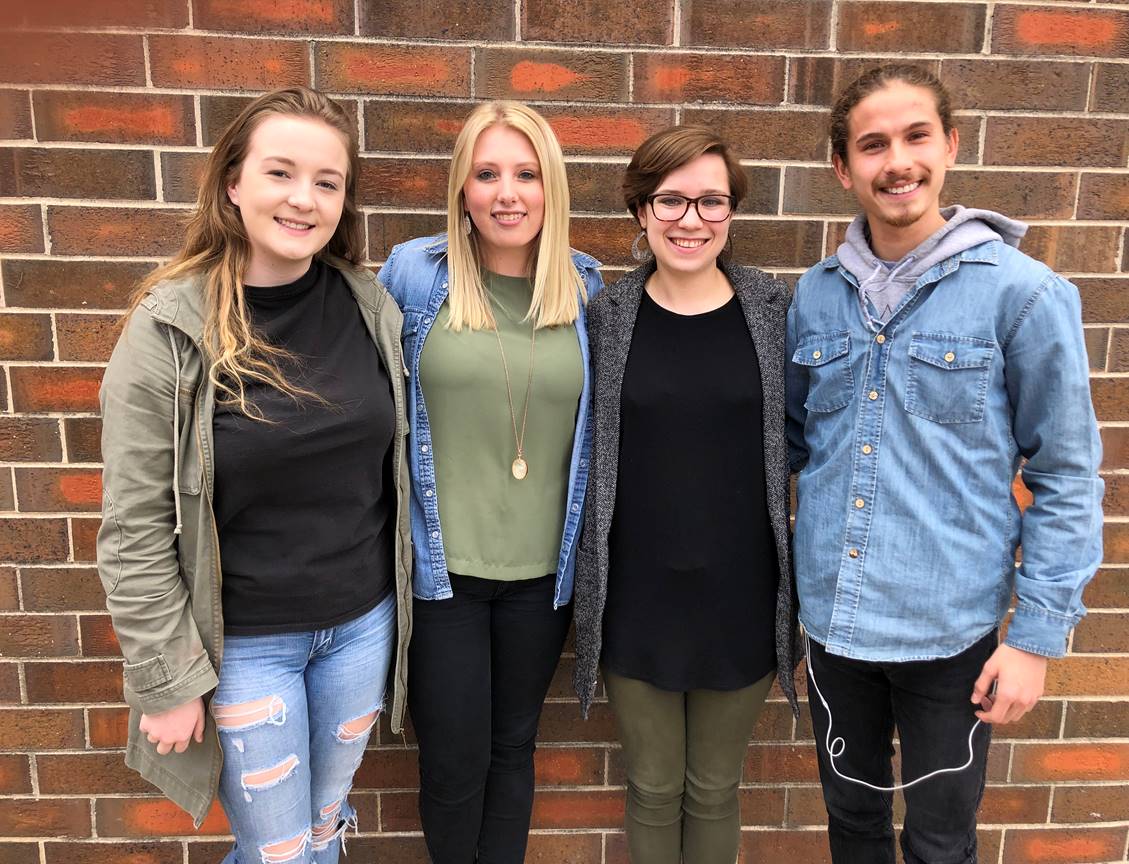 5 mins read
Four USD singers advance to national competition
After competing in one competition, another challenge awaits four students from the USD's music department as they advance to the online screening stage of the National Association of Teachers of Singing (NATS) auditions.
Eldon Warner, Abby Beach, Kaitlin Pearson and Bailey Quade will represent the Northcentral region in their respective categories this coming month.
The competition, which is divided into classical and musical theatre, advance their top five contestants in each category to the nationals. Categories are also defined by gender, age and the number of semesters the contestant have studied applied voice.
"It is a tremendous honor for our students to have qualified for nationals in their respective categories," Tracelyn Gesteland associate professor of music in opera and theatre, said. "Having these fine young artists perform on the national stage helps increase the profile of USD, the music department and my voice studio," Gesteland said.  "The singers grow as artists as they refine and test their vocal technique, languages, musicality and interpretive skills by participating in this competition."
Competition for Gesteland sits somewhere between creating performers and real-world experience. As an advisor and voice teacher, she always looks forward to preparing her students for the best performance.
"It has been my pleasure and privilege to help these singers prepare for the regional competition in terms of selecting repertoire and instructing them so that they are well-prepared vocally, musically and dramatically to give their best possible performances," Gesteland said.
Abby Beach
Abby Beach, a junior music education major, placed third in Upper College Musical Theatre Women.
"My mom always said I was singing before I was talking," Beach said.
Beach said that their advancement in the competition portrayed the strength of the music department.
"This is the first time anyone from USD has ever participated in this competition, and only four of us actually sent in tapes and all four of us actually advanced," Beach said. "I think it definitely shows how strong our music department is."
With the foresight of being a music teacher, Beach appreciates feedback because it gives her precedents for the future.
"As a music education major, winning is not really my focus, I really like getting the feedback and comments from people, and so it is just ways I can improve my singing and myself," she said. "Hearing compliments for myself is a great way for me to learn what to say to my students in the future. That's why I really like doing competitions."
Bailey Quade
Bailey Quade, a junior vocal performance major, placed fourth in Third Year College Women.
Quade said she was inspired to apply for the competition by her professor.
"My professor asked me if I wanted to do it and I said okay…with my accompanist, we recorded the videos as many as we needed to and then I picked the best videos and sent them in," Quade said.
Quade who qualified for the junior women classical division said learning from corrections and re-recording were essentials for the next competition stage.
"I will definitely re-record for the nationals," Quade said. "We had South Dakotan Arts this past weekend and we got comments from some of the pieces we did. So, I will learn from that. We also got comments from the judges from the national competition so I will use what they said and fix what I need to fix and re-record them so it sounds better."
Growing to be a music performer, Quade is still a student. Aware of the benefit, Quade is assured that this experience will be beneficial to her resume.
"It's really exciting because I am a performance major so like competitions really look good on your resume, especially a national one," Quade said.
Eldon Warner
Eldon Warner, a senior music education and vocal performance double major, placed first in Third Year College Men and first in Upper College Musical Theatre Men.
"I love music because it is my preferred way of expression," Warner said. "I feel like I can expose a part of myself that is not usually seen by many when I perform."
Warner said participating in this competition will connect him to others in the music field.
"It will expose me to many other singers and performers from all around the country who are of similar age to me, giving me the opportunity to perform in front of people who I might be very familiar with," Warner said.
Regardless of the result, Warner hopes to continually grow.
"I just would like to see how far I can get," he said. "I do not really have a set goal. I just want to see how well I can do."
Kaitlin Pearson
Kaitlin Pearson won first place in the Advanced College Women category.
Pearson, a second-year graduate student and masters in vocal performance, said vocal music makes her expressive through poetry and a variety of languages in a singular way.
"I see music as a form of communication. It helps individuals make connections with each other and with their own emotions," Pearson said.
Gesteland and her students will be headed to St. Olaf College in Northfield, Minn. for the semifinal and final rounds of the national auditions if they advance from the online screening stage next month. The event will take place on June 27 and 28.