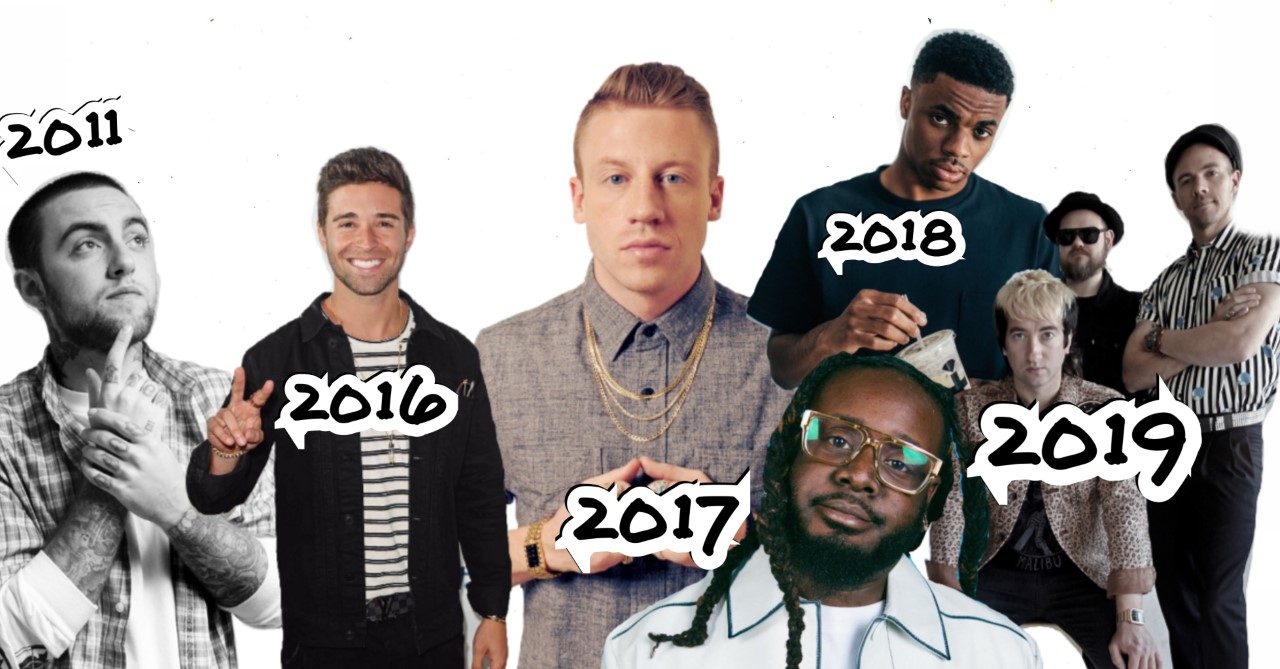 2 mins read
A quick history of CAB concerts
Over the last decade, USD students have seen Mac Miller, T-Pain and Macklemore perform in front of them right at home. They're just a few performers the Campus Activity Board (CAB) has brought to Vermillion for their annual concerts.
In 2011, USD welcomed the late Mac Miller to perform in Aalfs Auditorium with The Come Up and Casey Veggies as opening acts. This was the first time USD hosted a hip-hop performance as the headlining act for the annual fall concert.
USD also brought OneRepublic in 2011 and Owl City in 2009. Owl City performed in December after the release of their debut album Ocean Eyes that featured their six-time platinum single "Fireflies."
In the fall of 2017, Macklemore was seen by students at the Vermillion Wal-Mart driving an electronic scooter wearing Gucci sunglasses and a fur coat reminiscent of the look he sported for his "Thrift Shop" music video just before his performance in the Dakotadome.
"Thrift Shop" is Macklemore's single off of his 2012 debut album The Heist and has now reached over 1.3 billion views on Youtube.
In the spring of 2017, students were treated to a performance of rapper T-Pain, who brought over 4,500 people to the DakotaDome.
Last year, Vince Staples took the stage at the Sanford Coyotes Sports Center with local Sioux Falls rappers Fayde & Soleil to opening for him.
Prior to his performance, Staples worked on projects such as Big Fish Theory, FM! and the Black Panther soundtrack.
This year, CAB announced the Plain White T's as their headline performer with two local opening acts to perform for students and fans on Oct. 10.
The Plain White T's were just one on a list of 36 possible artists chosen by CAB to perform this year.
This list included: Alessia Cara, The All-American Rejects, Cage The Elephant, Iggy Azalea, Jeremih, Kid Ink, KYLE, LANCO, and Lil Baby.
The All American Rejects were CAB's original option before the Rejects backed out due to a "personal emergency." The second option was to bring KYLE, but his asking price did not meet CAB's budget. The Plain White T's were next in line.
The Plain White T's are known for their 2005 No. 1 hit "Hey There Delilah" and their most recent album Parallel Universe.
USD has also hosted other artists like Camper Van Beethoven in 1987 and Trip Shakespeare with Bash & Pop in 1993.