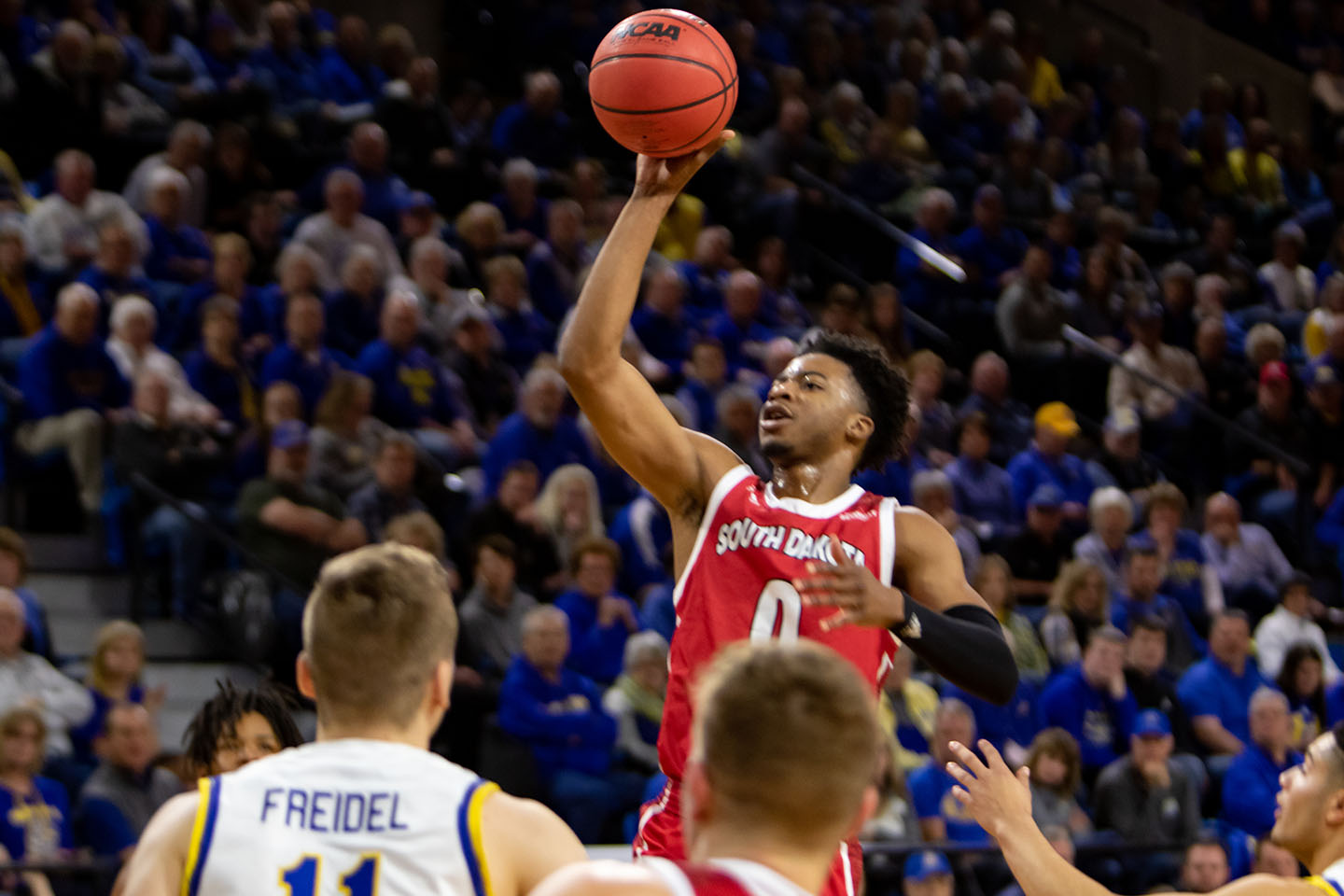 4 mins read
Coyotes drop a nail-biter to SDSU
Douglas Wilson attacked the rim for South Dakota State in the first half and Noah Freidel lit up the scoreboard in the second half as the Jackrabbits edged USD 85-80 at Frost Arena in Brookings Sunday afternoon.
The Jackrabbits (22-8, 13-2) were picked fifth in the Summit League preseason poll and clinched a share of the Summit League title with the win.
Wilson started the game off hot, with eight points on 4-of-4 shooting early. Tyler Peterson was tasked with guarding Wilson, but after picking up two early fouls, the Coyotes (19-11, 9-6) switched Stanley Umude to Wilson, who made one of his next three shots following the switch.
"We mixed up our ball screen coverages and they were able to get it to Wilson on some of that," USD head coach Todd Lee said. "They space with shooters and it's hard to deny it to their post players."
Both Peterson and Triston Simpson picked up two fouls in the first eight minutes, causing Lee to dig into the bench early. Ty Chisom and Brandon Armstrong entered the game for the players in foul trouble. Hunter Goodrick and Tasos Kamateros also saw minutes in the first half. Armstrong knocked down a pair of three-pointers and Kamateros' defense disrupted the Jackrabbit interior offense.
Kamateros scored six points in four and a half minutes of action.
The Coyotes fell behind by nine early on at 13-4 and again at 18-9. USD stormed back to even at 25 with a Kamateros jumper at the 8:01 mark in the first half. The Coyotes built a four-point 31-27 lead and had the advantage at intermission.
The first four minutes of the second half was much the like the last four of the first, both sides trading baskets with neither holding more than a two-point lead.
The trend continued with no one holding a lead of more than one possession until Freidel hit a pair of free throws to give SDSU a 63-59 lead with 6:50 to go. The Jackrabbits built a nine point advantage from there at 72-63, in large part to strong play on the interior for SDSU.
USD went on a 6-0 run to cut the lead down to three off of a Tyler Hagedorn lay-up and free throw make, followed by a Cody Kelley three-pointer.
Freidel scored the next five points of the game in a 53 second span. The Coyotes never got back within three points of SDSU in the final three minutes of the game.
"We didn't have an answer for him (Freidel)," Lee said. "We didn't guard him the right way. Our guys broke down defensively a couple times, but he made some tough shots and he got to the rim."
Freidel scored 26 points, 21 of which came in the second half for SDSU. Wilson scored 20 points, ten in each half, but suffered a lower leg injury late in the game and didn't return. Alex Arians and David Wingett tallied 13 points each for the Jackrabbits.
Four of the five Coyote starters finished in double figures, lead by Umude's 15 points. He also tallied six assists and six rebounds. Simpson scored 14 points. Hagedorn tallied a double-double of 12 points and 12 rebounds. Kelley scored 13 points, all of which came in the second half of the game.
Umude and Hagedorn, the Coyotes two leading scorers on the season, are 15-of-51 in their last two games.
"Stan (Umude) and Hags (Hagedorn) need to play better," Lee said. "They're 15-of-51 the last two games against North Dakota State and South Dakota State. You aren't going win games when your two best players go 15-for-51."
The Coyotes have one game remaining on the schedule which holds potential playoff seeding implications. USD hosts North Dakota for senior day on Saturday at 3:30 p.m.