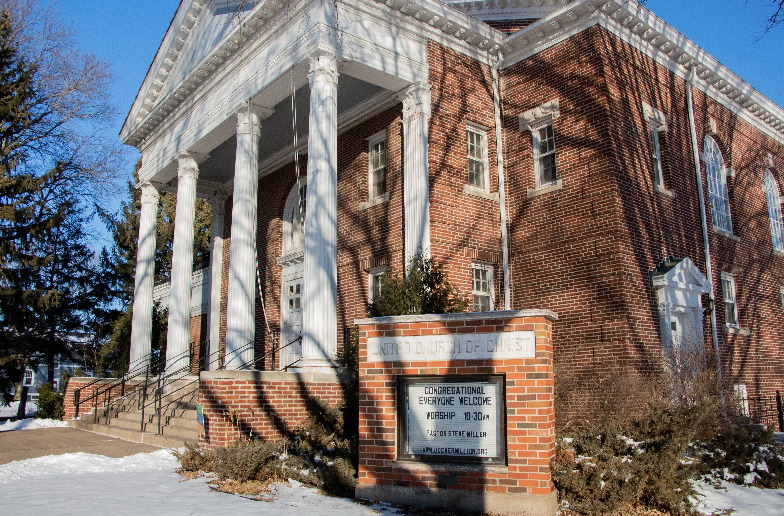 4 mins read
United Church of Christ welcomes community through outreach
The words "all are welcome" are displayed in front of the United Church of Christ, encouraging all who pass to come into their space, but this message spans further than the physical bounds of the church.
The United Church of Christ (UCC) believes in welcoming all individuals to their congregation, no matter creed, class, color or gender, as all life is sacred.
Reverend Steve Miller has been the pastor of the UCC for 25 years. He is also an adjunct history instructor at USD where he teaches all of the religion classes.
As the public face of the church, Miller leads services, community events and hosts gatherings in the church.
"We are a very active church," Miller said. "One of the things we believe most is that our faith is an action, so we believe that we are doing service for the world."
UCC participates in multiple community outreach programs to help those in need within their church and around Vermillion. These include food and school supply drives, serving Vermillion's Welcome Table and Emergency Fund.
"We work very hard with our underserved population to give what we can," Miller said.
UCC is holding a soup drive this month with a goal of 1,000 cans for Vermillion's food pantry.
Along with their outreach into the Vermillion community, UCC offers its space to other organizations as well.
Musical groups like USD's Chamber Singers and the Vermillion Children's Choir frequent UCC's sanctuary and gathering spaces for their own meetings.
Though UCC is a Christian denomination, it's open to many different religious groups.
"UCC also helps the Nepali students from USD hold their own services and gives a space to Native Americans to have an indoor space to worship," Miller said.
Along with UCC's multitude of community programs, UCC works along with USD students in an internship program. UCC's internship program has been in place for ten years to support the ministry in different ways.
Each spring, Miller hires between five and 12 interns for the next year and assigns them to small leadership positions such as visiting senior members in hospice care, working with the choirs and leading children programs.
Abby Beach, a senior music education major, is a choir intern at UCC.
"My favorite part is working with so many people of all ages and ability levels," Beach said.
Beach works with the Adult Choir at UCC, as well as the Vermillion Children's Choir. Beach said she is developing skills through her work at UCC to prepare for her career.
Taylor Erlenbusch, children's program intern and senior communications sciences and disorders major, said she enjoys the interaction she has with the kids at UCC.
"I've always loved working with kids and so of course, one of my favorite parts is getting to know the children in the community," Erlenbusch said, "I also love being able to teach them lessons, both in structured lesson time, but also in our interactions in how we work to help one another."
Erlenbusch also said the community at UCC helped her to feel at home.
"Living away from my hometown has been a challenge for me and coming to know all of these wonderful people has helped me to find a home away from home here in Vermillion and I am so incredibly thankful for that," Erlenbusch said.
UCC's internship program connects USD students to a congregation that supports all walks of life in a smaller town.
"The internship program itself is one way that the UCC reaches out to people in the community; college students are able to be involved and supported while also reaching out to the community too," Erlenbusch said.
Through their own congregation and the community around them, members of the UCC are building a place for all people in Vermillion to be welcomed.
"Our church is busy, our space is busy and our people are busy serving the world," Miller said.
UCC holds services on Sunday mornings at 10:30 a.m. and has Children's programs on Wednesday nights.