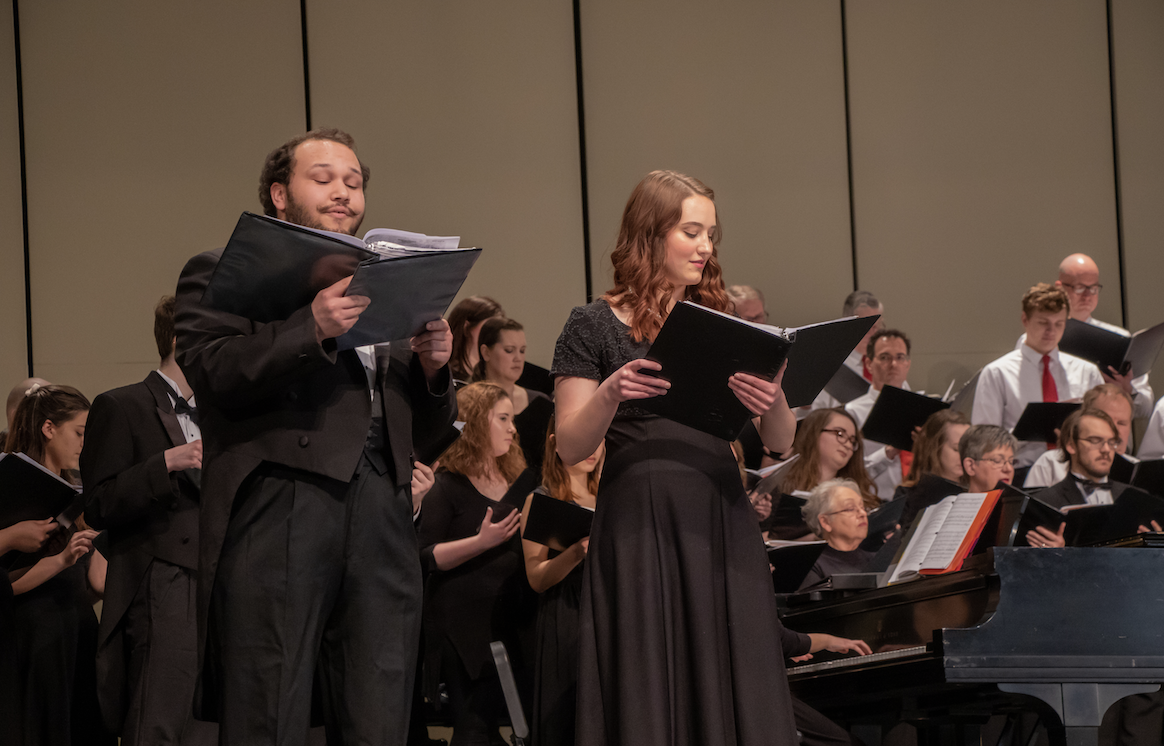 3 mins read
Senior music students perform recitals remotely, prepare for end of semester
With the end of the spring semester usually comes a variety of recitals and final performances for USD's musicians. The practice rooms are all full, the sounds of instruments tuning and voices warming up fill the halls and the anticipation for the end of the semester is in the air.
But this spring semester, the Warren M. Lee Fine Arts building will remain empty, as music students, along with the rest of USD, finish their semesters online. For seniors, this means finishing their final days at USD online.
While senior music students are usually required to prepare a recital for the end of their last semester, some students won't have the opportunity.
Ivory DeHoed, senior music education major, was scheduled to have a flute and vocal recital towards the end of March. Due to COVID-19 and switch to remote learning, DeHoed will be recording her recitals and submitting them.
DeHoed said although it's not the same experience as performing in front of a physical audience, performing via live stream is less nerve wracking.
"Although it does cause the quality of the sound to not be as good as it could be in person, and then of course there are the usual but hopefully not technical difficulties that may occur as well," DeHoed said in an email interview with The Volante.
Recording performances has its advantages, it's nowhere near the same as performing for a live audience, Dominick McClendon, senior musical arts major said.
"You get audience feedback, immediately while performing live," McClendon said in an email interview with The Volante. "It also makes it easier to emote and truly perform. A live-streamed audience, however, is really not much different, you just can't see the faces of your supporters."
McClendon was not required to prepare a recital this spring, but he said he will be "attending" his fellow students' recitals via Zoom and livestream.
As the semester is coming to a close in just a few weeks, this time of year can feel bittersweet for seniors, especially not being on the USD campus, DeHoed said.
"I feel as though I am missing the experience and adrenaline you get on campus when it is the final week, last day of the school year and even the last day as a college senior," DeHoed said. "I was looking forward to getting to finish out my final year with all my friends and fellow classmates who I had been with since day one here at USD, but now we all will have to celebrate on our own."
Not only are some students unable to perform their recitals they've been preparing for a planning for a live audience, but they also don't have the opportunity to make music with each other.
"If I would have known that the last time I sang with a choir or playing in the band was going to be the last time I would in all of my college career, I would have cherished the moment a lot more," DeHoed said.
As the last few weeks go by, McClendon said he is doing his best to stay motivated and help others do the same.
"My goal is to finish strong and keep my head up," McClendon said. "Times are hard for everyone and it's tough to find work ethic, but we all just have to keep pushing."