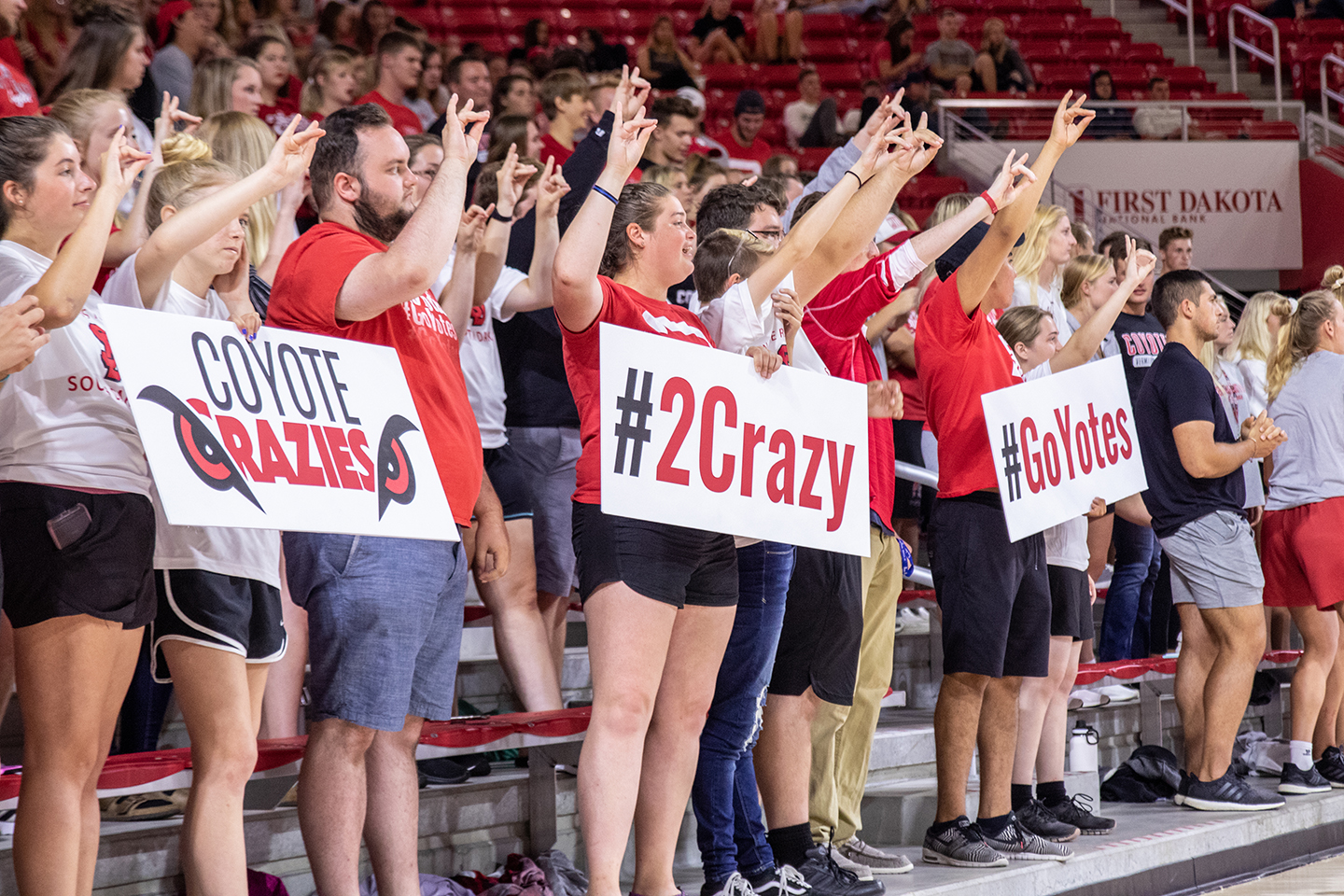 3 mins read
Coyote Crazies keeps the spirit during the ​pandemic
COVID-19 has changed the way many groups function on campus and the Coyote Crazies are no exception. Although they can't attend sport events this season, they are finding different ways to keep the spirit alive.
Even with sports being cancelled and social distancing obstacles, the Crazies are trying to build the college experience for students and keep their connection.
Marcus Destin, senior and president of the Coyote Crazies, said the Crazies draw in members because of the family atmosphere. This year, he said, it's harder to keep that charm.
"We can't be together and I think that's the hardest part because we're a family," Destin said. "We're so used to being together that this threw us for a loop."
Destin said athletics has done a phenomenal job communicating and not committing to anything they can't do safely.
"Anything I'm concerned about, we've had several conversations weekly about," Destin said. "We don't want to give the image that things are okay when they're not."
Madison Sippel, junior and social media chair, has been a member of the Crazies for three years. She said the Crazies are finding new ways to support students while staying safe.
"With the news of basketball returning in November, there is a possibility that we will be able to be back in our overalls on the baselines cheering on the Yotes," Sippel said. "We are going to be as transparent with the student body as we can."
Since the Crazies are still a relatively new group, Sippel said they don't want students to forget they are here. However, she said she is not worried about losing the connection because they've built a strong foundation.
"One thing we have started this semester is Random Acts of Crazy," Sippel said. "We ask students to share on social media using #crazykindness the ways they are supporting their friends and fellow students."
Destin said the Crazies look to a future where students can cheer at games again. Until then, Sippel said they are working on strengthening their connection with students.
"We are doing our best to keep the meetings and events we hold safe for everyone involved," Sippel said. "We are always open to answering any questions or concerns that students may have about our organization by reaching out to us on social media."
Although this is Destin's final year as an official Coyote Crazy, he said he wants more students to invest in becoming a Crazy because the connection will last longer than COVID.
"One of the things the Crazies taught me is it's important to have a family," Destin said. "It's important to get involved because these are the things that last forever, much longer than you'll be in school."