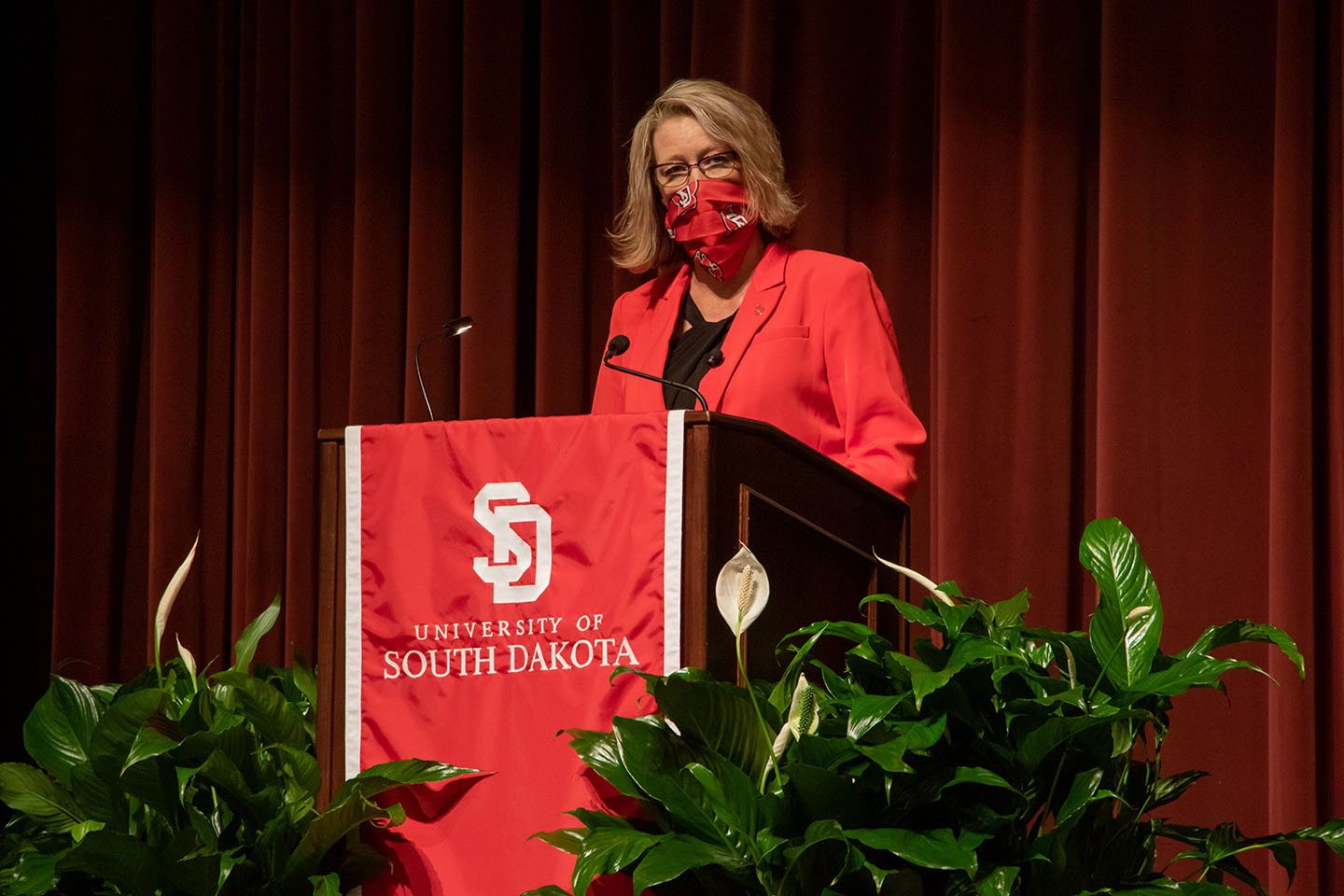 2 mins read
USD President discusses five-year plan at university address
At the State of the University Address on Sept. 24, USD President Sheila Gestring outlined the university's strategic plan to improve USD over the next five years. She also brought up the state of enrollment at USD and announced new plans for Julian Hall.
During the 2019-2020 academic year, a committee of 42 faculty and staff were tasked with interviewing over 1000 internal and external stakeholders within 76 constituent groups, which included students, faculty, alumni, community members, tribal representatives, businesses and legislators.
In working with that information, Gestring said in her speech, the committee of faculty and staff saw six common themes emerge for improving USD. These themes are academic excellence, engagement, infrastructure, diversity, serving South Dakota and affordability.
Gestring said these themes will guide the university by insuring USD continues to engage stakeholders, prioritize investments in technology and infrastructure, revise diversity statements and make financial services easier for students to navigate.
In a question and answer session with provost Kurt Hackemer after the speech, Gestring said USD has been good at continuous improvement, but having engaged in this study will allow the university to carry out its strategic plan.
"I think the collaboration comes and the execution comes because we engaged so many stakeholders, and there's going to be this ownership and this buy-in, and I think it's always much easier to really execute a plan when you have that sense of ownership among all your stakeholders," Gestring said.
In her speech, Gestring also talked about USD's retention rate of 80.7%, but noted a decrease in new undergraduate enrollment and international student enrollment. These trends, Gestring said, are consistent with enrollment data across the country.
"While we admitted twice as many international students compared to last year, we ultimately realized a 35.6% decrease in new international student enrollment due to COVID-19's impact on global mobility," Gestring said.
One of the many developments Gestring discussed in her speech was the support to replace Julian Hall. Construction on a new Health Sciences building will begin in the spot in April of 2021, made possible by a $5 million appropriation from the state legislature and a private matching gift.
"We are in a time of continual growth, and these gifts, leadership changes, partnerships and campus updates, are significant markers of USD's forward movement over the past year," Gestring said. "In addition to celebrating these advancements, we must also recognize the challenges and the opportunities."