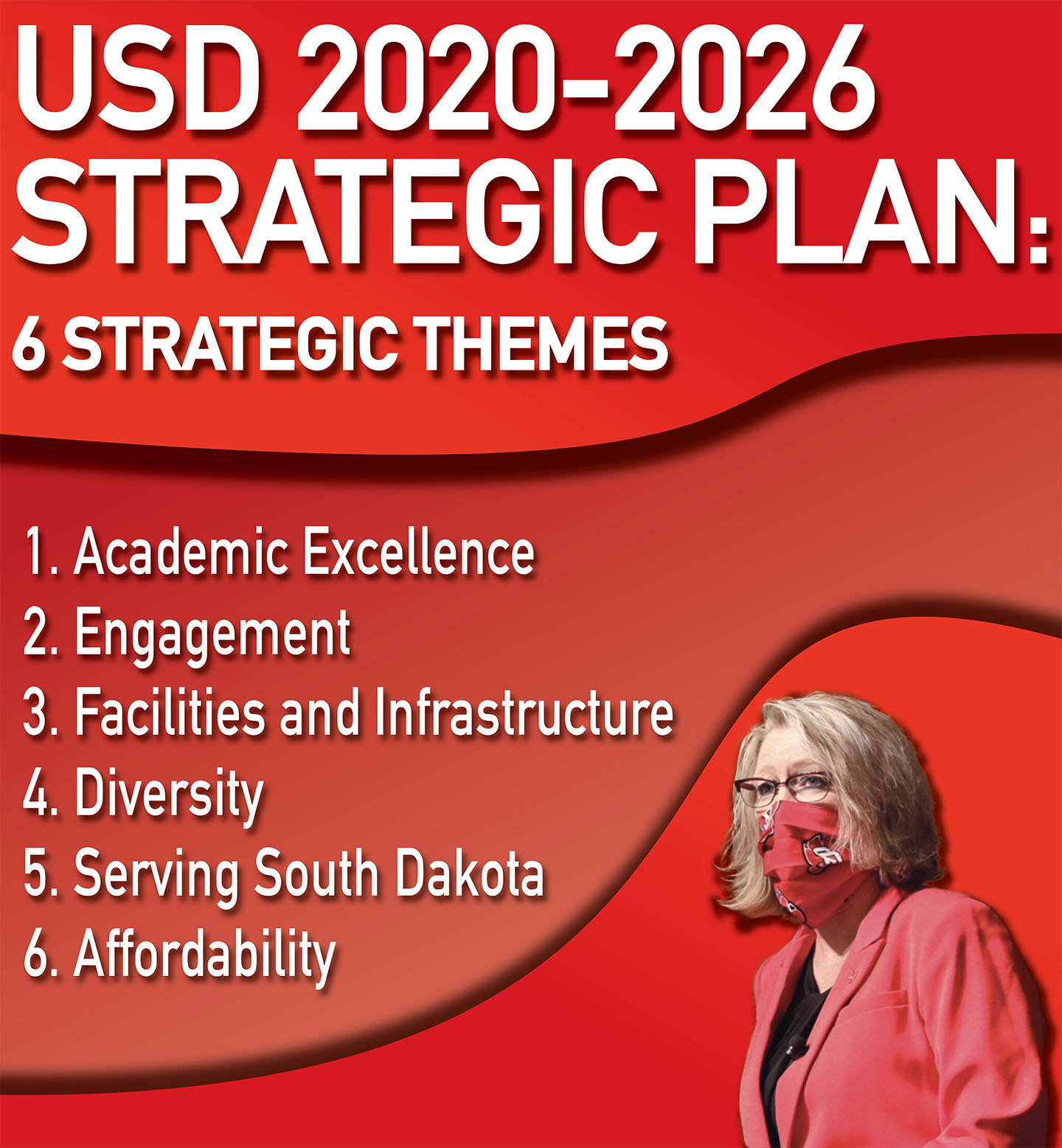 4 mins read
Gestring reveals university's 5-year strategic plan
After the delay of the announcement due to the COVID-19 pandemic, President Sheila Gestring revealed USD's 5-year strategic plan during USD's 2020 State of the University Address.
Gestring outlined the plan's six strategic themes at the event: Academic Excellence, Engagement, Facilities and Infrastructure, Diversity, Serving South Dakota and Affordability,
The plan, set to go through 2026, updated the public several new facilities planned to go up on campus over the next five years. One of these buildings is the new School of Health Science expected to start construction in April of 2021 and be finished by Aug. 2022.
"One new thing (in the new School of Health Science Building) is we will be able to do is nursing stimulation with high fidelity," Gestring said. "Dental hygiene will have new chairs and a completely new done classroom and with the new technology there we will be able to expand on the new telehealth we have already done."
Laura McNaugton, chief of USD's strategic plan, said the university's new telehealth system, Therapy Assistance Online (TAO), has been another priority for USD.
McNaughton said the university acknowledges college is often stressful in itself, not to mention the anxiety that comes from a global pandemic. That is why she and USD are really excited about the new telehealth system.
"The pandemic really has added a demand to mental health services," McNaughton said. "There's a lot of anxiety out there on campus and we certainly want to help students be as successful as they can and I think this will be a way to remove those barriers to be successful."
Gestring also spoke on several new scholarship opportunities that will be available to students over the next five years during the state of the union address. This will help USD accomplish its affordability goal, Gestring said.
Some of the new scholarship money is due to a $12.5 million gift to USD's law program. The donation resulted in the renaming of the law school building to the USD Knudsen School of Law as well as giving the Law School more flexibility with scholarship money.
"The donation is enough it can be used so it is most strategically useful for the law school each and every year to keep up the success the school has been having," Gestring said. "It could be a needs-based or LSAP scholarship focused. Whatever will be best for the law school and the student we will be able to do so that is an incredibly meaningful gift."
Another scholarship opportunity USD added, due to the revitalization of the American Indian Studies Program, will give an additional $80,000 per year in scholarship money to American Indian students. Gestring said this will also help USD accomplish the Diversity goal in the strategic plan.
"South Dakota has nine federally recognized tribes and we would like to see more American Indian students enrolled," Gestring said. "The financial support is huge too. That financial support is as important as the cultural and language support (for American Indian students)."
The plan also entails several other actions to accomplish the six goals the university set out for itself.
For example, the opening of Charlie's Cupboard, a student-led organization to combat food insecurity on campus, Gestring said, is something that has helped fulfill a student need that is often neglected on college campuses.
"Carson (Zubke) and Hannah (Booth) have been able to set up some great partnerships in the community and South Dakota to set up the pantry," Gestring said. "We are really looking to have this be something we sustain into the future forever."
Also noteworthy, Gestring said, is USD's new Work Scholars program. The program will provide student an opportunity to find on and off-campus jobs and internships and network with potential employers. She said there were 30 USD students selected to be a part of the program this year.
"(The Work Scholars program) is a great way for student to make those really early connections in their careers," Gestring said. "It is something that can definitely help when looking for that first job."
Gestring said she believes the five-year plan is a great step towards keeping USD a great place to go to college citing the university's improved retention rate from 72% in 2017 to 78% this year.
"I think, despite everything going on this year, we're heading in the right direction," Gestring said. "I am really excited to continue making USD and Vermillion a great place to be."